The Rimrock Ranch in Wyoming has an almost unique position just outside the East gate of Yellowstone Park. As there are no borders to the Park, the local wildlife can be quite interesting.
Nearby Cody is home to one of the finest Museum's in the USA, run to educate visitors as to how it was "Once Upon A Time in the West". There are numerous hotels in town included the Irma, once owned by Buffalo Bill's daughter. A nightly rodeo runs throughout the summer months.
Comfortable cabin accommodation with three meals a day, horseback riding, day trips to the Park and Cody make Rimrock a really pleasant little family run Dude ranch.


We have first-hand knowledge from our many ranch visits, so please contact us with any questions or for a ranch holiday to suit you.
The owners of the Rimrock are proud of their history of entertaining guests, some who have vacationed with them for over 30 years. At the ranch they entertain families, friends and singles. Their small size makes it possible for everyone to be on a personal and first name basis. Like many guest ranches in this area, this one is family owned and run.

You will enjoy modern cabins, with private baths and maid service. They have nine different cabins from small, for just a couple, to larger cabins which are comfortable for families. The cabins are nestled on both sides of Canyon Creek which runs through the middle of the ranch. The hearty meals are served family style in the ranch dining room. They also have weekly barbeques.

Pack trips are available on an individual basis and to suit the personal needs of your group. They can also accommodate individuals by adding you to another group.

The guides are all experienced fishermen and will be pleased to advise where the best fishing is to be found.
The ranch name comes from the steep ridge above the western side of the ranch, you can ride along the Rim maybe during the all day ride that is offered.
Take a ride with one of the experienced ranch wranglers. You will travel up through the mountain valleys surrounding the ranch. Their fine selection of horses ensures that there will be a horse suitable to your riding skills
Novice and experienced riders are welcomed here however, being in mountain country, the riding may not be as fast as at some ranches.
Being in close proximity to both Cody and Yellowstone, the ranch offer their guests the chance to visit both during their week's stay.
A trip to the Nite Rodeo operates on a Tuesday after a float down the river and, if you have not already seen the Park, on Friday a trip round the South Loop is included or back to Cody for the museum or you can ride - lots to choose from !
There is a swimming pool and hot tub on the property and if fly fishing is your passion, you'll find it close to the ranch. The Northfork of the Shoshone river offers great fishing opportunities plus there is a stocked pond for you to try your fishing talents on .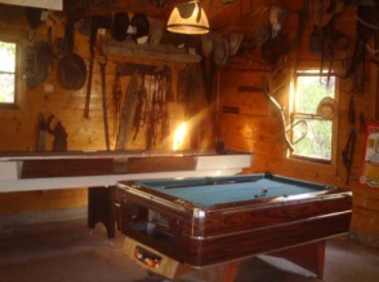 Pricing
All prices are per person unless otherwise specified. Please contact us to confirm the rates - 01798 865946.

We can tailor-make your holiday with flights, car hire, motorhome and city hotels.
Weekly rates include full board in a log cabin accommodation, all riding and ranch activities, transfers to and from Cody, local taxes and gratuities. Stays start and finish on a Sunday.
2017 Ranch Season Season - 5 June to 11 September
Prices start from £1911pp based on double occupancy; Single £2106 pp ; Child 6-18 from 1699 pp
Child discounts are available - please contact us for details
Deposit - £250.00 per person Transfer free from Cody, Billings shuttle $85 pp each way from local shuttle service. Check in and out 3pm.
Please let us know your preferred departure dates and number of people travelling and we will send a quotation to you.
Reviews
Tell Us What You Think
We have recently returned from a brilliant week at Rimrock Ranch. The ranch accommodation is excellent as is the food and hospitality. Although my husband is an experienced rider, I am a beginner, but I found the horses were well trained and the routes were varied with stunning scenery wherever you looked. Rimrock has a weekly schedule that includes a river float, a visit to the night rodeo, a softball game and a day in Yellowstone and these extra activities made our week. We thoroughly enjoyed our week at Rimrock and the warm welcome we received and hope to visit again sometime soon.
Jim & Lesley McGrann