This great riding ranch is located just 8 miles west of the Gates of the Mountains, they offer all their guests easy access to the towering splendour of the Rockies and the wide open wonders of Montana's prairies.
The ranch is open from May to October and, come the high season, it is not uncommon for them to be fully booked. A week's stay will have you riding every day or fishing on their private stretch of trout stream.
As a guest ranch, they don't offer a Kids Programme but familes are more than welcome.
Accommodation is relatively new with large guest rooms which all come with private facilities. There are 8 of these in 2 buildings that will accommodate up to 18 people. They provide good ranch food made fresh featuring beef, pork and chicken served family style although special diets can be catered for on request.
Meals are generally taken in the old ranch lodge or outside if weather permits.
They always have gluten-free and Lactose-free options and can cater to many other food specifications. Desserts are fresh pies and cakes. During most weeks there will be a wagon ride and cook-out with great Dutch Oven cooking and a campfire.
They keep a few head of cattle on the ranch and you learn how to move a cow and get it to a specific place, to move and to stop. There is team penning each week as well.
To ensure a cleaner environment, the owners have adapted a combination of technologies to use 100% Straight Waste Vegetable Oil to power an irrigation pump saving more than 4000 gallons of diesel per year.
They processes over 1000 gallons of bio-diesel for the machinery on the ranch so now 7 diesel engines are on a diet of bio-diesel.
This ranch now has three Parelli qualified instructors so you may improve your Natural Horsemanship techniques. You may practice team penning plus they also offer riding lessons for all levels of rider.

The ranch is fortunate to run a selection of breeds but these are mostly Quarter Horses, but they also have Appaloosas, Paints, Mustangs, Arabs, Welsh crosses, a Shetland and 2 Belgians. They will do their best to allocate you with a horse whose own attitude fits with yours.

Advanced riders enjoy rides of up to 28-mile circles with long canters, a variety of changing scenery, and mountaintop views.

Once you are ready to ride, the possibilities are endless! Whether this is in the arena and a short easy ride up the valley floor, or maybe to run for a few miles, then slow down and do endurance rides through the mountains. Alternatively, learn to chase and work cows or try your balance at riding bareback, you will find there is something for everyone at Rocking Z.
After the excellent riding, you will find some really top class fishing. It is not unusual to catch a 20 inch Brown Trout. Guided fishing can also be made available.The ranch have fishing equipment available but you will be required to get a fishing license from any local fishing shop.
Clay Pigeon Shooting with the 12 bore shotgun is a great way of experiencing the modern west!
For birding enthusiasts all seasons have highlights. They will take care of your every need while you spend extended time observing the nearly 250 different species in the area.
Zack Wirth is an expert in history, geology and archeology of the area. He has the answer to all kinds of your questions and has many interesting stories to tell.
And with all the surrounding countryside, the opportunity for hiking is endless, bring your boots and they will send you off with a packed lunch.
Off the ranch, Helena is the State Capitol of Montana and offers history, entertainment and shopping to visitors. Great Falls is a bit further away but has two outstanding attractions, The Charlie Russell Museum & Gallery plus the Lewis and Clark Interpretive Centre.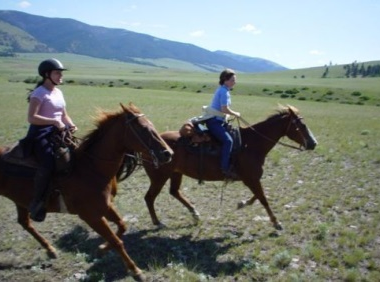 Pricing
From £1332

per ADULT PER WEEK

All prices are per person unless otherwise specified. Please EMAIL or call American Round-Up on 01798 865946 to book this ranch. We have first hand knowledge from our many ranch visits

Weekly prices include full board accommodation, all riding and included ranch activities, taxes and gratuities. Subject to availability, you may start any day.


1st to 31st May 2014 and 1st-31st October 2014

Double adult - £1161 pp plus £171 gratuity.

Single adult - £1335 plus £197 gratuity.

Child 3-12 years - £964 plus £142 gratuity;

1st June - 30th Sept 2014

Double adults - £1382 plus £204 gratuity.

Single adult - £1590 plus £234 gratuity

Child 3-12 years £1244 plus £183 gratuity


$175 airport pickup round-trip Helena or $225 Great Falls - paid locally please

We can tailormake your holiday with or without flights, car hire, motorhome, hotels for those who wish to explore the area they are visiting.
Reviews
Tell Us What You Think
Hi Nigel, Just a quick message to say thank you once again for your help in organising our holiday, we just got back today, and it was absolutely brilliant in every way. All the journeys, transfers and hotels worked impeccably, and the ranch was out of this world. The Wirths' hospitality was so generous, the place was stunning, the horses fit, healthy and well cared for and wonderfully responsive. The food was delicious, the accommodation cosy, but spacious, and very comfortable. We will definitely recommend you and the ranch to everyone and would already love to go back. Thanks again, Siobhan
Siobhan Westbrook