The herd at The Focus Ranch numbers some 1300 Yearlings that are being bought on for the markets. This means regular changes of pasture and, as the idea is to move the herds carefully, this is one of the few ranches where kids, that are able riders, can join in the fun.
The best times to visit are from the end of May to early August. After this general ranch riding is offered, checking fences and pastures and scenic trail rides.
A brand new lodge was completed in 2003 and this is where guests meet up. There is a maple buffet counter where meals that are prepared in the commercial kitchen, are served.
All meals are home-cooked, whole-some and meant to satisfy the hungry appetite. Breads and pastries are freshly baked daily. The menu has variety to meet a variety of tastes. They prepare well-balanced meals and serve these meals buffet style. A picnic meal is provided for those on an all day trip. On Saturday night they offer a steak fry or, if the fishing has been good - trout is added to the menu. Special diets can be catered for with prior notice.
Upstairs the Lodge has 3 spacious guest rooms offering views of the Little Snake River and mountains. All rooms have hardwood floors, pine walls and tiled bathrooms. The cabins are situated close to the lodge around the yard.
All three have a similar layout with a common entrance that leads to 2 separate sides of the cabin. Each side has its own bathroom. The cabins were designed to accommodate either 2 private parties or a family. There are both queen and twin beds. Each cabin has a deck and provides great views of the ranch.
The ranch was established in 1896 situated in the upper end of the Little Snake River Valley, a valley that was very familiar with Butch Cassidy and the Sundance Kid.
Over 1300 head of yearling cattle, guests may be given the opportunity to enjoy their western lifestyle moving the cattle onto new pasture every 5-10 days Suitable for intermediate to advanced riders.
Horseback riding is characterized as cross country rather than head to tail or trail riding. The cattle are the reason for this and also the reason our horseback riding program appeals to many riders of all ages. Depending on the ability of the rider and the work at hand, the horses walk, trot, canter and if necessary, will do what quarter horses do best, cover a short distance quickly to keep the cattle going in the right direction.
Safety of the rider comes before "getting the job done" and when working cattle, everyone is placed in a comfort zone based on ability.
Hiking is the big thing in this glorious area and wildlife is plentiful and can be seen on the many hikes beginning from the front gate. For those wishing to walk on more gentle trails, there are paths along the one track roads that intersect the ranch and forest. These vary from 1 mile to 15 miles, or more. Guides are available.
With all the water from the surrounding hills, guests have 4 miles of river to enjoy fly fishing on a catch and release basis of Rainbow, Cutthroat and Cutbow trout
Swimming is in the Little Snake River on the ranch.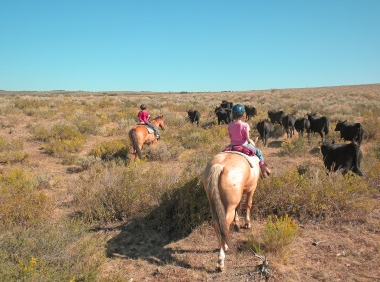 Pricing
From £1369

per ADULT PER WEEK

All prices are per person unless otherwise specified. Please EMAIL or call American Round-Up on 01798 865946 to book this ranch. We have first hand knowledge from our many ranch visits.

Prices are for a 7 nights stay from a Sunday and include full board, all the riding and included ranch activities, taxes and ranch gratuity :

Prices run from 18 May- 28 Sept 2014

Double rate : £1196 pp plus £173.00 gratuity.

Single rate : £1376 pp plus £199 gratuity.


Child rates : 4-6 years £316 plus £46 gratuity.

Child rates: 7-9 years £441 plus £64 gratuity.

Child rates: 10-13 years £630 plus £92gratuity.

Youth rates: 14-17 years £945 plus £138 gratuity.

Transfers are only from Steamboat Springs at $50 each way per car. Alternatively hire a car from Denver and drive to the ranch.
We can tailormake your holiday with or without flights car hire, motorhome, hotels for those who wish to explore the area they are visiting.
Reviews
Tell Us What You Think
Sorry, no reviews or feedback have yet been accepted to this item.
Be the first and submit a comment now!