Located in the grasslands of the high Sonoran Desert, this historic ranch provides horse riding, guided hikes, nature walks and bird watching. Guests may relax in an outdoor pool. The rooms are constructed of adobe walls with carved wooden decotations and furnished with Mexican antiques and vintage furniture.Free Wi-Fi is also provided.
There are a number of rooms designated as either deluxe or premium that will accommodate between one and 3 guests.
Larger groups will be offered suites or, for a party of 4, the Clayton House where there are 2 bedrooms with one double and 2 beds in the second room.
Rancho de la Osa Guest Ranch is in a secluded and peaceful location with diverse wildlife, endless numbers of trails and breathtaking mountain views. If you're looking to relax in a peaceful oasis or embark on an adventurous vacation, you've certainly come to the right place. The ranch offers southwest style cuisine, you will enjoy fresh, hearty and healthy meals.
The ranch has a full service Saloon for beverages that are paid for by the customers.
If you have any special requests, diets or allergies – let American Round Up know before you travel so we can advise the staff. Take a short walk to the Hacienda and enjoy meeting the staff for appetizers and wine tasting, there is a fully stocked Bar in which you may purchase beverages.
Over the years, the ranch has hosted a number of well known personalites, John Wayne was a frequent guest and had a favorite room that is still in use today. Tom Mix was an early and regular guest along with Caesar Romero, Joan Crawford, Margaret Mitchell (author of Gone With the Wind), and Zane Gray, author of many western adventures.
Whether you are an experienced rider or have never ridden before, the ranch has the right horse for you. Wranglers will outfit you with your own mount and give you the option (based on your ability) of a guided scenic walking ride, an exhilarating guided fast ride, or both.
There is Team Penning where you learn how to work with a team of your fellow cowboys and cowgirls on horseback to move cattle in the arena.
There is also a ranch combination package with White Stallion, Rancho de la Osa and Tombstone Monument, stays of 7, 10 or 14 nights - please ask for details
Guided Fat Tire Electric Bike Tours – You can ride a bike anywhere but this is one adventure you won't find anywhere except at Rancho de la Osa. Trade one saddle for another and experience the southwest on a brand new fat tire electric mountain bike. You can peddle on your own or get assistance on those tough hills from a high powered motor capable of 20 mph speeds.

Shooting - Sport Shooting and 22 Range – Fun and controlled shooting programme. Clay Pigeon Shooting – with bio-degradable targets and special 20 gague semi-automatic shotguns. 22 Range – bottles and targets to shoot at in a safe location. 3D Archery Range – Newly built archery range right on the ranch featuring 3D targets and the latest and greatest equipment.

Guided Hiking and Mountain Climbing – Walk a few yards from your room and you'll likely run across the same trails forged by legendary figures like Pancho Villa. Walk on red clay trails towards the famous Baboquivari Mountain. Tour Buenos Aires wildlife refuge and look out for giant jackrabbits, roadrunners and deer. Hike along old western ghost towns that still feature intact buildings.

Bird Watching – Rancho de la Osa borders the Buenos Aires National Wildlife Refuge and is a birdwatching paradise. The ranch and surrounding areas are home to the endangered Masked Bobwhite Quail and 300 other species including Herons, Grayhawks, Vermillion Fly Catchers, Loggerhead Shrikes and Golden Eagles,

Swimming – After a long day on the road or trails relax in the pool.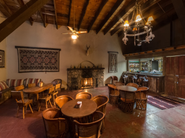 Rancho De La Osa 9-18 February 2019
9-18 February 2019 from £2373 pp dble includes flights from Heathrow via Houston to Tucs...
9-18 February 2019 from £2373 pp dble includes flights from Heathrow via Houston to Tucson, return from Tucson via Houston to Heathrow, one night hotel in Tucson (room only) and 7 night all inclusive ranch stay at Rancho De La Osa. A Great opportunity to enjoy a horse riding holiday this winter.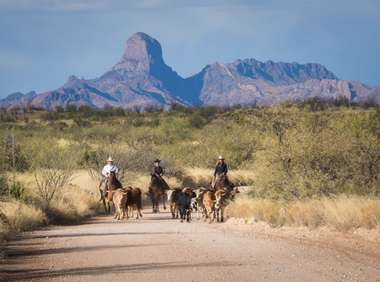 Pricing
All prices are per person unless otherwise specified. Please contact us to confirm the rates - 01798 865946.

We can tailor-make your holiday with flights, car hire, motorhome and city hotels.
Prices include full board accommodation, all riding and ranch activities. Sales tax and gratuities are also included. Complementary transfers are available from Tucson Airport for up to 7 guests staying for 7 nights however, a charge is made for shorter stays. Visits may start any day - subject to availability.
2019 Ranch Holidays per week, please ask for rates through to Feb 2020 :
Low Season : 16 Jun to 27 Sept 19 : Doubles from £1170 pp
Mid Season : 21 Apr to 15 June 19 : Doubles from £1496 pp
High Season : 17 Feb to 20 Apr 19 : Doubles from £1799 pp
Larger Premium double rooms or suites may also be requested.
Please let us know your preferred departure dates and number of people travelling and we will send a full quotation to you.
Reviews
Tell Us What You Think
Sorry, no reviews or feedback have yet been accepted to this item.
Be the first and submit a comment now!