Blue Sky Sage Horseback Adventures
Wyoming
The rides offered by Blue Sky Sage do not exceed more than six people on each departure. The rides are safe and controlled, yet physically active. Where practical, guests ride abreast at extended gaits such as the lope - when and where appropriate.
There are a number of six night Women Only departures starting towards the end of June. They also have mixed groups as well. Two mustang viewing trips are scheduled for July next year.
Accomodation is at their special campsite that is your home from home and sits along the Little Sandy River. Here they have individual tipi tents set up with comfotable bedding. There are washing and lavatory facilities set up nearby. Their staff are experts in the use of Dutch Oven cooking.
These rides are horsemanship vacations, with the focus on all aspects of horses and riding the open range, for physically fit, active horse enthusiasts.
Please understand that these are active rides that require that you be physically fit, not overweight for your body shape/age/gender, have no severe neck, back, knee or other severe pain issues, and have good body strength and control, with a certain level of stamina, though you certainly don't have to be in Olympic athlete condition.
Generally, women should weigh no more than 150 pounds (10.5 stone) if you are 5'5" or less in height, relative to your overall physical condition, stamina, body type, etc. Taller women have a little bit more leeway, but only related to proportions of your body type, up to about 175 pounds.
Men should not be over 175 pounds (12.5 stone) if you are 5'7" or less in height and no more than 230 pounds (16.4 stone) if you are taller, again in relation to your overall physical fitness level and body proportions.
You will live out on the trail in a full-amenity, vehicle-supported, remote wilderness-style camp. Sleep out under the stars or in a roomy, weather-proof canvas tent. A thick foam pad under your bedroll, plus the pure Wyoming air, promises you a good nights' sleep.
Wash off the trail dust at the end of the days' ride in a hot shower or take a refreshing dip in the cool waters of the river just a step away from your tent door. At nightfall, take your favourite beverage and join the crew around the campfire.
You will ride savvy Horses, have a lot of fun and, no one ever leaves thinking they haven't had enough time in the saddle! Blue Sky Sage Horseback Adventures welcome riders who are currently riding or have done some riding in the past and would be generally considered intermediate to experienced in skill level in English or Western. You will ride Cowboy-style western exclusively, on Quarter Horses and Quarter mixes.
These rides are not really suitable for beginner riders due to the intensity of the riding each day.
The riding is the main reason for taking one of these very unique vacations. You will be out early and probably not return until late afternoon. Once you have cleaned up you and your mount, there will be litle time for other activities bar supper and few drinks around the fire.
The ranch have a complimentary transfer from Jackson Hole, it leaves town early and does not get back until mid to late afternoon on the last day. We recommend you spend the first and last night in a Jackson hotel.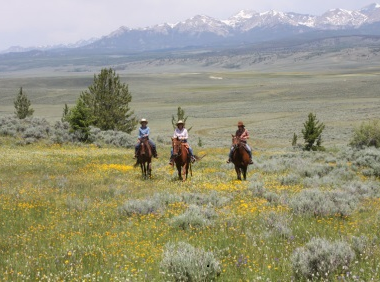 Pricing
From £1621

per ADULT PER WEEK

All prices are per person unless otherwise specified. Please EMAIL or call American Round-Up on 01798 865946 to book this ranch. We have first hand knowledge from our many ranch visits

Rates include Jackson Hole transfers, full board tented accommodation, your horse for the ride, Wyoming taxes. Staff gratuity is discretional , we recommend about $200 per guest.

All 6 and 7 day rides - £1621.00pp

Mustang Adventure rides - £1815.00pp

We can tailormake your holiday with or without flights, car hire, motorhome, hotels for those who wish to explore the area they are visiting.



Reviews
Tell Us What You Think
Sorry, no reviews or feedback have yet been accepted to this item.
Be the first and submit a comment now!