Double Rafter Cattle Drives
Wyoming

The cattle drives offered by Double Rafter are the real deal. There is no ranch accommodation, this is camping out in the Big Horn Mountains west of Sheridan and moving a herd of cattle. There are few facilities other than the basics, but you will be well fed, well watered and be provided with a genuine 1880s style cattle drive. Generally, you will be in the saddle a minimum of 6 hours a day.
Each drive begins with a Horsemanship Clinic and a cattle handling seminar, this way the rancher can tell if he has selected the correct mount for you.
Showers are provided in June and July but summer drives entail you washing in a creek.
At the end of the drive, you are returned to a hotel in Sheridan for a last nights meal and a few libations with the crew.
We have first-hand knowledge from our many ranch visits, so please contact us with any questions or for a ranch holiday to suit you.
Double Rafter are a one-of-a-kind cattle drive. They don't have guest cabins or other ranch luxuries. They move their camp with the herd, sleep in tents, cook over the hot coals and they certainly do not ride nose to tail.
For two nights, everything you take has to go on your pack string because the mountain country is only accessible by foot or on horseback. You may be tired and dirty but these drives will happen - whatever the weather.
While your horse and food is all provided, come the evening, you will need to take a really good sleeping bag and ground sheet. A rain coat or slicker is a good idea plus a wide brimmed hat or peaked cap. And that's just the basics, a full list will be provided.
There are six cattle drives or gathers, the herd numbers some 650 cow and calf pairs. The crew usually number about 10 or 12 and they take 15 to 20 guests.
While they say they will take all levels of rider, however given the time in the saddle each day, you would be well advised to be an intermediate or advanced rider. The initial horsemanship clinic will make sure you are happy with your horse.
The terrain will come in all shapes and sizes, a good seat is required for uphill and downhill riding at all speeds. The better you can ride, the more you will enjoy it as its a real challenge.
Double Rafter offe 6 trips which vary between five and six days. You need to be in Sheridan the night before as some departures are early, a last night's hotel is included in the cost back in Sheridan.
Due to the time limitations set by these cattle drives, there may be little time remaining for any further activities.
Be sure to take a camera as this will ensure you come back with plenty of memories.
Cattle Drives 2018
June 30th arrival into Sheridan, July 1st 8:00 am pickup and transport to ranch
July 7th pm return to civilization, July 8th 9:00 am return to airport

2018 Wounded Warriors Trip July 15th to July 20th - details above

Open Range Cattle Drive Early August 2018
August 4th arrival into Sheridan, August 5th 8:00 am pickup and transport to cow camp
August 9th pm return to civilization, Aug 10th 9:00 am return to airport
Open Range Cattle Drive Late August 2018
August 18th arrival into Sheridan, August 19th 8:00 am pickup and transport to cow camp
August 23rd pm return to civilization, August 24th 9:00 am return to airport
September Cattle Drives 2018
September 15th arrival into Sheridan, September 16th 8:00 am pickup and transport to cow camp
September 21st pm return to civilization, September 22nd 9:00 am return to airport
Prices are located at the bottom of the introduction page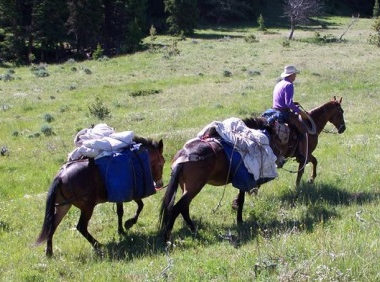 Pricing
All prices are per person unless otherwise specified. Please contact us to confirm the rates - 01798 865946.
We can tailor-make your holiday with flights, car hire, motorhome and city hotels.
Prices include the cattle drive with full board but your tent may well be shared, Ground transportation to and from Sheridan, saddle, tack, horse lease and guide service. Also a Guardian of the Range Fee, tax and gratuities and a last night's hotel in Sheridan. Drive details are in the "Other Activities" section.
June and July 2018 drives - £2432.00 per person
August drive 2018 - £2396.00 per person
September drive 2018- £2472.00 per person
September clean up 2018 - £2392.00 per person
25% deposit per person
Please let us know your preferred departure dates and number of people travelling and we will send a quotation to you or Tel : 01798 865946

Reviews
Tell Us What You Think
Sorry, no reviews or feedback have yet been accepted to this item.
Be the first and submit a comment now!