Elk Mountain Ranch
Colorado
At 9,600 feet above sea level, Colorado's highest dude ranch, Elk Mountain Ranch looks out over the Arkansas Valley with breathtaking views of the Collegiate Peaks.
Here you will find the largest collection of mountains over 14,000 feet in the lower 48 States.
Buena Vista is the "Whitewater Capital of Colorado.
A 10-mile dirt road is your gateway to adventure.
In the Main Lodge you will find facilities for dining, a lodge room with large fireplace, lots of board games, a piano, library, enclosed porch and sun deck.
The Trading Post offers a great line of ranching essentials such as sweets, soft drinks, bandanas, fishing tackle, ranch shirts and sweatshirts and cowboy hats. There is Internet connection in the Lodge and, just in case you need it, a laundry with all mod-cons.
Trail ride cookouts, steak fry, country candlelight suppers and fabulous desserts along with a Kids Menu are offered. You can relax on the lodge deck before dinner and enjoy some appetizers. Coffee, tea, cocoa, fresh fruit and a cookie jar are always available. Special diets and special occasions are happily taken care of.
Accommodation at the ranch is either in one of seven western style cabins sleeping a varied number of guests, The Pioneer Lodge and a Suite in the Lodge mean there is space for up to 30 people. Ranch stays are 7 nights for a Sunday as a rule, shoter stays are possible out of the main season.
A transfer is available to and from Denver Airport and the cost is $350 round-trip for a family group up to 5 persons. Pick up at 12:30 p.m. on the Sunday of arrival and they will have you back to the airport by 11:30 a.m. the following Sunday.
Elk Mountain Ranch provides a wonderful horse orientation and instruction for all guests at the start of the week. They own all of their horses and your riding experience will be a highlight of the week. Your safety is also of their highest regard.

The Ranch has daily guided rides with qualified wranglers to assist your riding experience. They offer morning and afternoon rides, brunch ride and lunch rides.

There are incredible vistas and breathtaking views at every turn. While you will have trotting and cantering built into most rides it is sometimes limited due to the terrain and rider ability.

During the summer months there are overnight campouts for an additional $100pp which is paid locally.

Please note the maximum riding weight is 250lbs or 17.5 stone due to the altitude.
The ranch offer a full kids' programme for children ages 3-7. There will be two children's counselors who offer the youngsters a supervised, fun-filled day of activity. Children 8 and older are usually able to participate in the regular ranch activities.

In early July there is the Buena Vista Rodeo, a trip will be arranged for the Saturday night.

With all these mountains around, why not ride the rapids of the Arkansas River through the heart of Brown's Canyon. There are many hiking trails which take you through the history of the area or take off on one of their mountain bikes. Skeet and rifle shooting happens each week. For those who like something a bit quieter, the river, stream and high mountain lakes offer terrific Rainbow Trout angling.
Take the weekly van trip to Aspen over the continental divide for sightseeing and shopping.

Back at the Lodge you will find horseshoes, volleyball, badminton, tetherball, basketball, arena soccer, softball, mountain bikes, square-dancing, cowboy poetry, musical entertainment, checkers, chess, backgammon and frisbees.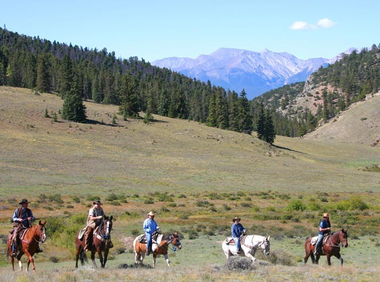 Pricing
From £1346

per ADULT PER WEEK

All prices are per person unless otherwise specified. Please EMAIL or call American Round-Up on 01798 865946 to book this ranch. We have first hand knowledge from our many ranch visits.

Rates include a seven night stay starting on a Sunday with full board accommodations, all riding and included ranch activities, sales tax and gratuity :

1-22 June 2014 & 24 Aug- 14 Sept 2014

£1179 pp plus £167 pp gratuity - double.

£1297 pp plus £184 pp gratuity - single.

£817 pp plus £116pp gratuity - Child 8-12.

£680pp plus £97pp gratuity -Child 3-7

22 June - 24 Aug 2014

£1316 pp plus £187pp gratuity - double.

£1447pp plus £205pp gratuity - single.

£885pp plus £126pp gratuity - Child 8-12.

£749pp plus £106pp gratuity - Child 3-7

A transfer is available to and from Denver Airport and the cost is $350 round-trip for a family group up to 5

We can tailormake your holiday with or without flights car hire, motorhome, hotels for those who wish to explore the area they are visiting.
Reviews
Tell Us What You Think
Sorry, no reviews or feedback have yet been accepted to this item.
Be the first and submit a comment now!