Hondoo Rivers and Trails
Utah
Hondoo Rivers & Trails specialize in trail rides with camping and Inn to Inn rides primarily in the Capitol Reef National Park region of southern Utah.
The trails used on all rides are mostly ungroomed and were created by wildlife, Indians, outlaws or herdsmen. All the areas used are selected for their scenic quality, pristine natural condition and remote location.
As a general rule, the rides explore higher altitudes of up to 11,500ft. during mid-summer and lower elevations up to 3,900ft. earlier or later in the season. Life zones visited may range from Alpine to upper-Sonoran depending on the ride and the time of year.
Each ride takes you to a different base camp and you will ride into the wilderness from these camps, returning each evening.



We have first-hand knowledge from our many ranch visits, so please contact us with any questions or for a ranch holiday to suit you.
Each camping ride is unique and seldom covers the same backcountry trail or uses the same camp site more than once or twice a season. These are base-camp rides which are supplied by 4X4 vehicles.
The area that Hondoo Trails explore are the Capitol Reef National Park, Grand Staircase-Escalante National Monument, San Rafael Swell Wilderness or Utah's High Plateaus.
The trail ride includes all taxes and land-use fees, all ground transportation from Torrey & return, your first night's motel lodging in Torrey, 4 nights at their deluxe basecamp deep in the backcountry, all meals from lunch on day two through to lunch on day six, including fresh produce, hot and iced drinks. Canvas tents for cooking, dining, showering and sleeping (single, double or family occupancy) with sleeping bag, cot and foam pad, camp chairs, coolers and other camp amenities.
Waterproof gear bags, water bottles, saddle bags and tack, seasoned mountain horses, guides/wranglers, cook, camp-jack and interpretative specialist.
As the ride progresses, the daily destinations move from the Capitol Reef National Park area into the Grandstaircase / Escalante Canyons National Monument. During warm weather or autumn foliage, excursions to the lakes and alpine meadows of Fishlake or Dixie National Forest become part of the itinerary.
On the Inn-to-Inn ride, they select daily destinations from several dozen available. Lodging locations change from Torrey, Utah to Boulder, Utah as the ride meanders down the Waterpocket Fold towards Lake Powell.
Rides are open to all horse enthusiasts and nature lovers. Although heart and athleticism are often more important than experience when judging horses or riders, riders should be in control at walk, trot and short canter.

Hondoo Trips start in mid April and run through to late October.

2017 departure dates for the tours are below, all camping tours are Sunday to Friday

San Rafael Swell Wilderness

Start on : 16, 23 & 30 April, 15 & 22 Oct

Escalante Canyons National Monument

Start on : 4 & 11 June, 17 & 24 September, 1 October

Capitol Reef National Park

Start on : 21 & 28 May,
High Plateaus & Capitol Reef

Start on : 25 June, 2, 16, 20, 23 & 30 July, 6 & 27 August.

Inn to Inn Trips are to Capitol Reef and Escalante Canyons. Sunday to Saturday

Start on : 14 May, 18 June, 9 July, 13 Aug, 11 Sept, 8 Oct
In addition to the two types of trail ride, Hondoo also offer full and half days trail rides. There also full day vehicle tours to many of the destinations used by the trail rides, Capitol Reef, Escalante Canyons, San Rafael Swell and Canyonland National Park.
Rockart and photography day trips plus hiking trips can also be requested.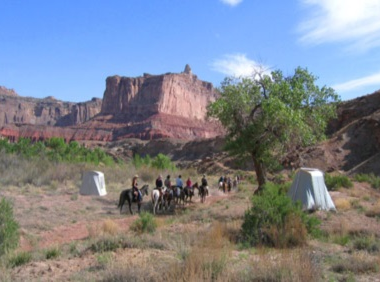 Pricing
All prices are per person unless otherwise specified. Please contact us to confirm the rates - 01798 865946.

We can tailor-make your holiday with flights, car hire, motorhome and city hotels.
Camping trip rates include all meals from lunch on day two, first night's hotel accommodation plus 4 nights camping, all equipment required, horse & tack, services of staff, tax and park user fee. Gratuity are paid locally, 10% to 15% is the suggested amount.
2017 Ride Holidays
Season - mid 17 April to late October
The Camping trips price starts from £1266pp based on double occupancy.
Inn to Inn Tours trips are £1941pp also based on double occupancy
Please let us know your preferred departure dates and number of people travelling and we will send a quotation to you.
Reviews
Tell Us What You Think
Sorry, no reviews or feedback have yet been accepted to this item.
Be the first and submit a comment now!