Rockin' R Ranch is nestled in the heart of the Grand Circle and surrounded by five National Parks: Bryce Canyon, Zion Canyon, Capitol Reef, Arches and Canyonlands. Perfect choice for those visiting the Grand Canyon, Cedar Breaks National Monument, Lake Powell and Monument Valley.
We have first-hand knowledge from our many ranch visits, so please contact us with any questions or for a ranch holiday to suit you CALL : 01798 865946 OR EMAIL

The Rockin' R Ranch is a Working Dude Ranch in Utah, USA and is able to offer a full family programme during the summer along with a number of cattle drives from June to September. They welcome visitors with all levels of horse riding experience. The ranch is located in a wide and well watered valley that keeps things green throughout the summer months. Alternative ranch activities include fishing, hiking, tubing, sheet shooting and, for more experienced riders, there are cattle drives each months from June to September. Elevation of 6500 feet, the ranch boasts milder weather than elsewhere in Utah with summer high temperatures generally averaging 80° F / 25C.

The accommodation in the majestic wooden Lodge, there are some 41 en-suite bedrooms which now includes a larger room with a sitting area for larger groups or families. As you would expect from a Dude Ranch, they have a full schedule of riding, fishing, tubing and hiking during the summer. A three night stay is recommended for which you may arrive any day except Sundays.

For those looking for some back country riding without the cattle, the ranch can arrange for camping trips out in the mountains. This requires a minimum number of participants and prior notice.


Whether you're an experienced horseback rider or it's your first time in the saddle, the ranchers will make sure you get exactly what you're looking for!

Beginners may take a leisurely stroll around the grounds of the Ranch and riders with more experience will have opportunities for different guided rides in the surrounding meadows, foothills and mountains. They have trail rides for all levels of riding experience. In addition, they will be pleased to show teach you how to look after your mount.

If you are up for it, they will be happy to make arrangements for your own rodeo that you can participate in.

There are also a number of "Horse Knowledge" classes. Even if you're an advanced rider, you may learn a thing or two from one of their well-seasoned wranglers.
During the autumn there are two 4 night opportunities to help move cattle to fresh grazing. Enjoy the Old West as you ride the range while herding cattle through miles and miles of beautiful mountains to their seasonal grazing grounds.

The ranch provide hearty meals served out in the mountains and experience the lore of the West. It's a rustic setting with the unbeatable comfort with some spectacular vistas amongst friendly people on a real cattle drive.

These cattle drives and round ups take place on the Griffin Plateau in the heart of the Escalante Mountains.This particular plateau is the summer range for several hundred head of Rockin' R cattle. It is a remarkable example of unspoilt Rocky Mountain wilderness. 2021 dates will be 6-10 Sept and 27 Sept-1-Oct.
Some activities are also available for an additional charge are rappelling, skeet shooting, ATV rentals and advanced trail rides, a Kids Programme for 2 to 7 year olds in summer. is parent supervised. Baby sitters can be arranged for in advance and will cost extra.
The alternative activities are hiking in the scenic beauty of nearby Antimony Canyon where ranch guides will teach you about the local plants and rock formations. In the stream running through the canyon you can cool off on a hot summer's day.

Fishing is in streams and a lake surrounded by breathtaking vistas. Depending on the type of fishing you prefer, there is nothing more relaxing than a day near the water in Southern Utah. You can purchase a "day" fishing license locally. Bring your own fishing gear, or rent one of their fishing rods.

If you hear a Western band tuning up, get in line! No need for a partner and no worries about what you're wearing: There's nothing like the foot stompin' fun of line dancing in their great room.
For an additional fee, you may join them for some clay pigeon shooting. No prior experience is necessary. There are safe and knowledgeable staff who will show you how to have a rootin' and shootin' good time.

For those with a head for heights, climb up the natural river cliffs to one of the most breathtaking views in the valley. Or you can rappel over 65 feet onto the banks of the south fork of the Sevier River! This is a great activity for small family and youth groups and is for those over 14 years old.
.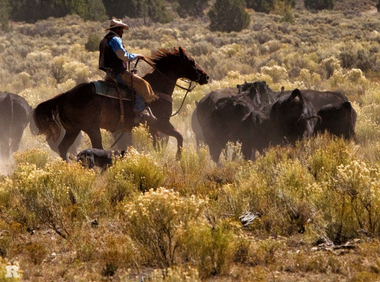 Pricing
All prices are per person unless otherwise specified. Please contact us to confirm the rates - 01798 865946.
We can tailor-make your holiday with flights, car hire, motorhome and city hotels.
Minimum stay is four nights. Rates include full board, riding and on-ranch activities. Plus Tax at 8.96% & gratuities at 15%. You may start any day but there are no reservations taken for Sunday nights.
2021 Ranch Holiday: Single rate : £248 per day ; Double rate : £184 pp per day; There is a minimum 4 night stay in the summer. Daily rates can be added to cattle drives. There are two in September which for four nights cost £1440pp. plus tax and gratuities.
Please let us know your preferred departure dates and number of people travelling and we will send a quotation to you.

Reviews
Tell Us What You Think
Sorry, no reviews or feedback have yet been accepted to this item.
Be the first and submit a comment now!