Anchor D Pack Trips
The Mid-West
Anchor D have been offering horse back riding holidays and trail rides for well over 30 years.
They escort small numbered groups into the mountains that lie to the west of the ranch.
The 4 day adventurer trips are based in their camp in the Sheep River Valley. They also offer 2 night weekend trips here.
The 7 day trips are moving trips, teams and wagons are used to carry the camp gear and duffels. These include the Great Divide Ride which goes into the Highwood Range and is one of their most popular ride, and the Lost Trail trip for experienced riders only!
We have first-hand knowledge from our many ranch visits, so please contact us with any questions or for a ranch holiday to suit you.
4 day trips - from Intermediate to Advanced Riders
Dates for 2021 Adventurers: Thursdays from 17th June to 9th September
Cost is £973.00pp inc GST
Weekends are 3 days trips - £630.00pp inc GST (gratuities paid locally for both these activities)
7 day Great Divide Ride £1699 pp dble includes tax (gratuities paid locally) :
Dates for 2021 : June 14 – 20, July 12 – 18, August 9 – 15, September 6 - 12
Lost Trail
Dates :26 Jul-1 Aug and North Rim to Ranch 23-29 Aug. These are similar 7 days camping trips priced at £1699.00pp but have limited space for this summer
Heading out in a different direction every day, there are several mountain lakes to ride to that are stocked with cutthroat trout; riding up to 8500′ elevation, where the Continental Divide opens up in front of you; explore Burns Canyon and climb up beside Burns Falls, which is the highest waterfalls in Kananaskis Country.
In this area, four different mountain ranges meet – there is no end to the possibilities and adventure! Riding through rivers, valleys, canyons and passes, travel through some incredibly rugged country where you will gain a new respect for your sure-footed mountain horse.
During the lunch stop, you might like to try your hand at fishing do some hiking and exploring, or go to sleep in the sun!
The terrain covered by these rides is mountainous so you should be able to ride uphill and down with relative ease. You will ride for some distance each day so their recommendation would be that you are an Intermediate rider except for the Lost Trail Ride where Anchor D ask that you are an experienced rider due to the far more challenging terrain covered.
While out on the rides, you will experience the wonder of the Canadian Rockies. The Anchor D staff will be there to look after and guide your trip. There may be the occasional opportunity to fish in a high lake, otherwise just immerse yourself in the beauty of the place.
Each tour begins at about at 9:30 a.m. on the first day when you check in at the ranch. Anchor D will supply all your meals, starting with lunch on the first day, and ending with lunch on the last day.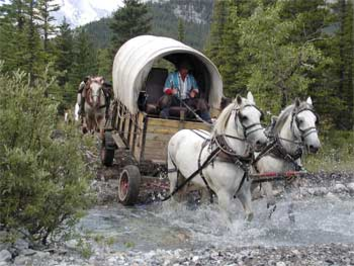 Pricing
All prices are per person unless otherwise specified. Please contact us to confirm the rates - 01798 865946.
We can tailor-make your holiday with flights, car hire, motorhome and city hotels.
The price for these adventure trips includes full board, your tenting equipment, mount and GST. Gratuity paid locally. Sleeping bags are extra. Prices are under Ranch Description section.
Please let us know your preferred departure dates and number of people travelling and we will send a quotation to you.
Reviews
Tell Us What You Think
Sorry, no reviews or feedback have yet been accepted to this item.
Be the first and submit a comment now!