Banff Trail Riders
The Mid-West
A selection of trail rides that start and finish in the charming town of Banff in Alberta.
The horse riding trips may either use overnight stays in lodges or, for those who prefer a more wilderness experience, there are tents all ready and waiting with staff to attend to your needs. This option is featured as it is similar to the pack trips we offer.

We have first-hand knowledge from our many RIDING visits, so please contact us with any questions or for a ranch holiday to suit you.
These tent trips are made easy and more comfortable by experienced guides, this allows you to relax and enjoy the stunning mountain scenery around you.
Accommodation is in A-frame canvas tents set on a raised wooden platform. Tents are in permanent locations to be used during the main summer months. Each tent has two single cots and a stove. All camps are fully catered and include live-in cooks. You will dine on succulent steak or chicken
The Cascade Valley trip provides 5 nights accommodation with full board, a friendly horse for every rider with basic horseback riding instruction and trail fees.

In the morning you'll have a wash stand with hot water for freshening up and a hearty, homemade meal prepared for you in the kitchen tent – the perfect way to start your day on the trail.

Each campsite is surrounded by an electric fence that keeps curious critters out and there are meticulously cleaned outhouses. Crystal clear water is supplied by nearby glacial streams, which is then filtered for drinking.
As you ride down the spectacular trails you will learn all about the history of Canada's rugged backcountry and what it was like to live and work in the great Canadian west. You will also learn about the diverse wild creatures that call this unspoiled mountain paradise
No experience is necessary and if you've never been riding before then the staff will be sure to pair you with the perfect horse so you can enjoy a comfortable ride. Their guides will also provide a brief riding instruction prior to the ride.
You will need proper riding footwear, a boot with a heel that can easily slip in and out of stirrups. Alternatives would be a narrow style of hiking boot or solid sneaker. For safety reasons, clunky hiking boots are not recommended. Water (rain) resistant boots are recommended.
Five day itinerary to the Cascade Valley
You'll pass through the cool, craggy peaks of Brewster Mountain and Cascade Mountain, then head down into Stoney Creek Camp stopping for lunch at Elk Pass Summit along the way. This historic camp was named by the First Nations people and is deeply historically and culturally significant. It's only day one and you're already more deeply immersed in the backcountry than most visitors to Banff will ever visit.
On day 2 you will be travelling along the trails that were once used by the wardens to patrol the boundaries of Banff National Park, the true outskirts of the Canadian wilderness. On this day of adventure, you'll climb higher into the mountains, traversing technical trails along mountain ridges with spectacular views all along. After a full day of exploring, you'll arrive back at Stoney Creek Camp to settle back into your comfortable, familiar heated tent for the night – after another tasty camp dinner.
Day 3 takes you a new destination - Flint's Park Camp was one of the original outpost areas used by the wardens as a base for patrolling in the early days of the park. Due to the wide-open terrain, it's likely you'll spot some wild creatures wandering around. It is located within the Bison Free Range Zone, a totally unspoiled region where herds of Bison have been reintroduced for the first time in 140 years.
Day 4 is your jumping off point from Flint's Park for many different rides into the backcountry, each more spectacular than the last. Your guide will create a customized ride for your group, tailored to your interests and experience. This ensures that your adventure is a bespoke, VIP experience that is just right for you. At the end of the day you'll return to the familiar camp to relax and chat around the campfire once more.
Day 5 is for relaxing at the camp. You could go on one of the many great hikes in the area – but if you'd rather relax, there's no pressure. You may even take some time to groom your horse, and in the evening you'll feast on a hearty meal cooked by the camp chef.
On the last day of your Rocky Mountain backcountry adventure, you'll take the scenic 17 mile ride from Flint's Park Camp to the Minnewanka Pack Station. The shuttle will be waiting to take you back to the stables in Banff by approximately 5pm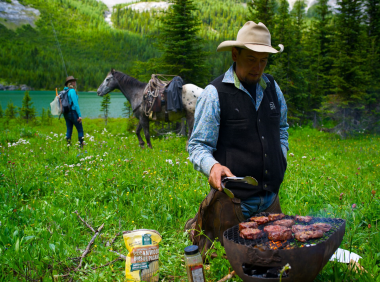 Pricing
All prices are per person unless otherwise specified. Please contact us to confirm the rates - 01798 865946.
We can tailor-make your holiday with flights, car hire, motorhome and city hotels.
Cascade Valley Trip

This 5 night camping trips run from June to September and start on Mondays and Fridays. Riders must be over 9 years old. Gratuities are optional and may be paid to campsite staff
Double Rate : £1183.00 per person including GST
Single Rate : £1365.00 including GST

Please let us know your preferred departure dates and number of people travelling and we will send a quotation to you.
Reviews
Tell Us What You Think
Sorry, no reviews or feedback have yet been accepted to this item.
Be the first and submit a comment now!