Bar Lazy J Ranch
Colorado
With a guest capacity of just 42, the Bar Lazy J Ranch offers a friendly, informal atmosphere with a true "Western Experience". There is a good choice of comfortable log cabins, many located beside the Colorado River, or there is the roomy Ranch House. Either way you will enjoy clean rooms, comfy beds and modern amenities.
The all-inclusive ranch vacation includes meals for the week and, of course, many activities such as riding, "Gold Medal" fly-fishing, a kid's programme, hayrides, campfires, mountain biking, evening entertainment, rafting trip and so much more! Oh, and don't forget their recently installed 1500 ft. Zip Line!
We have first-hand knowledge from our many ranch visits, so please contact us with any questions or for a ranch holiday to suit you.
At 7,500 ft. elevation, the Bar Lazy J Ranch is, as mentioned, considered the oldest continuously operating guest ranch in Colorado.
This historic Dude ranch accommodates up to 42 guests in 12 cozy, comfortable,private log cabins. While the original log cabins have been modernized, the look of the "Old West" has been retained.
The majority of the ranch cabins sit along the banks of the beautiful Colorado River where you and your family will relax to the comforting sound of the rushing waters. All cabins come with private covered patios, coffee maker, king or queen beds, soft linens, a refrigerator in each cabin and an evening turndown service.
For larger families or groups, the Ranch House accommodates 7-8 guests for an additional amount.
Delicious meals are served three times daily and are accompanied by homemade breads, pastries and desserts.
Twice a day you will be offered scenic, moderate and adventure horseback riding on numerous riding trails covering a variety of our Colorado Rocky Mountain terrain.
The ranch also has numerous other facilities to make your holiday special such as a hot tub, swimming pool, laundry facilities , cowboy boots to borrow, a gift shop, recreation barn, a petting corral, unlimited domestic and international long distance phone calls, a massage room, fly fishing equipment mountain bikes free WI-Fi and last but not least - a bottomless cookie box.
The ranch only accommodates around 48 guests so early booking is strongly recommended. The ranch does not serve beer or wine but feel free to bring your own.
The ranch horseback rides will take you through the nearby Arapaho National Forest's sage-covered hills and majestic rocky mountains. Its a trully beautiful part of the State. Twice a day they offer scenic, moderate and adventure horseback riding on numerous riding trails covering a variety of terrain.
In addition, they offer a breakfast ride, a Spa ride and an all day ride.
Before setting out, the Wranglers carefully consider your horseback riding experience and ability before pairing you with your horse during your vacation. Their horseback riding programme is progressive, which means that they provide personalized riding instruction throughout the week.
This ranch maintains it's own herd of over 100 horses which can accommodate all levels of riding ability for your whole group or family.
With the Colorado River right in your backyard, you will receive expert instruction in their section of the river. While the river is "catch and release," their own stocked trout pond has a fish with your name on it. Their chef will even cook it for you that evening. A local guide can be brought in to show you the best pools, his fees are paid directly to him.
The Bar Lazy J has a recently installed Zip Wire which at 1500 feet in length, is one of Colorado's longest and fastest and is the only one that crosses the Colorado River. The zip line starts above the ranch and drops 82 feet as it crosses the river, goes through the trees and across a pasture to the landing platform moving at up to 35mph. This activity is for guests aged 13 and up.
The Ranch Fun Kid's Programme is flexible and designed to meet the needs of children in various age groups. They are kept safe, busy and entertained on their dude ranch vacation.
Off the ranch there are numerous alternative activities, these are not included in the weekly rate rock climbing, ballooning and golf.
A rafting trip will be included in the weekly stay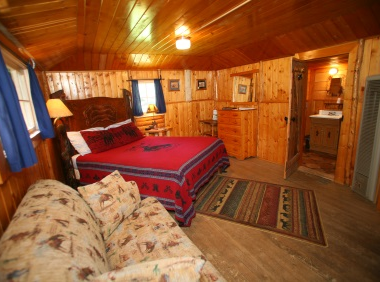 Pricing
All prices are per person unless otherwise specified. Please contact us to confirm the rates - 01798 865946.
We can tailor-make your holiday with flights, car hire, motorhome and city hotels.
Prices include full board cabin accommodation, all riding and included ranch activities. Ranch stays are from Sunday to Saturday
2021 Ranch Season - 30 May to 2 October
Double Adult weekly rate - £1996pp. Add 6% tax and 18% gratuities.
10% discount applies to 30th May, 6th & 13th June & Adult Only weeks from 22nd August onwards
Child discounts are available for 3 to 12 - please ask for details
The ranch will meet you in Granby and transport you back to the ranch at no additional cost and we can suggest transportation from Denver by train or shuttle service - ask us for details. The ranch deposit is 35%

Please let us know your preferred departure dates and number of people travelling and we will send a quotation to you.
Reviews
Tell Us What You Think
Sorry, no reviews or feedback have yet been accepted to this item.
Be the first and submit a comment now!