Blue Sky Sage Horseback Adventures
Wyoming
The rides offered by Blue Sky Sage do not exceed more than six to seven people on each departure. The rides are safe and controlled, yet physically active. Where practical, guests ride abreast at extended gaits such as the lope - when and where appropriate. Accommodation is at their special campsite that is your home from home and sits along the Little Sandy River. Here they have individual tipi tents set up with comfortable bedding. There are washing and lavatory facilities set up nearby. Their staff are experts in the use of Dutch Oven cooking.
We have first-hand knowledge from our many ranch visits, so please contact us with any questions or for a ranch holiday to suit you.
These rides are horsemanship vacations, with the focus on all aspects of horses and riding the open range, for physically fit, active horse enthusiasts. The majority are for women only with one mixed departure in July.
Please understand that these are active rides that require that you be physically fit, not overweight for your body shape/age/gender, have no severe neck, back, knee or other severe pain issues, and have good body strength and control, with a certain level of stamina, though you certainly don't have to be in Olympic athlete condition.
Generally, women should weigh no more than 150 pounds (10.5 stone) if you are 5'5" or less in height, relative to your overall physical condition, stamina, body type, etc. Taller women have a little bit more leeway, but only related to proportions of your body type, up to about 175 pounds.
Men should not be over 175 pounds (12.5 stone) if you are 5'7" or less in height and no more than 230 pounds (16.4 stone) if you are taller, again in relation to your overall physical fitness level and body proportions.
You will live out on the trail in a full-amenity, vehicle-supported, remote wilderness-style camp. Sleep out under the stars or in a roomy, weather-proof canvas tent. A thick foam pad under your bedroll, plus the pure Wyoming air, promises you a good nights' sleep.
Wash off the trail dust at the end of the days' ride in a hot shower or take a refreshing dip in the cool waters of the river just a step away from your tent door. At nightfall, take your favourite beverage and join the crew around the campfire.
Each departure is limited to a maximum of 6 riders only.
You will ride savvy Horses, have a lot of fun and, no one ever leaves thinking they haven't had enough time in the saddle! Blue Sky Sage Horseback Adventures welcome riders who are currently riding or have done some riding in the past and would be generally considered intermediate to experienced in skill level in English or Western. You will ride Cowboy-style western exclusively, on Quarter Horses and Quarter mixes.
These rides are not really suitable for beginner riders due to the intensity of the riding each day.
The riding is the main reason for taking one of these very unique vacations. You will be out early and probably not return until late afternoon. Once you have cleaned up you and your mount, there will be litle time for other activities bar supper and few drinks around the fire.
The ranch have a complimentary transfer from either Lander or the Riverton Airport, this leaves town early and does not get back until mid to late afternoon on the last day. We recommend you spend the first and last night in a local hotel in Lander.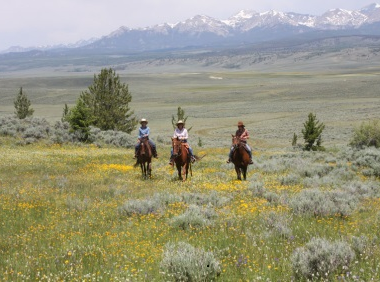 Pricing
All prices are per person unless otherwise specified. Please contact us to confirm the rates - 01798 865946.
We can tailor-make your holiday with flights, car hire, motorhome and city hotels.
Experienced rider looking for a Wyoming Horse Riding Adventure in 2021 :
All rides charged at £2520 including board, riding & activities. Gratuities are paid locally.
Women's Horsemanship Clinic: Depart : 1-7 July, 14-20 August
Experienced lady riders : 21-27 Jun, 11-17 Jul, 4-10 Aug, 24-30 Aug, 3-9 Sep
Mixed group Ride : 21-27 Jul
Please let us know your preferred departure dates and number of people travelling and we will send a quotation to you for a return flight to Lander in Wyoming.
Reviews
Tell Us What You Think
It will be hard to find anything to live up to the holiday I experienced with Bobbi and Mike Wade. They are truly professional and inspirational.

Their horse expertise is exceptional and they are very hot on safety, for both, horse and rider. The orientation lecture given by them ensures that everyone is familiar with what to expect and what is expected. Not something I have ever experienced on a riding holiday before. But it was entertaining, insightful and informative.

The camp is both comfortable and clean. The location has been carefully selected and laid out. The tranquillity of the camp was something else. My tepee was positioned near a little river. A plunge in the water was a refreshing break after a long hot day in the saddle, therapeutic and good for the legs before a hot shower.

Our food was healthy and good. The dinner menu was varied, anything from Bison steaks to BBQ salmon filets, served with local fresh vegetables. Desserts were simply delicious!. Breakfast was equally good and our packed lunch cleverly easy to carry and eat.

The campfire evenings were a special treat with stories of bygone days and adventure.

The horses were all very healthy, well cared for and fit for purpose. They were also well rested i.e. not used every day (also novel in my experience of this type of holiday.) Not one of our group felt out of their depth - either not challenged or challenged too much. We were encouraged to be very hands on and develop a strong bond with our charges.

The countryside is exceptional and Bobbi and Mike chose the terrain/routes carefully in keeping with the level of experience of the riders, the weather and the conditions. Our Mustang experiences were unbelievable.

I thoroughly recommend this trip. Yellowstone was sort of OK after the Red Desert!

Yes, of course, I have a complaint! I am British. My complaint is that my holiday came to an end. I cannot recommend these two professional, personable and engaging people too highly.
Carol Golsby