Burnt Well Guest Ranch
New Mexico
The State of New Mexico has so much to offer its visitors, the mountains around Taos with its fine Native dwelling, the Acoma Pueblo set on top of a huge rock, arts and crafts in Santa Fe, the Gila Wilderness in the south west area and the legend of Billy The Kid.
The Burnt Well Ranch in southeastern New Mexico has a warm sunny climate where temperatures range from mid 70′s° F in the spring and autumn to mid 90-100° F in the summer and mild winters in the mid to upper 50′s.
This is a genuine Working ranch offering ranch stays, cattle drives & cross-country rides. These are the type of drives many of us have seen in the movies, they move the herd from one pasture to another and camp out on the trail.
We have first-hand knowledge from our many ranch visits, so please contact us with any questions or for a ranch holiday to suit you.
The ranch buildings are set on what appears to be the open range but once you are out on your horse, you will find the range is made up of short canyons and gulleys, ideal places for stock to hide itself when you are looking for it.
The main Lodge is where meals are served when you are staying at the ranch, family style around the kitchen table.
In the yard there is a self-catering Casita that will sleep up to six people, the main accommodation is the Hacienda constructed by the Chessers with local materials.
It has a large living area with a Pool Table and small ranch store. The two bed rooms will sleep up to about 10 people is double and bunk beds. Bathrooms are shared.
The ranch run a few sheep and lambs but it's mainly cattle so ranch activities will depend on the season you visit, branding weeks will be in early May for example.
Burnt Well's great attractions are their cattle drives and rides which, being further south, can be later in the year than in areas like Montana and Wyoming. There will be 6 of these assorted rides in 2021.
Generally, for the 5 night rides, they camp out on the trail for at least three of these. Expect to be in the saddle between five to ten hours a day. Its a really early start on the drives, moving cattle by sun up and they try to be at camp by early afternoon. Drives can be between ten and fifteen miles a day depending on the location. All weeks run Sunday to Friday.
They will provide a bedroll for you and hot meals are cooked in a Dutch oven and over a campfire for breakfast and dinners. Expect packed lunches in your saddle bag.
You must be physically fit and able to participate on these cattle drives. Unless you fall off your horse, you will be expected to complete the cattle drive as a member of the crew.
For 2021 there will be 4 cattle weeks offered to guests looking to join in the seasonal activities or take part in guided rides. There are 2 shorter 3 night stays in the Spring & Autumn.
22-27 August - Regulator Ride campout week
12-17 September - Round up & sorting cattle
17-22 October - Round Up & campout (sells out a year in advance) 7-12 November - Round up & pregnancy testing
The Regulator Ride in August will find you riding over steep and rugged landscape with some challenging moments. Probably not a good ride for beginners or novices due to the terrain.
This is not a trail ride, you will be "exploring" on horseback through the historic ranch country of Lincoln County - Billy The Kid country! The ride includes guides, horse, tack, cowboy' teepee,
cot and all the scrumptious campfire and Dutch oven cooking you can eat.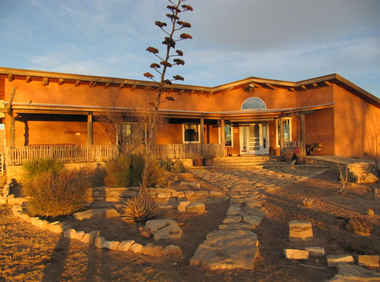 Pricing
All prices are per person unless otherwise specified. Please contact us to confirm the rates - 01798 865946.
We can tailor-make your holiday with flights, car hire, motorhome and city hotels.
Prices are for ranch stays or cattle drives and include ranch or camping accommodation with full board, and riding. Tax is an additional amount of 6.5208%. Gratuities should be paid on departure. 10% or 15% is recommended
2021 Ranch Holidays
3 day minimum ranch stays will be approx £315pp double/£420 single per day + tax. The drives are between £2100pp & £2330pp + tax
There is only space for 12 guests, 10 on drives, so please book early.
A transfer can be arranged from Roswell Airport for weekly stays. Please note this ranch may only be booked direct with American Round Up
Deposit 30% per person
Please let us know your preferred departure dates and number of people travelling and we will send a quotation to you.
Reviews
Tell Us What You Think