Cherokee Park Ranch
Colorado
This ranch has proved to be one of the most popular in Colorado. Over the many years we have been sending our customers there, all have come home happy and wishing they didn't have to leave !
The Cherokee Park Ranch enjoys a high number of returning guests each summer. Their season runs from June to mid September and we always recommend an early booking to avoid disappointment. There are a number of family sized cabins and suites located in the old Stagestop Lodge.
Being totally family friendly, meals are almost always served in the Lodge three times a day unless its "Cook Out " night. In addition to the horse riding there is rafting, hiking, biking, swimming, a hot tub and fishing to keep you and the family amused.
Located about 2 hours north west of Denver near Fort Collins. The two-storey log lodge has a large living area with a huge stone fireplace. There is a pool table in the main lodge that is immensely popular with the younger visitors.
The accommodation is full of Western charm and comfort, all with front porches with hummingbird feeders and blooming flowers. There are four spacious suites in the main lodge, varying in size from two to three bedrooms each. The Beaver, Cherokee, Pawnee, Cheyenne, Eagle and Cache cabins all overlook the river and will accommodate between 2-6 guests each. Two cabins have fireplaces and all units have private baths. There is a daily maid service provided. Elk, mule deer, coyotes and Bald Eagles are just a few of the native animals you may see from your front porch. This Dude Ranch is 100 percent kid-friendly
They offer an extensive children's programme for 2-5 and 6-12 year old age groups. Those six and older are given their own horse for the week and the young cowboys and girls are led on horseback by their own counsellor. Other special activities include wildlife hikes, fishing, nature studies, arts and crafts, scavenger hunts, panning for gold, hiking to an old mine, a 'kids only' cookout with the ranch staff and a special overnight in their bona-fide Indian tepee. They boast splendid home cooking served family style and they will not neglect your sweet tooth. Several cookouts during the week include steaks and ribs, but always with a chicken option.
The ranch offer a transfer from Fort Collins with a pick up at the Hilton Hotel in Ft. Collins 4 PM on your arriving Saturday. (to be paid locally). On your departing Friday, their van leaves the ranch at 10 AM to have you at the Hilton Hotel in Ft. Collins at 11 AM to catch a shuttle or taxi back to the Denver International Airport. Uber Taxis have proved to be a popular alternative.
There is a Shuttle service from Denver to take you to Fort Collins. You may find a small car hire works out less money and is considerably quicker. A number of previous guests have booked an Uber Taxi.
Cherokee Park Ranch week runs from Saturday to Friday
The ranch has an excellent herd of 130 horses to make sure you have the best riding experience. Each day you pick and choose what type of riding you would like to do .

Whether you are an advanced rider or if you have never been on a horse, the ranch will meet your riding needs and exceed your expectations. All rides are catered to each guest's enjoyment, you will see the sights and you can lope through grassy fields without feeling crowded.

The ranch pride themselves on their varied kid's rides which are always popular as the young cowhands venture out to ride as a group, building forts and playing games with their counselors after lunch. Personal instruction is giving out on the trail by the experienced wrangling staff.
Each evening the Head Wrangler comes around at dinner to find out what type of ride you want for the following day. Your choice is to either take a morning ride and then come back to the ranch for lunch and then go out again in the afternoon for another half day ride or they will pack your lunch and you can hit the trail for the day enjoying a picnic at lunchtime. You choose the speed for each day (i.e., slow, medium or fast).
There are numerous alternative activities: a heated pool, line dancing, volley ball, kids playground, billiards, excellent fly-fishing, local tours available, skeet range, unguided mountain biking. Also enjoy s'mores and hot chocolate by the campfire while the ranch entertainers play the guitar, violin and banjo.
River Rafting - You will love the thrill of rafting the Cache La Poudre River (class II and III). They hire Rocky Mountain Adventures, an independent outfitter, as a guarantee you will be in the hands of experts. They use six-man rubber rafts and provide life jackets. The age minimum is 7 year and the cost is about $60pp.
At the end of August and into early September they slow things down a little. During this time while they offer lodging, all meals, fishing and tons of horseback riding. Unfortunately, they do not offer the Kids Programme or any of their summertime activities. Many American families head back to school from mid August onwards.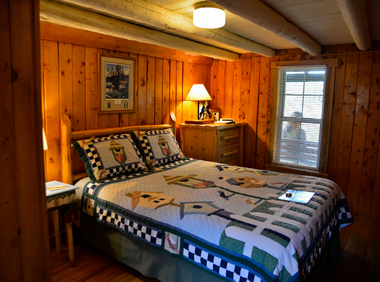 Pricing
We tailor make all our holidays to suit you. We include the flights, hotels, ranch stay, car hire, transfer arrangements where we can and anything else you may require. Let us put your perfect ranch holiday together - give us call on 01798 865 946 or send us an email from the below link -
Reviews
Tell Us What You Think
Cherokee Park is a truly wonderful ranch. We have been twice and will undoubtedly go again. It is good for families, couples and individuals. The staff could not be more caring and hospitable, the food is delicious and the riding is tremendous. There is a huge choice of really well-cared for horses. It is suitable for all skill levels. The area is beautiful with vary varied scenery and enough rides to keep you interested all week. The picnic rides are a real treat.
Andy
Cherokee Park Ranch is a special holiday destination, where Christine and her team have created an environment in which everyone can have a fantastic time be they rider, non rider, young or old. In the foothills of the Rocky Mountains, the scenery is spectacular with a wide variety of trails including grass plains, mountains, woods, flower meadows and river crossings with lots of opportunities to canter or even gallop (if you want too). There is so much to see and do that the time just flies by. A truly wonderful family holiday.
The Baker Family
A great ranch. Christine and her team do everything they can to ensure an excellent experience for everyone. Food is plentiful, scenery amazing and they have a horse to suit every rider. My daughter and I went at the end of the season when the low key atmosphere suited us perfectly. We had the lodge overlooking the trout pond and, in between rides, we spent many happy hours sitting on the swing seat watching the fish jump.
Dawn