The Circle Z Ranch is located on scenic Highway 82, four miles southwest of the town of Patagonia and 15 miles northeast of Nogales. It is just 65 miles south of Tucson.
The lodge is a Mexican style building with a red tiled roof over a big screened porch. A full weekly programme is on offer throughout the winter from early October through to the end of April.

If you have a passion for horses, they will exceed your expectations. Nearby are over one hundred miles of trails which traverse the ranch's own property, neighbouring ranches, forest lands and state lands, leading you in all directions from their historic adobe cottages.
The ranch, which started as a sheep-herding operation in the 1880's, was developed as a Dude ranch in the 1920's. It is the oldest continuously operating dude ranch in Arizona.
Seven historic Spanish-style adobe guest cottages dot the plateau on which the Circle Z lies. The accommodation varies from individual rooms to suites with living rooms or entirely private cottages, each reflecting South-western charm. They all have individually controlled heat and outside entrances onto a porch or patio.

On offer are unspoiled landscapes rich with scenery of grasslands, canyons and mountain ranges rising suddenly and dramatically out of the desert lowlands. And distinct to this ranch is the ever-flowing Sonoita Creek so this truly is a desert oasis.

The history of the landscape goes back many years . The Ranch Naturalist can point out pottery shards and chipping sites, signs of long-term occupation by First Peoples.

The incident that started the Apache Wars took place on what is now the Circle Z, and "melting adobe" structures mark the spot. Guests can explore local history on their own or use the many local resources that can make that history come alive.

The ranch also welcomes children during their school holidays, a child's day will be centred around horses, learning to ride with confidence alongside the experienced wranglers. Horse games, splashing through the creek, or chasing after cows at team penning are only part of the fun. And after the rides, your child will have plenty of time and space to play on the lush lawns, or swim in the heated pool or play a game of foosball with a new friend in their own games room.
If you have a passion for horses, the ranch will exceed your expectations. Nearby are over one hundred miles of trails which traverse the ranch's own property, neighbouring ranches, forest lands and state lands, leading you in all directions from their historic adobe cottages.

Riding on an endless variety of trails is the outstanding feature at the Circle Z Ranch. The ranch offers rides twice daily. They give the horses a well-deserved day off on Sunday's, so no riding that day.

Once you've settled into your room, head on down to the corrals and get acquainted with the ranch's fine western horses. Gentle and well-bred, nearly all of them are bred and trained right on the ranch. With 80 head of horses to choose from, the ranch foreman is an expert at fitting the perfect horse for your needs.
Generally you will be with that same horse throughout your entire stay and rides will be through vast open spaces, where Sonoran prickly pear and ocotillo give way to oak and pine forests.
There are numerous activities to be enjoyed at this ranch, while riding is the main reason for visiting, mealtimes are a highlight.
Fresh, local, healthy and delicious are the key words in the dining room. They grow some of their food in organic gardens on their little mesa and once a year they take one of the ranch-raised steers for the larder.

They produce three meals a day for their guests, as well as intriguing appetizers served in the Cantina during their "social hour". They can accommodate most dietary restrictions with a little advance notice. Meal times mean relaxation, enjoyment and satisfaction.
While most meals may be prepared and served at the ranch house, campfire cook out are also part of the weekly activities.

After a days riding you can cool off in the pool which, should temperatures drop, is heated. The countryside lends itself to hiking and with all the local historical sites, the staff will be pleased to point you in the right direction.

With the astonishingly clear Arizonan air, photography is on everyones To-Do lists and the number of migrating birds will amaze you. Needless to say, when the sun goes down, the stars come out for you to gaze at.

Nearby there are Golf Courses and even a local Nite Spot for those that wish to rub shoulders with other Cowboys and Cowgirls.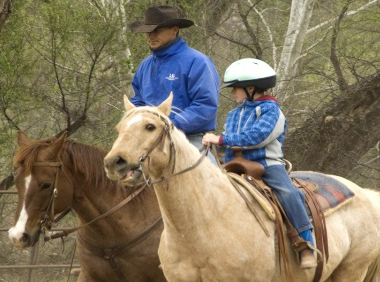 Pricing
We tailor make all our holidays to suit you. We include the flights, hotels, ranch stay, car hire, transfer arrangements where we can and anything else you may require. Let us put your perfect ranch holiday together - give us call on 01798 865 946 or send us an email from the below link -
Reviews
Tell Us What You Think
When we stayed at Circle Z it was the first week of their season and the ranch was almost full. The majority of guests had obviously been there before. There were half day rides and whole day rides with cookouts. There were walking rides for those who wanted to relax and enjoy the scenery, and loping rides for the more adventurous. We went out in groups of about four to eight riders. The scenery is stunning and varied; there are grassy plains, sandy washes, mountain terrain and the beautiful Sonoita creek. I had a superb room in the Casa Rosa. It was well decorated, spotlessly clean and not only did it have an ensuite bathroom but there was also another adjoining room with extra storage space, a fridge, an iron and ironing board. There are laundry facilities at the ranch so if you need to do some washing whilst you're there you can. If you're an early riser like me, you can go to the main building to make yourself a mug of tea/coffee at 6 am and then make your way down to the corrals to watch the horses come in. My friends and I did this every day – it was a great way to start the day and on the last day there was an amazing sunrise. To sum up, if you enjoy trail riding on good horses in beautiful surroundings, you'll love Circle Z!
Sarah Stanley