The Dryhead Ranch is located on the Crow Indian Reservation and here you will find one of the largest historic buffalo jumps in the USA.
There are ranching activities from April through to November starting with the early horse gathers after the winter. These weeks are for more experienced riders who don't mind long riding days and some cool temperatures.
The cattle drives are in the Spring and Autumn, these mother and calf pairs will spend the summer months on native grassland. In September - October time, the herd is collected up again and moved to winter grazing areas.
During the summer months there are ranch weeks when you will spend more time riding on the herd to check they are in good order or to assist the Wranglers with the various chores around the property.
The horse herd is finally ready for the winter round up by early November.
We have first-hand knowledge from our many ranch visits, so please contact us with any questions or for a ranch holiday to suit you.
Like almost ranches, the Dryhead offers a weekly programme of riding and ranch activities on a full board basis.
There are two choices for lodging, the first of which are two cabins with private facilities. These western style buildings offer comfort for the weary cowboy guest. On the wall there are ranch pictures from days gone by and the porch is a good place to unwind from a great day's riding and moving cattle.

These cabins are an additional charge of about £230.00 for a couple and there is a single supplement of £138.00

Alternatively you could stay in one of the comfortable bunkhouse rooms and step back into the cowboy days on a real working ranch. They have blended old and new in a western way by leaving the old log look and mixing it with hot water, heat, and electricity. The rooms have double or twin double beds to accommodate familes or groups.

All accommodation is at the ranch, Dryhead do not offer an overnight camping option as part of their programme. The main Lodge building is also the dining area and there are comfy sofa on which you can relax after a busy day. The Lodge also has Wi-Fi if you need to keep in touch.

As the ranch runs over Federal Native Land, no alcohol is permitted on the property please.
Given the terrain over which The Dryhead operates and the cattle and horse activities that they offer, the better the rider you are, the more you will enjoy the experience. You will find you are riding in both Wyoming and Montana depending on the activity and date, the property is spread across both States.
Intermediate to advanced riders tend to choose this ranch as the nature of horse and cattle work means you will have to ride at all speeds and you may find yourself out for up to 8 hours a day, possibly more if the weather has made the operation difficult.
Ranch weeks will change with the time of year and the activities required to run a Working ranch. A brief resume of these weeks is detailed here :
Horse Round-Ups and Drives - weeks commencing :
8th & 13th April, 27th May, 14th & 28th October

Cattle Drives and Weaning Weeks :
22nd April to 13th May and in the autumn, 2nd to 23rd September

Mid season Ranch Weeks :
All weeks from 20th May to 26th August

Autumn Cattle Gathering Weeks :
2nd, 9th and 30th September, 7th October.

All weeks may possibly change due to weather conditions or circumstances.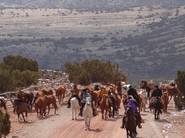 Wyoming Working Ranch save 10%
10% discount offered by the Dryhead Ranch. Depart mid-September, the package includes ATOL protected flights from London to Billings, a first night's hotel and a 6 night fully inclusive stay at the Dryhead Ranch. Re-riding pastures for missed cattle, weaning, sorting and hauling stock - a busy working week. £1584.00pp. Subject to availability.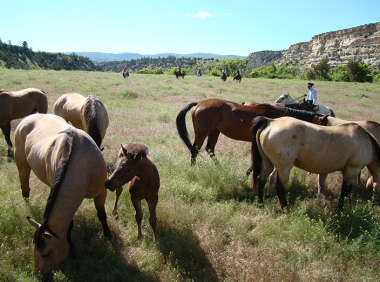 Pricing
All prices are per person unless otherwise specified. Please contact us to confirm the rates - 01798 865946.
We can tailor-make your holiday with flights, car hire, motorhome and city hotels. All weeks at The Dryhead are of six nights duration from Sunday to Saturday. Prices include full board bunkhouse accommodation, all riding and ranch activities, taxes and gratuities.
2018 Ranch Holidays - All weeks are priced from £1595 pp includes gratuity and tax. The ranch have a small number of cabins with built in bathrooms, there is a surcharge of £225 per couple and £135 for a single if this accommodation is required as mentioned.

Main Season : 8th April - 27th October 2018 - activities are shown in the activity section:
Transfers from Billings can be arranged for $100 return per person - paid locally. Ranch deposit - £320 pp
Please let us know your preferred departure dates and number of people travelling and we will send a quotation to you.
Reviews
Tell Us What You Think
Thank you for the holiday of a lifetime, everything was so well organised for us. The whole family at Dryhead were so welcoming. We had no stresses or worries, everything ran smoothly, we only needed to enjoy the experience Thanks again Tracy and Nina
Tracy Hoadley