The Elkhorn Ranch is a winter destination ranch, they are open from mid November through to the end of April.

The Elkhorn adheres to the principle that "small is beautiful". Attention to detail is their primary concern and they are proud of the high number of returning guests. Comfortable cabins, meals with an authentic southern twist and excellent mounts make this a gem of a ranch.
The Elkhorn is a winter destination ranch, they are open from mid November through to the end of April, Stays are generally 7 nights starting on a Sunday. Cabins are equipped with private baths, electric heaters and good reading lights and some have separate sitting rooms or fireplaces. There are no television or phones in the rooms. The cabins are scattered throughout the mesquite to provide privacy.
Great meals are offered at this ranch and there are opportunities for sunning on chaise lounges, writing, reading or socializing with friends or family. Home cooked meals are served buffet style at the Long House three times a day and you can order a hot breakfast for a hearty start to the day. Meals are well-balanced, nutritiously prepared and the variety appeals to most appetites. Breakfast may be a self-service to avoid staff touching. There is no Bar at the ranch but your are welcome to BYOB.
The ranch may offer a transfer from Tucson airport or Tucson area (except Christmas Eve and Christmas Day) but will need as much notice as possible as groups cannot be amalgamated.
Horseback riding at the Elkhorn provides plenty of opportunity for adventure and a great way to see the incredible scenery of the Baboquivari Mountains.

There's a variety of scenic mountain trails as well as desert country for faster riding. Rides are arranged just ahead of time at mealtimes so they are sure who is participating. They also keep the rides pretty small - generally 6 people or less.

This also gives the staff the chance to help people learn and adapt to the riders' needs and interests. When families stay, members may ride together, separately or both. Families will stick together the first few rides and then the kids branch off into a "pack" of their own and mostly ride together, as well as a lot of playing!

Another charming thing about Elkhorn is that all the horses live there year round and are owned by the Miller family. They get the summer off so are in great condition. The owners raise and train many on the ranch.

You keep the same horse and saddle throughout your stay, unless there's a problem in which case they make whatever change is needed. Horseback riding at the ranch provides plenty of opportunity for adventure. Maximum riding weight is 17.8 stone or 250 lbs

Gentle or loping rides through the desert and more vigorous trips up into the mountains are offered almost every day except Sunday, when the horses a given the day off. Thursdays are also just one ride in the morning.

The Elkhorn does not supply riding hats so if you wish to wear one, you will need to take your own. There are lots of wide brimmed hats to borrow. They also require you to ride in Western boots with a heel, the short elasticated ankle boots are not acceptable. There is a cupboard full of boots to borrow as well.
The majority of visitors stay at The Elkhorn to take advantage of the better riding. There is a no formal Kids Programme but children are supervised around the barn and while out riding. There is an ample supply of board games and puzzles, Ping-Pong, Shuffleboard, tennis and basketball plus a heated swimming pool to enjoy. Bird watching and hiking are also popular pastimes.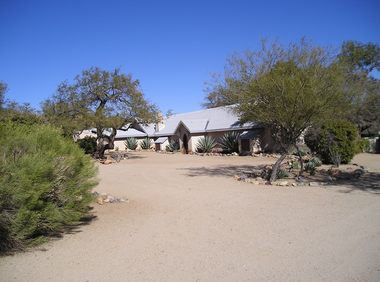 Pricing
We tailor make all our holidays to suit you. We include the flights, hotels, ranch stay, car hire, transfer arrangements where we can and anything else you may require. Let us put your perfect ranch holiday together - give us call on 01798 865 946 or send us an email from the below link -
Reviews
Tell Us What You Think
Riding, accommodation, food & people were all fantastic and the boys thanked me individually & without prompting for a most amazing holiday & experience! We didn't want to leave our horses & William was particularly upset to leave Doodles behind & can't wait to see him again!!
I've never been to a place with such loyal repeat business, but can now fully understand why :).
Andrea, George & William
Much is made regarding how many families return here year on year. The riding, the staff and most of all the Millers make this a place to remember and cherish. The only fault is the pounds (kilos) you tend to accumulate on the waist line - so forget the diet, take a big deep breath, face the mountains, sigh and you are home!
Graham Nicky & Rebecca