Elkhorn Ranch Montana
Montana
Very few American Guest Ranches are in such a truly outstanding location. The Montana Elkhorn sits so close to world famous Yellowstone Park, you could think yourself to be entirely inside the Park.

The ranch was set up by relatives of today's owner Linda Miller, ranching runs in the family as you will find a second Elkhorn Ranch south of Tucson in Arizona also run by Millers.

Both ranches are renowned for their great riding programme and friendly atmosphere. The relatively short Montana summer season does mean early booking though. There are a few weeks remaining available for 2016 and a short stay at the end of August.
We have first-hand knowledge from our many ranch visits, so please contact us with any questions or for a ranch holiday to suit you.
The Elkhorn is just a mile from the northwest corner of Yellowstone National Park. It is a traditionally run dude ranch where outdoor activities are offered daily.

Guests of all ages enjoy time with their friends, new and old. The ranch can accommodate about 40 guests each week who arrive and depart on Sundays throughout the summer.

Surrounded by the Gallatin National Forest and the Lee Metcalf Wilderness, the ranch lies in millions of acres of spectacular mountains, forests and rivers. There is wildlife to see as well including elk, deer, moose and an occasional bear or wolf.

There are 15 cabins offering rustic elegance, comfort and hospitality. These vary in size, sleeping from one to eight people. All have been modernized; private baths have electric heat and many have claw foot tubs with showers. All cabins have porches offering a quiet spot to relax after a day in the saddle.
Dining options are prepared by a professional chef and served buffet style. With daily variety, some ranch specialties and always fresh ingredients, you will be impressed with their version of Western cooking for all meals.

With a bit of advance notice most special diets and preferences can be accommodated as can special occasions.
The first activity on the Monday morning is for the Wranglers to help you get comfortable in the saddle and review some of the principles of western riding. Then you will be on your way for your introduction to riding at the ranch.

As the week progresses, your appreciation of the beauty of the environment grows. All of your senses come alive with bird song and the sound of wind in the lodge pole pines and the riffling waters on Sage Creek or the Gallatin River, and of course, the horses clip-clopping on the trail.

As you climb higher, you'll find yourself surrounded by mountain scenery that is truly spectacular. In early season, there is still snow up on the peaks. Later in the summer, the aspens begin to colour up. In this part of Montana, you are in the midst of the Madison Mountains. In one direction is Monument, in another, the Spanish Peaks in another is also the Taylor-Hilgards. Wherever you gaze, there are memory making mountain vistas.

Grown-ups, will be offered a variety of horseback trips each day designed to suit their interest and ability and to get them into the high country as the week and their confidence progresses. Rides are small, normally with less than eight guests in a group. There are a variety of full or half day rides for riders of all abilities.
Kids are also catered for during the summer months by the Wranglers and are divided up into age groups.
There is a 17.5 stone weight limit.
Close to Yellowstone National Park and surrounded by the Gallatin National Forest and the Lee Metcalf Wilderness, there are numerous opportunities for hiking both on off the ranch property.

Given the number of surrounding mountains, there are a considerable number of rivers. Fishing is therefore a popular option. Here, you are located in the midst of some of the world's finest blue ribbon streams, you can choose the Gallatin which runs along the ranch boundary, the nearby Yellowstone or Madison Rivers, or any number of creeks, including those in the ranch's corner of Yellowstone National Park.

Professionally guided white water rafting trips on the Gallatin are available at Big Sky, just a few minutes down the road. An afternoon can be spent on a mild and scenic float or, for the more adventurous, class II – III rapids followed by the Mad Mile that can be class IV when run off is high.

You are right by the western entrance to Yellowstone National Park, depending on where you fly into, you can visit this wonderful place before or after your ranch stay. Car hire is available at Bozeman and you will find the ranch rates include transfers enabling you to enjoy both ranch and Park.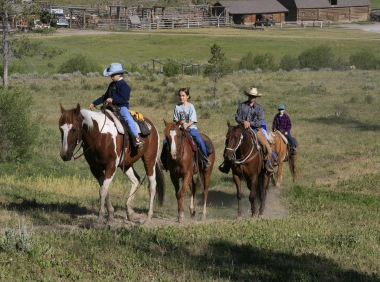 Pricing
All prices are per person unless otherwise specified. Please contact us to confirm the rates - 01798 865946.
We can tailor-make your holiday with flights, car hire, motorhome and city hotels.
2019 Ranch Holidays
Season runs - mid June to mid September. Weeks run Sunday to Sunday. Rates include full board, Bozeman transfers, riding & ranch activities. Sales tax and gratuities are also included.

Adult weekly rate - £2875.00pp
Child ( 6-18 yrs ) - £1637.00pp
Deposit - 25%
Please let us know your preferred departure dates and number of people travelling and we will send a quotation to you.
Reviews
Tell Us What You Think
Sorry, no reviews or feedback have yet been accepted to this item.
Be the first and submit a comment now!