Goosewing Ranch is a small high quality Dude ranch located just 40 miles from Jackson Hole and will accommodate up to 35 people in eight private guest cabins and three larger 2-bedroom cabins for larger families.

The main focus of the ranch during summer months is riding. They can cater to all riding ability levels and will match the appropriate horse to each guest. Troting and loping is possible in the flower filled meadows.

On offer are summer vacations including excellent riding and fly fishing - the Gros Ventre River, home to native cutthroat trout, runs through the meadows of the property.

The outdoor heated pool and hot tub provide excellent relaxation before the activities begin: target shooting, archery, roping, horse care and arts and crafts. Evening activities include line dancing, campfires, cookouts, star gazing and more.
Goosewing Ranch sits at 7,400 feet, the valley is the home to some spectacular game such as elk, moose, mountain sheep, antelope, bear, eagles, geese, cranes and much more. The scenery in this area is stunning.

There is plenty of fly - fishing or spinning to be found in the nearby Gros Ventre River.

The ranch offer a full programme of accommodation, three full meals a day and wine list to complement your evening steaks. There's a once a week cook out down by the river. The children's programme is offered from mid-June through the end of August. This runs for a couple of hours daily and is best suited for children 6 years and older.

Transfers are available from the town of Jackson or the Jackson Hole airport for $200 per round trip or if you would like to visit town for the twice weekly rodeo.
Glamping in wagons at the Goosewing Rendezvous Camp is available between 16 June and 6 September. Located 4 miles from the ranch, this is a five night wilderness experience, service is supplied by three members of staff who provide meals and entertainment. Transport is by ATV from the ranch. There are separate washrooms, portable loo and propane heaters.
Four days of riding and activities such as hiking and fishing are included. This programme is separate from that offered at the ranch. Full written details are available on request
Although there is no riding on your check-in or check-out days, rides will go out Monday to Saturday to different areas of the National Forest and Wilderness. They offer 2, 4 and 6 hour long trail rides. These rides are limited to 6 or 7 guests per Wrangler. Their weight limit is 270lbs (19 stone). The ranch uses mostly quarter horses and crosses.
Riding on check in day only consists of being fitted to your horse and saddle. There is no riding on your checkout day to give horses a day off. The ranch recommend leather boots with a smooth sole and a heel.
They encourage enthusiasts to be involved with the horse activities as much as possible from grooming and saddling to bareback riding there is something for all interest levels. Cantering is allowed after approval from the wrangler and passing a "lope test" in the arena.

Riding may vary depending on weather, trail conditions and other factors. Safety comes first for guests, wranglers and horses.
Children 6 and older may also ride and there are a few cattle on the ranch which allows guests to do some Team Penning in the arena.
Fly fishing is excellent in the area and they provide instruction on their stocked pond and section of the river that flows through the property twice weekly.
The ranch has an outdoor heated pool, an outdoor hot tub and a brand new sauna and massage room.
You have free access to a Polaris Ranger (UTV) 2, 4 or 6 seats during your stay. You only pay for the fuel you use. UTVs are for off ranch use only. If you prefer there are many excellent hiking trails. The ranch also has mountain bikes for you to use.
There will also be a greater range of activities plus guests will be able to choose their activities at will rather than on a set schedule. There will now be skeet and target shooting plus an ungraded archery range.
Rafting is available from June to September in Jackson Hole. Prices are about $65 – $80 per person and can be arranged through the office.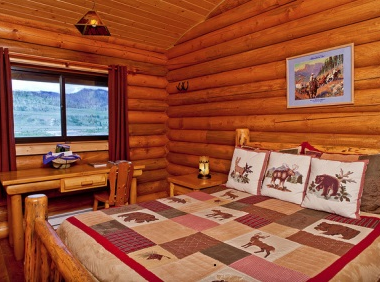 Pricing
We tailor make all our holidays to suit you. We include the flights, hotels, ranch stay, car hire, transfer arrangements where we can and anything else you may require. Let us put your perfect ranch holiday together - give us call on 01798 865 946 or send us an email from the below link -
Reviews
Tell Us What You Think
Visited this ranch in early May. After a 2 night stay in Jackson Hole, we enjoyed an adventurous drive on a dirt track out to the ranch spotting a wealth of wildlife from deer, buffalo, elk and lots of birds. (Approx timing - 2 hours). The ranch is set in a very remote beautiful valley with quality facilities to entertain families or couples. Great for horse riding, fishing, hiking or wildlife viewing. Top tip - stay longer!
CS