Hunewill Ranch
California
Horseback riding is the premier attraction at the Hunewill Ranch with genuine Californian cattle roundups. Horses and riding groups are available for every riding ability. There are between 4 and 7 night ranch stays, cattle weeks, ladies only or adult only weeks. Their season runs from late May to mid November. This property is what we would term a Working Guest ranch.
Due to the altitude, the folk at the ranch recommend that you bring a hat, sunscreen, rain jacket or poncho and a warm jacket for cool evenings. Dress is informal as you might imagine.
You'll love riding your horse through this 26,000 acre expanse of cool lush meadow, bordered by timbered peaks. There is world class trout fishing in the nearby East Walker River and in the many lakes and streams in the adjacent Toiyabe National Forest.
Home style meals are served in the dining room in the founder's Victorian ranch house. You'll stay in comfortable cottages near the horse pasture; allowing you to watch the horses come thundering in early each morning. The majority of cabins have two connecting rooms with private baths and comfortable porches. Most rooms have a queen and a twin bed or two twin beds. All rooms are non-smoking areas.
This property is mainly a working cattle ranch with over 1200 head of cattle. You'll be able to learn cowboy skills such as gathering and sorting cattle. It's not uncommon for you to be able to help cowboys gather and bring in the herd to the corrals for vaccinating or branding. Once in a while cows will need to be "doctored" 'in the field.
The level of riding offered by the Hunewill will depend on the week that you visit. They are able to cater to all levels and also take kids over 6. Younger kids will be minded while parents are out riding. The Autumn Cattle Gather in November is highly recommended for those who enjoy long days in the saddle.

Safe to say, the main attraction is the horseback riding. This will generally be in large and open pastures that are bordered by the majestic Sierra Nevada Mountains. Whether you are a novice or advanced rider, there will be a mount to suit you. The ranch has sufficient land to enable you to walk, trot and canter in the wide open spaces of Bridgeport Valley.

There are occasions when the day rides venture up into the nearby mountains to enjoy high mountain terrain, glacial lakes and spectacular scenery. The riding here may be a bit slower up here..

Other horseback activities include splash rides, a breakfast ride, moving cattle, an obstacle course and games on horseback.

There are a number of cattle weeks during the season so you would be well advised to be a reasonable rider as the days can be long and challenging.
Riding and cattle work are the main activities at this ranch, there is fishing and rafting nearby but it's not connected to the ranch's weekly schedule.
They have a busy calendar of events for every week of their opening season, stays are of different lengths - 3, 4 5 and 7 nights depending on when you choose to stay. Ranch activities will vary depending on the dates you visit. Their longer cattle gathering and driving packages are spread across the summer season ending in the ranch cattle drive in early November.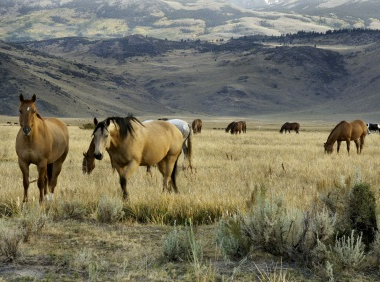 Pricing
We tailor make all our holidays to suit you. We include the flights, hotels, ranch stay, car hire, transfer arrangements where we can and anything else you may require. Let us put your perfect ranch holiday together - give us call on 01798 865 946 or send us an email from the below link -
Reviews
Tell Us What You Think
Sorry, no reviews or feedback have yet been accepted to this item.
Be the first and submit a comment now!