Kara Creek Ranch in north east Wyoming is a genuine Working Ranch. They run between 2500 and 3000 head of mainly Black Angus cattle.
The ranch is located 16 miles from the historic town of Sundance and it lies alongside the banks of the Inyan Kara Creek, the crystal clear mountain stream discovered in 1874 by General Custer's expedition.
Like all true agricultural enterprises, everything that happens on the ranch revolves around the seasons but the main activity at Kara Creek is cattle management much of which will be on horseback.
Owned and run by Monte Snook and his daughter Cassie, the ranch is located close to the old Cheyenne to Deadwood Stage route. You are right in old Wild West country here!

The Ranch headquarters is about 4000 acres and the remainder of the ranch is some distance away in a variety of diverse landscapes in the Black Hills of Wyoming and even into the plains of South Dakota. It is sometimes necessary to transport the horses by road if you are taking part in one of their "Cow Camps" or round ups..

The sleeping accommodation in the ranch house offers several rooms in the basement where the staff are usually quartered, the guests are accommodated on the ground floor (two rooms, which share a bathroom) and on the upper floor there are two rooms with wonderful views but also a shared bathroom.

Downstairs the dining and sitting room are close together and have panoramic windows on three sides plus an enormous fire-place.

There are a number of new cabins, a four berth with en suite facilities which stands about 200 yards from the ranch house. In addition there is a single cabin with its own bathroom. And just recently they added another cabin called the Bunkhouse. It has two large rooms ( one with one large bed and one with two twin beds), one bathroom and a large living room with a TV and huge deck on the front.
There is now an air-conditioned Saloon located away from the ranch house. It's a BYOB affair at the moment but it is a fun place to be! It was built with old west style, with lots of history in it. In the evening there is music, pool or darts.
There is also a shop where they sell saddles, horse tack, western clothing and some Kara Creek souvenirs plus branded items. Goods are all authentic western items offered at a reasonable price! On the saddles, guests can try them out while at the ranch to ensure a good fit.

This ranch is open to guests almost all summer and you may start your stay any day of the week. It is sometimes necessary to transport the horses by road if you are taking part in one of their "Cow Camps"

The best times are generally in early May when they are busy branding, this is then followed by a cattle drive in June. During the summer the work is very light and so the ranch may be closed but please check. Space is limited so please book well in advance for branding and round up time.

In September, the cattle are brought down out of the mountain pastures so once again, a cattle drive can be arranged. Generally the ranch caters for about 10 to 12 people but during the main round up, this number can increase should it be necessary to hire in extra help, they run around 3000 head which can take some rounding up !

Meals may be a moveable feast, during the busier times, you may take a packed lunch and eat on the move.

An evening meal is provided back at the ranch so after a long hard day chasing cattle, a hot shower and a couple of beers, don't be surprised if you are not straight to bed because its all going to happen again next day !
This ranch operates over 30,000 acres. To get the best out of Kara Creek, you have to be classified as either an Intermediate or Advanced rider. You also have to be prepared to "get down and get dirty!" but the rewards and memories that you come home with will last you a lifetime.
Most guest will visit the ranch either around the Spring or Autumn cattle moving times. These are the busiest time for cattle ranchers so they just don't have time to help with riding instruction.
You will be allocated a mount and off you go, working possibly 8 hours a day so you need to know how to ride plus be sure you are up to this type of riding regime.
All operations on a Working ranch are weather dependant but the rule of thumb is that in the Spring calves are born and start to run with their mothers and other calves in the herd. In May and early June, the branding takes place and then the herd is driven out to summer grazing. As the calves are still small this is usually a fairly slow operation.

During the summer, it will be necessary to ride on the herd, check for injuries, make sure there is no disease or predation and the occasional herd move to fresh pasture.

September sees the herd rounded up, by this time the cattle are spread across the huge acreage required to run this number of beasts, your job is to go out each day, find the cattle, bring them together and then take them back to near the ranch HQ where they will be over-wintered.

Then it all starts again the following Spring.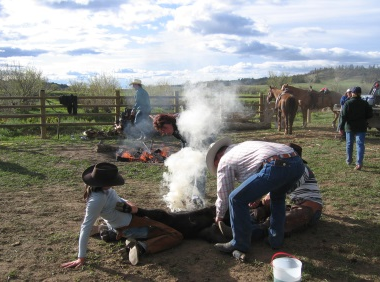 Pricing
2023 – Guide price per person including transfers & gratuity (no single occupancy supplement) - from £2170 pp
We tailor make all our holidays to suit you. We include the flights, hotels, ranch stay, car hire, transfer arrangements where we can and anything else you may require. Let us put your perfect ranch holiday together - give us call on 01798 865 946 or send us an email from the below link -
Reviews
Tell Us What You Think
I had a fantastic time at Kara Creek. I was greeted with a warm and friendly welcome. It has a real family feel and they make you feel part of that family. I enjoyed all aspects of the riding and non riding activities and i would highly recommend Kara Creek if you are after a truly authentic experience. I cannot wait to return.
Emma