Kay El Bar Guest Ranch
Arizona

Kay El Bar Ranch is of historic interest but with carefully restored rooms and facilities. The nearby town of Wickenburg is just 72 miles from Phoenix with it's non stop flights from London.
Their programme is primarily based around Wrangler lead horse rides in the surrounding desert. These are accompanied by a full board meal programme.
Also on offer are scenic High Desert hiking, biking, stargazing, a heated swimming pool & Hot Tub plus bird and local fauna watching.

Kay El Bar Ranch is nestled in the foothills of the Bradshaw Mountains close to the Hassaymapa River in the breathtaking Sonoran Desert. The ranch was built in the late 1800s and began as a working cattle outfit.

The climate provides bi-seasonal rainfall, making it one of the lushest deserts regions, with giant saguaro cacti, short trees plus a great variety of shrubbery and wildlife.

Savour three delicious home-cooked meals plus the staff are glad to accommodate special food requests. Meals happen around the rides and are served family-style in the dining room, on the patio or out on the trail. A fresh pot of coffee is ready in the lodge for any early risers.
The ranch can accommodate up to 28 guests, the main Lodge has inviting quarters that are comfortable and charming, each guest room has a private modern bath, hand-painted furniture, custom cowboy bedspreads and drapes plus a collection of western artwork.

There are two casitas tucked away under towering salt cedar and eucalyptus trees. The larger Casa is a spacious unit, it has a sitting area and fireplace. It can accommodate one or two children staying with their parents. Casa Monterey has twin beds and both have large walk-in showers.

The third accommodation is the Homestead House which is spacious and comfortable. It offers a living room with a fireplace and is perfect for families and can sleep up to seven persons.
The ranch has wine and beer available to purchase. The ranch offers an anyday arrival policy. A transfer from Phoenix to Wickenburg Airport Express may be booked at www.wickenburgshuttle.com
Life at the Kay El Bar centres on their horses and riding programme and a well-trained string of mounts for every experience level − beginner, intermediate and advanced. The wranglers select a horse for each rider based on his or her experience.

Before breakfast riders may groom their horse if they wish. During orientation, Staff will go over western riding techniques and explain safety precautions. Boots and hats are offered if you haven't brought your own. It is suggested you wear jeans, long-sleeved shirts, socks and sunscreen.

Trail riding starts with children 7 years and older and no riders should weigh more than 240 pounds or 17 stone.

The morning ride departs at about 9 a.m. and the afternoon one at about 2 p.m. All-day rides are available by request. Rides operate twice daily except Sunday and holidays, when the horses have the afternoon off.

On Sundays riders have a light breakfast before hitting the trail and enjoy a cowboy cookout style brunch in the desert before their return.

Check out guests are welcome to join in for the morning ride and stay for lunch. Horseback riding begins the morning after check in. Favourable weather, varied terrain and spectacular scenery make Kay El Bar ideal for some of the finest horseback riding anywhere.
Riders may canter or trot through the wash of the Hassaymapa River beneath sheer canyon walls or climb rocky ridges for spectacular mountain views. 2000 acres of BLM Land are also available for riding.
Consider a hike on the ranch trail. Up high in the blue desert sky you may see such predator birds as the red-tailed hawk or turkey vulture and don't be surprised if a small group of Gamble Quail crosses your path.

After a day filled with riding or hiking, you may want to splash in the refreshing swimming pool, rejuvenate in the whirlpool spa or watch the sun rise and set from the luxury of shaded hammocks. The ranch is a great wedding venue for those looking for something different.

Alternatively head down the road to the historic downtown of Wickenburg. Explore the unique and fun shops and learn about how the little town came to be at the charming Wickenburg Museum.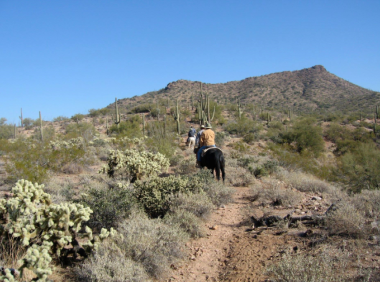 Pricing
We tailor make all our holidays to suit you. We include the flights, hotels, ranch stay, car hire, transfer arrangements where we can and anything else you may require. Let us put your perfect ranch holiday together - give us call on 01798 865 946 or send us an email from the below link -
Reviews
Tell Us What You Think
The Kay El Bar was perfect, riding superb, staff more than helpful, accommodation first class and meals not to be missed. I fully recommend it to those who want full Western hospitality.
Clive Chidley