The Klondike Ranch is located just south of Buffalo in north central Wyoming. They offer seasonal cattle work, calving and branding in the Spring and the ever popular cattle round-up in September.
This is a small ranch operation that can accommodate about 12 guests. Riding is the primary activity and, due to the seasonality of a Working Ranch, the spring is when calves are born, then branded and put out to grass. Recommended for children 14+ only.

Summer time you have to check the herd and tend to any injuries and September is the big gathering of the herd. Its a busy time but days are filled with riding adventure.
We have first-hand knowledge from our many ranch visits, so please contact us with any questions or for a ranch holiday to suit you.
Klondike Ranch is just south of the town of Buffalo in the northern part of Wyoming. The ranch house where meals are prepared and taken is the home of the Richard and Patty Tass.
There is plenty of history in these parts for both early settlers and local Indians. The Johnson County War was fought just down the road from here.
Next door to the ranch house are the cabins, a mix of modern western-style buildings with private restrooms and an older set of cabins as well. Each cabin has a wonderful view of the Big Horn Mountains, as the ranch is just 4 miles from the face of these beautiful peaks. Some cabins have kitchenettes, as well as living areas.
They also have a campsite on the Bighorn National Forest where they ride to if you are interested in longer horseback rides and an overnight camp trip.
The ranch runs a herd of 200 mother and calves, these require a good deal of attention, the vast majority of their time is spent on horseback.
If you are going to the Klondike to join in one of their Spring cattle drives or Autumn cattle gathers, then you need to be at least an Intermediate rider.
Days will be long and you will probably eat a picnic lunch out on the range. Some western riding experience would be an advantage as they may not have a huge amount of time to teach you how it all works.
Overnight camp out at Mountain Cow Camp - 1 or 2 nights camping int he rugged beauty of the Bighorns - please check for dates when booking.
As riding is the prime reason for visiting, there are not a large number of alternative activities but there is plenty of history to enjoy. The Hole In The Wall Gang's hideout is a short distance away along with an excellent Museum in Buffalo.

The main alternative activity offered is superb angling for wild rainbow and German brown trout on the scenic Crazy Woman Creek.

Also there are professional rodeos in Sheridan, Buffalo and Kaycee which offer exciting competitive action featuring stars on the national rodeo scene.

The ranch is home to whitetail and mule deer, antelope, bald eagles, coyotes. In the Bighorns you may see elk, moose, beaver, porcupine and a tremendous variety of colourful birds. A good camera is always recommended.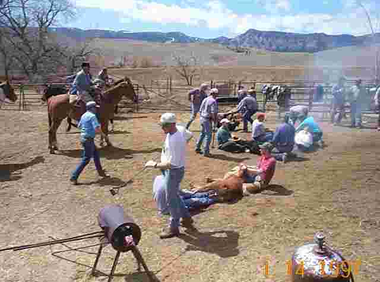 Pricing
All prices are per person unless otherwise specified. Please contact us to confirm the rates - 01798 865946.

We can tailor-make your holiday with flights, car hire, motorhome and city hotels.
Weekly prices generally start and finish on a Sunday and include full board accommodation, all riding and ranch activities & Casper transfers. 5% lodging /sales tax are in addition. Gratuities are to be paid locally please.
2021 Ranch Holiday Season - end of May - September
Prices from £1500.00pp per one week and £2900.00pp for a 2 week stay
Transfers are incuded in the weekly rate and are return to Casper which has its own airport. Transfers to ranch operate afternoons and return mornings.
£600pp deposit required, non-refundable after 1st April 21.

Please let us know your preferred departure dates and number of people travelling and we will send a quotation to you.
Reviews
Tell Us What You Think
Sorry, no reviews or feedback have yet been accepted to this item.
Be the first and submit a comment now!