La Reata Ranch
The Mid-West
La Reata Ranch is located in the beautiful Saskatchewan River Valley. They have accommodation for up to 14 guests. The property has nine miles of water frontage and more than 5,000 acres of rolling pasture. They run a herd of two hundred and fifty cows and new born calves.
We have first-hand knowledge from our many ranch visits, so please contact us with any questions or for a ranch holiday to suit you. La Reata is a recent addition to our programme.
La Reata Ranch is in a peaceful spot in the southwest of the Province. They have welcomed guests for a real-life ranch experience for well over 23 years. The surrounding views are of the rolling hills, the golden prairie grass swaying in the wind and the sunshine sparkling on the lake.

The Ranch is located at least a two-hour drive from Saskatoon airport, 45 minutes north of Swift Current on TransCanada Hwy 1.
Some guests have driven from Calgary, which is 364 miles and takes 5 and a half hours to drive. In the UK, this is much the same as from Southampton to the Scottish Borders! There are domestic air services from Calgary and Toronto as an alternative.

For those interested in a real Canadian cowboy experience, this ranch offers an unforgettable trip into the life of a working cowboy, where visitors stay in western-style cabins each equipped with a private bathroom; all meals and non-alcoholic beverages are provided.

The scenery at La Reata reminds of an old fashion western movie. The landscape is a mixture of rolling prairies, open range, canyons and the nearby river.

There are six comfortable log cabins, with two double beds. Each cabin has a private washroom. There are also two larger cabins which sleep up to 6 guests in doubles and bunk beds. Breakfast and supper are served in the Cookhouse. Lunch is generally a picnic out on the ranch. Canadian beef and home-baked goods add to the plentiful cowboy cuisine. Please note, vegan meals are not available on a cattle ranch.
The Old West Saloon has a pool table, fooseball, darts and lots of country music.
Every morning your La Reata horse experience begins as everybody saddle's up their mount! You will be provided with a suitable horse to enjoy during your stay at the ranch. Then the group will take off for an exciting day's ride to check the herd and to explorer the large ranch property.

Beginners are welcome to receive some basic western riding lessons to comfort any fear or hesitation with the first ride. Everyone interested will have the chance to learn how to handle the rope and work with cattle or try the first barrel race in the large outdoor arena.

All guests are welcome to participate in the seasonal cattle and ranch work. They have to check cows almost on a daily base and if necessary, they have to move the herd or catch some calves to treat them. Cattle will always need moving to new pasture during the summer, there are also a branding week in June and a round up in the first week of October – both these require early booking as, generally, just 12 spaces are offered.
The riding gear that is recommended are jeans, any kind of boot with a heel, a hat for sun protection, the ranch has some hats available at their small trading post, or they can stop at a western store on the way back to the ranch.
Other activities on the ranch include hiking, birdwatching, swimming and boating.
Guided tours can be booked at the ranch. Within a 45-minute drive, you will find a golf course, mini golf, houseboat tours,
historic museums, a sporting marina and shopping Malls.
La Reata is not a ranch where guest physically have to work full time, in the hot summers they may not move or work with the cattle but generally, they have to check the stock on a daily base and sometimes have to move them to fresh pastures.
While there is a lot to do almost every day, they will relax and have a good lunch brake with coffee, sandwiches or beans and sausages cooked over an open fire.
From time to time throughout the summer month, they will pack the horses for an exciting overnight campout under the stars – a real cowboy dream !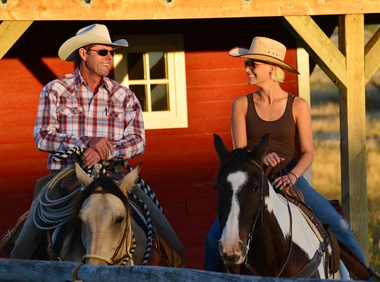 Pricing
All prices are per person unless otherwise specified. Please contact us to confirm the rates - 01798 865946.
We can tailor-make your holiday with flights, car hire, motorhome and city hotels.
Ranch seasons are 6 June to 10 Oct 2020 & 22 May to 9 Oct 2021. Adult double: £936.00pp per week and a single room: £1176.00 per week.
Taxes plus 5.9%. Gratuities are paid locally please. All guests will be asked to fill out and sign a waiver form on arrival.
SOLD OUT IN 2020 - July 4 to August 2 ; August 8 to August 21 ; August 29 to September 4 ; (October 3 to October 10 limited space only)
Arrival days are only on Monday, Thursday or Saturday! Check in time 3PM and onwards/ Check out time rooms 11AM Return transfers are offered by the ranch from Saskatoon on arrival & departure days - 2 guests are $200pp
Please let us know your preferred departure dates and number of people travelling and we will send a quotation to you.
Reviews
Tell Us What You Think
Sorry, no reviews or feedback have yet been accepted to this item.
Be the first and submit a comment now!