Laramie River Dude Ranch
Wyoming
This charming property offers a wide range of hospitality and activities. While horseback riding is their specialty, they also have exceptional fly fishing, naturalist led hikes and wildlife adventures, a full children's programme, some cozy accommodation both in the Lodge and in creekside cabins and satisfying family style meals.
There are lots of opportunities to work cattle at the Laramie River Dude Ranch. They have a small herd of cattle which they gather up twice a week for "team penning". There may also be the unscheduled opportunities to help neighbours work their much larger herds.
We have first-hand knowledge from our many ranch visits, so please contact us with any questions or for a ranch holiday to suit you.
Renovated in 1996, the new lodge at the Laramie River Ranch maintains the charm of the old structure while providing guests with modern comforts which visitors have come to expect including private bathrooms, climate controls in each room and handicapped accessibility.
Five historic log cabins provide the balance of the accommodation at this property. One and two bedroom units are scattered on the bank of the river and along LaGarde Creek just across the walking-bridge from the lodge.
The cooks and bakers prepare generous portions of homemade breads and desserts, fresh salads, fruits and vegetables plus delicious entrees. They are happy to accommodate special diets with advance notice and vegetarian alternatives are available. The dining room provides views of the snow-capped Rawah Peaks and the Laramie River.
You may stay for three, four or seven nights (subject to availability) This makes the ranch really popular for guests on their way from Denver to or returning from Yellowstone Park. Space is limited so please book early, 4 night stay have become a popular option.
The riding at the ranch is varied; there are even ponies for the little ones. Guests may walk, trot and canter across tens of thousands of acres of Colorado's spectacular Rocky Mountains. You will fall in love with the variety of terrain at your disposal - beautiful vistas, interesting geological formations, open parks, wooded areas and abundant wildlife.
Experienced wranglers accompany small groups of riders to provide the personal attention and instruction necessary to ensure that you enjoy your days in the saddle. There are regular opportunities to gather and drive cattle on a neighbouring ranch.
What better way to experience the West than to spend a day at the rodeo? The Laramie Jubilee Days is held in early July and Cheyenne Frontier Days rodeo is later in July. Both offer a real taste of the cowboy way. Guests with transportation may head into town to catch the fun
The ranch is open from June to September. They offer return transport from nearby Laramie. Maximum guest number is 25. Stays are generally Sunday to Sunday but there are shorted alternatives from Wednesday for 4 nights or from Sunday for 3 nights.
One day cattle drives are scheduled in June and September but there are no firm dates for these events. The ranch has a weight limit of 230 pounds or 16.5 stone. Children 6+ to join trail rides. There is no riding on Sundays.
Guests have private access to two miles of the Big Laramie River and a mile of the La Garde Creek so there are plently of opportunities for fly-fishing for brown trout, there is weekly instruction.
For the infants there is a baby-sitting service. There are two Kids programmes, one for those up to six, the ranch's trained counsellors will keep the lttle guys busy all day. For the 6 to 12 year olds there are guided rides and hikes, river swimming, tubing & fishing.
With so much wildlife around, the ranch have their own naturalist programme to help you identify the large number of birds, bugs and beasts.
Evening entertainment comes in the form of barn dancing or live musical entertainment has always been part of any dude ranch vacation. It could be a cowboy picking on his guitar - and the audience, or maybe a fiddle player.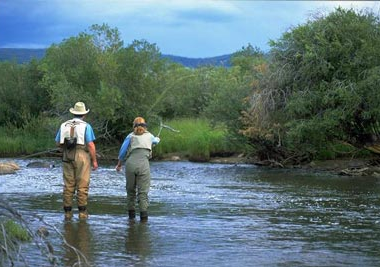 Pricing
All prices are per person unless otherwise specified. Please contact us to confirm the rates - 01798 865946.

We can tailor-make your holiday with flights, car hire, motorhome and city hotels.
The ranch price includes your Lodge or Cabin accommodation with full board, all riding and ranch activities. Sales tax and gratuities are also included. You may stay for three, four or seven nights (subject to availability) This makes the ranch really popular for guests on their way to or returning from Yellowstone Park. Space is limited so please book early.
2019 Ranch Holidays :

Summer Season: 30 June-18 Aug.

3 night stays Sun to Wed - adults - £1142.00pp
4 night stays Wed to Sun - £1525.00pp
7 night stays Sun to Sun - £2223.00pp

Adults only 18 Aug to 6 Sep
Discounts are availble for Children from 4 to 12 - please enquiry for details

Transfers from Laramie can be arranged. 30% deposit required. Check in 3 pm Check out 9 am
Please let us know your preferred departure dates and number of people travelling and we will send a quotation to you.
Reviews
Tell Us What You Think
Sorry, no reviews or feedback have yet been accepted to this item.
Be the first and submit a comment now!