This popular Wyoming Dude Ranch sits at 7200 feet in the Wind River's East Fork valley. The lodge and cabins are shaded by lush green cottonwoods and the contrasting red clay cliffs of the Wind River Indian reservation.
The ranch continues to keep the authentic western flavour of the old sheep and cattle ranch, originally settled by Scottish homesteaders in the 1890's, in what has become known as Scotch Valley. They are well known for the quality and extensiveness of their riding programme.
They also work with a nearby Outfittler to offer a wilderness mountain pack trip.
We have first-hand knowledge from our many ranch visits, so please contact us with any questions or for a ranch holiday to suit you.
The town of Dubois Wyoming is about two hours drive from Jackson Hole and is slightly closer to the southern entrance of Yellowstone National Park.

The scenery while riding is superb. The Shoshone National Forest and the Wind River, Absaroka and Owl Creek mountain ranges surround them.

Tucked in the cottonwood trees and arranged around a central courtyard and along the river, the log cabins are comfortably furnished with casual western flavour.

Ranging in size from the old one-room schoolhouse for one or two to large family cabins that can comfortably sleep up to 8, they all have a small refrigerator, private bath or shower, electric heat, and outdoor sitting area.

The lodge has a cozy fireplace, library and game tables where you can gather with friends and family, grab an early cup of coffee, read a book, work on a puzzle or play a board game. There's a swimming pool or, for the bravers swimmers, the river.

Every day starts with a full breakfast, lunches vary and include a buffet or BBQ outside in the courtyard, pack your own lunch if you are out on the trail. Several nights per week there is a cocktail hour on the back porch of the lodge. Dinners are served under the sky and in the dining room.
The riding groups are kept small for the beginner to the advanced for your special instruction and enjoyment. What makes this ranch unique is the opportunity to ride in all directions through some of the most diverse terrain imaginable.

Red rocks and sandy canyon draws lead you up onto the high plateaus of the Reservation. Experience the mountain meadows, abundant with wild flowers or alpine country where early and late in the season you may see herds of elk and deer, moose or coyotes.

There is a supervised riding programme for children 6 years and older that includes riding and safety instruction.

The 2020 weeks of 30th August and 6th September are Adult Only weeks.
Riding is available for everyone over the age of 6 who wants to ride. Unlike many ranches, there is an opportunity to ride on Sundays when you arrive.

After this, there are half or full day rides throughout the week. Kids are in the care of the Wranglers and will be put together with other kids of similar age and expertise.

After all the meals and riding, there is swimming in the pool or the river, hiking in the surrounding hills, bird watching, a shooting gallery and a small Petting Zoo. There are trips into nearby Dubois or further afield to Jackson for the rodeo held on Wednesdays and Saturdays in the summer.

Welcome to fly-fishing at the Lazy L & B Ranch and the Upper Wind River areas. With many rivers so close to the ranch, it should fulfil every fisherman's dreams. Here you will find Rainbow, Cutthroat and Brown Trout.

The East Fork of the Wind River is a small stream, which meanders through the ranch, with excellent fishing. It is a favourite of small stream aficionados. The creek is full of small cutthroats. The West Fork of the Wind River has a breath-taking canyon view and is truly one of Wyoming's best-kept secrets. The river spreads out into numerous threads. The Upper Wind River offers the promise of some truly large trout and can be fished effectively with both fly and spin gear.

The valley also features spectacular scenery including multi-coloured badlands, hay pastures and pine-covered mountains. The Wind River continues to flow southward past the turn-off to the ranch and onto the Wind River Indian Reservation. If you'd like to fish a mountain lake, there are many to be found in the Wind River and Absaroka ranges.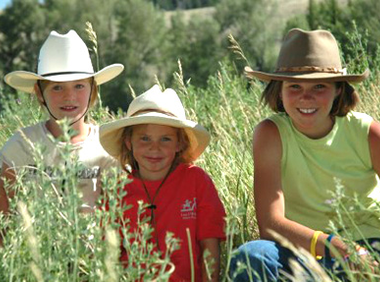 Pricing
All prices are per person unless otherwise specified. Please contact us to confirm the rates - 01798 865946.

We can tailor-make your holiday with flights, car hire, motorhome and city hotels.
The price is for a six night stay starting on a Sunday and include accommodation, 3 meals daily, riding and ranch activities. Last two weeks are Adult Only.
2021 Ranch Holiday Season - 06 June to 05 September
Weekly adult price - £1838pp based on double occupancy. £160 single supplement. Please pay gratuities locally - generally 15%

Child discounts are available - please ask us for details. Deposit £600pp
Transfer is $495 per vehicle, round trip from Jackson Hole. This is a 180 mile round trip journey and takes 2-3 hours so collection is only at 3.30 in Jackson. This charge is collected locally at the ranch. Alternatively we can arrange a car hire for you.
Please let us know your preferred departure dates and number of people travelling and we will send a quotation to you.
Reviews
Tell Us What You Think
The ranch is in a beautiful setting, beside a river running through a red rock canyon. From a photographer's point of view, Wyoming has the best scenery - absolutely stunning! Out of the six ranches I've been to, I'd say that the Lazy L&B has the best riding; the landscape is very diverse with numerous opportunities to lope.
Sarah Stanley
The Lazy L&B is my Home from Home, it's where I am at my most relaxed - mind and body. The food and Horse Programme are both excellent .The staff that they employ each year are always the best and always friendly . And this year will be my 10th time at this Ranch ..
William Tutty