Lone Mountain Ranch
Montana
To book Lone Mountain Ranch in Monana with flights, car hire, transfer Tel : 01798 865946 or email with your dates.

Lone Mountain Ranch encompass both the Gallatin and Madison mountain ranges, as well as truly a spectacular view of Lone Mountain peak. The ranch is also surrounded by the Gallatin National Forest.

The main Lodge is a great meeting place with a sophisticated Saloon in which guests can enjoy a pre-dinner libation. Meals are taken in the delightful dinning room, here the aim of the chefs is to provide you with an "epicurean experience" unlike anything else you've had before.

Log cabins encircle the Lodge and the whole ranch is set high up on the side of the mountain. On offer are daily riding trips, hiking, mountain biking and fishing in trout filled rivers.

Evening entertainment will round off a busy day with either cowboy singers or an informative talk about the Greater Yellowstone Eco-system.

We have first-hand knowledge from our many ranch visits, so please contact us with any questions or for a ranch holiday to suit you.
Unique is one word that might best describe the guest cabins. Whether your cabin was built 70 years ago or in the last decade, all are attractive, well-maintained and comfortable and include daily housekeeping service.

The lodge pole pine furnishings, patchwork quilts and western accessories reflect the historical atmosphere of the Ranch, built in 1926. Each cabin has a private bath, wood burning stove or fireplace and electric heat.

The smaller cabins have one bedroom/living area and bath. The larger cabins have a separate living room and 2-3 bedrooms. There are some 25 different units to choose from depending on your party size.

The Dining Lodge is a beautiful log building with a generously equipped modern kitchen, a log dining room with huge elk antler chandeliers and a massive stone fireplace. This is a sumptous yet wonderfully informal and comfortable room. The food has received many International Accolades. They also have a Saloon in the Lodge where you will meet other guests.

Many of their staff have served worked at the ranch for several years and their love of the place is contagious. Many guests would agree it is every bit as much these people who make this place special.
The ranch offers horse riding to guests of 6 and over, beginning with basic horsemanship and control skills, kids may join parents on the easier rides.
Riding takes place in the Greater Yellowstone Ecosystem. The terrain around the ranch is mountainous so the opportunity for faster riding may be limited by the factor. They have a herd of well-trained horses and experienced wranglers who lead the rides with enjoyment, education and safety in mind.

Rides are limited to a few riders per wrangler so the wranglers are able to provide more specialized attention telling you about the area and what you are seeing along the ride. The wranglers will spend time with guests on your first full day assessing your abilities and matching you with the best horse and riding experiences for their ability level.
Some guests will have had some previous riding experience, but it is not a necessity
Please note, to ensure horse and rider safety in mountainous terrain, there is a maximum rider weight limit of 230 pounds (16.4 stone)
Included in the ranch package there are Yellowstone Tours available, ranch naturalists have led people into the special places of this Park for years and share with guests an unrivaled intimacy and understanding.
The combination of good and knowledgeable people and nature will make anyone look at life a little differently. Whether your preferred mode of exploration is by foot hiking, by boat canoeing or kayaking, by bike mountain biking or by vehicle touring Yellowstone National Park, the ranch's naturalists help guests feel comfortable while discovering the true nature of the place.
Lone Mountain is an Orvis Endorsed location and offers a number of well qualified guides to give you an un-forgettable fishing experience. These packages are offered as an alternative to the riding programme.
There is plenty of evening entertainment to look forward to as well. This may be a talk by a local Biologist on the flaura and fauna. There are also a number of talented musicians who visit the ranch to entertain, you may even find them working at the ranch for the summer.
There are also a number of off-ranch activities that can be arrnaged but are paid for separatly. For example, the Gallatin River offers Class I-IV rapids depending on the time of year and river flows. Alternatively there are guides specializing in taking novice and intermediate climbers, Montana Alpine Guides promotes climbing as a safe and exciting activity that can be enjoyed by the entire family.
The Big Sky Golf Course is a scenic 18 hole par 72 golf course originally designed by Arnold Palmer and is located in the town meadow at 6,500 feet above sea level. Big Sky Resort also offers a zipline just a few miles away.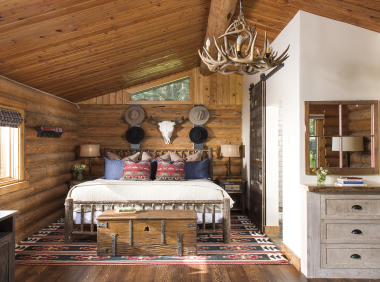 Pricing
All prices are per person unless otherwise specified. Please contact us to confirm the rates - 01798 865946.

We can tailor-make your holiday with flights, car hire, motorhome and city hotels.
Price include cabin accommodation, transfers from Bozeman, full board, riding, guided Yellowstone National Park tour, Guided canoeing, gourmet BBQ's on Mondays and Saturdays, yoga sessions, sales tax and transfers. Summer weeks are 7 nights from a Sunday.
2018 Ranch Holidays
Summer season operates from early June to mid October

The daily double cost during the High Season between late June and August is £564 per adult, minimum 7 nights
In early June, September and October, shorter stays of 5 night apply at £412 pp per day

These rates include full board, activities, gratuities and tax
Please let us know your preferred departure dates and number of people travelling and we will send a quotation to you.
Reviews
Tell Us What You Think
Sorry, no reviews or feedback have yet been accepted to this item.
Be the first and submit a comment now!