Lost Valley Ranch
Colorado
To book The Lost Valley Ranch with flights, hotel and car hire call American Round-Up : 01798 865946 or email
Lost Valley Ranch is one of our favourite family ranches, offering breathtaking scenery, superb cabin accommodation, Five Star meals and riding to satisfy everybody that visits.

The Lost Valley Ranch is situated about two hours south west of Denver and is a cattle and horse ranch set in the mountains on 490 acres of the Pike National Forest. Although only a short distance from Denver and Colorado Springs, it's the last nine miles you will remember forever. That's where the pavement ends and your adventure begins.
We have first-hand knowledge from our many ranch visits, so please contact us with any questions or for a ranch holiday to suit you.
One, two and three bedroom cabin suites are cozy, comfortable and immaculately serviced. Half of the twenty-three one to three-bedroom cabin suites are single-family structures with living rooms, oversized queen or king beds, a mini refrigerator and porch with a swing, Louis L'Amour paperbacks on the fireplace mantel and regional decorations.

There are more than 26,000 acres of the Pike National Forest around here for you to explore. Well-marked trails follow old logging roads, criss-cross ridge tops that wind through stands of shimmering aspens.

Each and every meal is uniquely prepared with an elegant twist on Western cuisine.. Healthy, hearty and delicious. Breakfast may include eggs, bacon, pancakes, French toast, at least one kind of fruit, cereals and juice. For lunch and dinner you might feast on baked chicken, hamburgers, steak, a variety of fish, home-baked bread and delicious deserts.

A special diet menu is also available. Most meals are served in the main dining room. But, you'll be delighted to discover how good lunch in the meadow or from your saddlebag tastes. This particular ranch is famous for it's outstanding youngsters programmes. They arrange their children's activities for different ages. Teens are treated as young adults and have evening as well as daytime programmes.
Lost Valley Ranch has a string of 140 horses which are hand-selected and trained to fit the demands of their programme. Many of the horses are ranch bred so they are familiar with the terrain. Some guests return just to ride the same mount. Your horse will be assigned to you for the duration of your stay, that way riders and mounts can become acquainted with each other, forming a bond to ensure an enjoyable riding experience.

Lost Valley Ranch provides daily guided horseback rides tailored to different levels of riding. Rides are offered every morning and afternoon, rain or shine but when and how often you ride is entirely up to you. It can be arranged for kids to ride separately from the adults.

Whether this is your first time on horseback or if you are an advanced rider, qualified Wranglers are here to assist and instruct. They will match you with the best horse based on your skill level and personality along with custom-fitting your saddle and mount.
2020 Ride Ride Ride September 20 - 27, 2020
Cattle Week September 27 - Oct. 4, 2020
Horsemanship Weeks September 13-20, 2020 October 4-11, 2020
In addition to the great and varied riding schedule, Lost Valley has an excellent Kids Programme that operates during the summer months. It is designed to keep all ages happy. Each week during the summer they have team penning and a ranch rodeo. For those who like hiking there are guided hikes & all-day treks available.

Being in a valley, there is a pond for fishing as well as nearby rivers for Fly and Spin Fishing.

Although there is an additional cost involved, there is a 5 Station Range for trapshooting and the Shotguns are provided.

River Rafting with Noah's Ark Colorado Rafting, this is 2.5 hours from the ranch and, like the shooting, it is an additional cost, so is the In-Cabin Massage Therapy with a Fully-Licensed Therapist.

During the main season, the ranch offer Cowboy Cookouts, Square Dancing, hot tubs, Two All-Weather Tennis Courts and Hay rides. There is also an Olympic-scaled heated Swimming Pool

Evening Entertainment – an Olde Time Melodrama, Campfire Sing-A-Longs, Ice Cream Socials & more. Due to the number of families that visit, the ranch ask that if you like a tipple, please consume this in your cabin.
In September and early October there are a number of Adult Weeks, 2 horsemanship clinics early and late in September. These clinics are to learn or improve your skills in riding and understanding a horse just a little bit better. Costs are from £1680 and £2200pp + tax

Ride, Ride, Ride is in mid September. It is a must for the rider looking to spend long days in the saddle exploring remote wilderness areas that surround Lost Valley and who don't mind 9 to 10 hour days. £2200pp + tax.

Lost Valley Cattle Round Up is the week of 26 September. The riding involves whole and half-day riding. They will work until the job is done and it's an important part of the ranch operation making sure that all the livestock is gathered and shipped before winter set's in. £1699pp + tax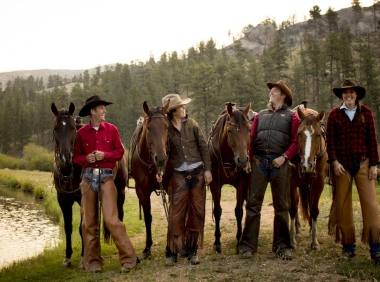 Pricing
All prices are per person unless otherwise specified. Please contact us to confirm the rates - 01798 865946.

We can tailor-make your holiday with flights, car hire, motorhome and city hotels.
Between 30 May & 29 Aug rates are for 7 nights from Sunday to Sunday. Weekly charges include full board accomodation in one bedroomed cabins, all the riding and ranch activities. Gratuities are not expected unless you wish to do so. Sales tax - add 4.5%.

2021 Ranch Holidays :
Weekly prices start from £2840pp and increase to £3280pp from 13 June to 15 Aug.
Child discounts between 3 & 17 years are available - please ask us for details.
We recommend you book Speciality Weeks early : 2021 Horsemanship weeks between 12-19 Sep & 3-10 Oct. Ride, Ride, Ride from 19-26 Sept & Fall Round-Up is 26 Sep-3 Oct. Each are a 7 night stay, additional details are in the Activities section.
A transfers is available from Denver or Colorado Springs for a round trip charge of $125 per person ($125 minimum/$700 maximum per family) - payable locally and must be booked at least 14 days prior to arrival. Transfers to ranch operate afternoons and return mornings.

Please let us know your preferred departure dates and number of people travelling and we will send a quotation to you.
Reviews
Tell Us What You Think
Lost Valley feels like home and more the minute you get there and you immediately become a member of their extended family. The ranch situation is beautiful, their choice of horses is amazing, they really do have the right horse for everyone whether you are a beginner or like me an experienced rider. Whatever your standard you will love the riding. The cabins are spectacular, you will probably not spend much time in them but you they are wonderful. Lost Valley staff are sensational, the food is brilliant, one week will not be enough! I have seen Lost Valley in sun and snow, heard coyotes, learnt to ride Western, made true friends and still want to go back for more.
Sheena Thompson
I have been going to the Lost Valley Ranch every year since 2005 without fail! The Lost Valley is like my second home, a very special place that gives you a warm welcome the moment you cross the cattle guard. The accommodation is amazing, the riding is fantastic and the Lost Valley staff are all such wonderful people, who bring everyone together in to one very happy Lost Valley family.
Louisa Constantine
As soon as you cross the cattle grid at the entrance to Lost Valley you begin to feel like part of the family. There is a calmness and beauty that surrounds the ranch, it is the perfect place to escape the world, relax and unwind. One of the first things that struck me, apart from the amazing scenery and breath taking Rocky Mountains, is how friendly and welcoming the staff are, nothing is too much trouble. Most evenings staff members join guests for dinner and chat through the day's events.
The cabins are very comfortable and have the most amazing beds! They are warm and cosy and if you feel the cold, then take advantage of the log fire and enjoy the extra warmth. Cabins are kept immaculate by a great team of staff and the daily messages they leave on the chalkboards always make me smile.
The dining room is a sight to see with all the family brands burnt into the walls. The food never fails to impress. The kitchen crew excel with every meal and the daily freshly cooked bread, cookies and desserts should not be missed.
The main reason I chose to visit Lost Valley was for the riding. It does not matter if you are a first time rider or if you were born in the saddle, the Wranglers will find the perfect horse for you.
The trails zig zag throughout the hundreds of acres of forest and you will get to see some amazing views.
Each ride offers something different and you will never be bored and if you do need some entertainment, the wranglers always have a story to share. I fell in love with Lost Valley the moment I arrived and visited twice in 2013, I can't wait to go back in 2014.
Claire Springett
I don't know where to start. Lost Valley ranch is just amazing. Actually, words or photos cannot properly or accurately describe it. The welcome on arrival was so warm and friendly but not only from the staff but also the other guests, many of whom have visited lots of times. As a non-rider beforehand I was made to feel welcome and reassured. Our cabin, Saddle Horn, was amazing and actually luxurious. Everything we needed was there including a very comfortable bed, a nice welcome card and the note along with daily messages on our chalkboard, were lovely. Oh and the turn-down service! The food and drink was amazing with some nice new choices and flavours. Everyday we had new experiences for breakfast, lunch and dinner. Exceptional! The riding? Sensational scenery which photos don't do justice to. There's a variety of rides depending upon your skill. The Wranglers were awesome and so patient. My personal thanks to Luke, Bobby, Wilson and Nolan. Oh the waiting staff deserve a mention. So beautifully cheerful and attentive. Bayleigh, Emily, Kiera, Hannah and everyone else. Thank you! The maintenance guys worked very hard for us too. The swimming pool and hot tubs were so appreciated. We could go on and on about this beautiful place. ! All in All, it was perfect in every way and we didn't want to leave. Even if you don't/can't ride, come along. It's life changing.
David and Caroline