Majestic Dude Ranch
Colorado
The Majestic Dude Ranch is an all-inclusive experience. While staying here you will be kept busy participating in scheduled activities that start as early as 7:00 AM and could end in the evening.
While rooms, food and facilities are top notch, the Majestic is not like other ranch-resorts you may have heard of - no sitting by the pool or in the sauna. There are a great number of activities offered, not only the riding but also, you may spend your days exploring pristine wilderness, hiking summit peaks and racing along some of the best bike trails in the USA.

The Majestic Ranch is well placed between Denver, the Grand Canyon and Las Vegas, an excellent property to stay at for a few nights and enjoy the wonderful countryside.

Guests are able to book for three nights from either Wednesday or Sunday, six night from a Sunday.
Majestic has numerous facilities to help make your stay with them memorable. There is an outdoor pool which is a favourite for both kids and adults. The hot tub and sauna help heal some of the sore muscles and is available at all times.
The Saloon not only features locally crafted beers, but also some award winning wine that is grown and bottled less than an hour from the ranch. After a long day of activities there is a Games room featuring a pool table, darts, giant jenga, fooseball, ping-pong plus a collection of board games and puzzles.
For those who can't get enough exercise, try the well equipped Gym which has unlimited access. There is Wi-Fi but it's limited to the Lodge and not in the cabins. There is also a free washer and dryer with the detergent provided.
Early booking is recommended due to the size of the property and the number of cabins.
The ranch owns some 60 head of horses which work at Majestic in the summer and then over-wintered in Arizona.
For younger visitors there are a number of ponies on which the kids may ride out every day, there is a family ride every Wednesday. Older and more experienced kids may join their parents on a more advanced ride once they have been assessed by the Wranglers.

There are daily slow and fast rides, loping requires a test in the arena to check your riding skill. The ranch is permitted to ride over huge areas of BLM land. Rides may be half day, all day, a sunset ride or a cook out ride. Team penning is also available.

After being assigned a horse at the beginning of the week, you'll have a chance to improve your riding skills every day. Each ride gets progressively longer until you're given the option to go on an all-day or half-day ride each Friday. During the summer season, when Bear Creek is high enough, people interested in fly fishing are given the option of doing an all-day ride and fishing trip.
The ranch activities are divided into two sections. In the summertime these revolve around non-stop family programmes. The ranch have a great team of counsellors who facilitate an action packed kids programme. This allows adult guests a stress free vacation as they have the opportunity to spend time with the whole family as well as time without the kids during parts of the schedule.
Communal meals are held three times a day and evening activities bring everyone together. Other activities offered are archery, skeet shooting, rafting, paintball, two ATVs. In the evening there are movies and karaoke nights.

There are two times of the season set aside for adult stays, a week in mid-May and the month of September. Their adult only sessions offer a more laid back atmosphere that features wine and cheese tasting, appetizers and wine before every dinner, cooking classes, yoga sessions, complimentary riding lessons and free local beer in your fridge.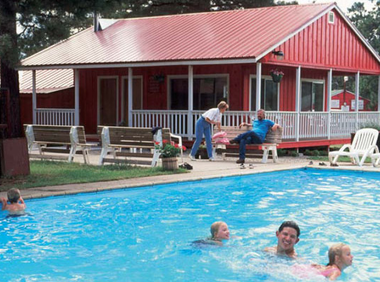 Pricing
All prices are per person unless otherwise specified. Please contact us to confirm the rates - 01798 865946.
We can tailor-make your holiday with flights, car hire, motorhome and city hotels.
2021 season: 9 May to 25 Sept
Stays are either 3 nights from Sunday or Wednesday or 6 nights from a Sunday. Includes full board, daily riding, guided mountain biking, fly fishing, white water rafting (weekly stays only) hiking, archery, skeet shooting and ATV tours.
Adult rate - £380 pp/nt, children over 4 years - £300pp/nt. Staff gratuity should be paid to the ranch on departure.
Tax at 6.9% & service fee of 12.9% to ride on BLM land are in addition.Transfers available from nearby Durango or Cortez Airports,
Deposit is 50% per person - non-refundable after confirmation
Please let us know your preferred departure dates and number of people travelling and we will send a quotation to you.
Reviews
Tell Us What You Think
Sorry, no reviews or feedback have yet been accepted to this item.
Be the first and submit a comment now!