This ranch takes just 10 guests who are welcome to participate in all ranch activities, becoming part of the team in real ranch work.
Originally this area was first settled by Homesteaders who found themselves competing with local cattle barons and native tribes. Life at New Haven Ranch is much more enjoyable now. Activities are either working on the ranch's own herd, they will also assist neighbours at the busiest times with branding, moving stock to fresh grazing which requires more hands than usual.
Here they ride at all three gaits to make the most of your stay. Young people need to be 16+ in order to ride.
We have first-hand knowledge from our many ranch visits, so please contact us with any questions or for a ranch holiday to suit you.
The New Haven lodge has five comfortable rustic bedrooms, each with it's own bathroom. A furnace and a wood stove provide warmth on cooler days. On hot days, the central air conditioning can be turned on. Just 10 guests per week.
The Lodge house has been rebuilt and a brief description: room 1 (upper story): 1 Queen bed and 1 Twin bed with bathroom. 2 (upper story): 1 Queen bed with bath ; room 3 (upper story): 2 Twin beds with bath ; room 4 (lower story): 1 Full bed and 2 Twin beds with bath; room 5 (lower story): 1 Queen bed and 1 Twin bed with bath.
There is an open kitchen which is attached to the dining and living area. Homemade breakfast and supper plus a lighter lunch. Snacks and drinks are available for everyone at all times. This ranch butchers its own cattle, lambs, goats, geese and ducks.
Riding is in the centre of all the activities on the ranch. When not moving cattle to a different pasture, you will check fences and reservoirs, look for strays or practice "roping" and "cutting". Sometimes they just ride for fun. The horses are well trained using the Parelli method of natural horsemanship which allows for a better communication with the horses and makes riding safer for you. If requested, they will organize a course with a certified Parelli instructor.
You should be a relatively experienced Western rider to visit the ranch. Even beginners can participate if they are fit, brave and willing to learn. Please note you should have ridden in all three gaits before and be able to sit in the saddle for up to three hours at a time. Maximum weight 250lbs (17.5 stone) generally no riding on Saturdays. Riders must be aged 16 to a maximum of 70.
South Dakota - About once a week they drive with the horses to South Dakota to help neighbours work cattle on the ranches they manage there. While New Haven and it's surroundings offer many canyons, hills, plateaus, rimrocks, sagebrush prairie and trees, just over the State border in South Dakota you will see the endless grass prairies as depicted in "Dances with Wolves".

*No guarantee because depending on weather and work / even though the terrain is easier than in New Haven, the distances are longer and often have to be covered in trot and canter, in specific cases they may decide to leave weaker riders at home.
The ranch provides a wide variety of countryside. You can hike and watch the abundant wildlife or go swimming, boating or fishing in the river . The trout taste great !
Non-riders who like to be away from it all, will also be able to enjoy this place. Just half an hour away is the US's first National Monument, Devils Tower. The ancient volcanic vent which was exposed by millions of years of erosion is the setting of many movies and a holy place for the Lakota Indians. The old gold digger town of Deadwood, the Harley Davidson mecca Sturgis and the famous presidential heads of Mount Rushmore can be reached in two hours or less.
When time and the season allow the ranch will visit rodeos, at the end of July - Deadwood Rodeo or mid August the Rapid City Rodeo. Also country dances and horse auctions with their guests. If you want to combine a ranch vacation with travelling through the Wild West, you should plan a trip to Yellowstone National Park in Western Wyoming, the Badlands in South Dakota or the battlefield on the Little Big Horn where in the 19th century General Custer and Chief Sitting Bull fought one last big battle.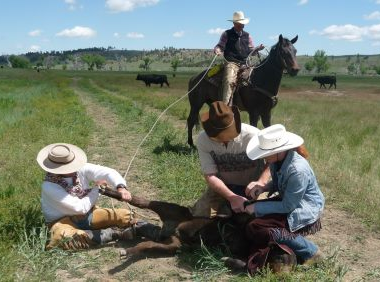 Pricing
All prices are per person unless otherwise specified. Please contact us to confirm the rates - 01798 865946.
We can tailor-make your holiday with flights, car hire, RV. Stays are generally from Saturday to Saturday, however a Wednesday departure has been introduced recently to allow an 11 night stay if space is available.
2021 season will start on 22nd May to 16th October
Providing rooms are available - there is no single surcharge.
First week - £1288pp. Second week -£1160pp plus 10% gratuity and £22pp lodging tax
Prices include full board, riding and ranch activities. A transfer prior to 6.00pm can be arranged from Rapid City for $150 return per person - paid locally please. 25% deposit required
Please let us know your preferred departure dates and number of people travelling and we will send a full quotation to you with flights, hotels and ranch.
Reviews
Tell Us What You Think
My husband and I had a fantastic week at New Haven Ranch. Nick & Doerte are lovely hosts and with the help of their staff they ensured we and the rest of the guests had a great time. Our week consisted of finding escaped cattle and reuniting them with the herd, moving cattle to new pastures, team penning training, swimming and pedal boating on the lake, target shooting, climbing the butte and even doing some sight seeing. The accommodation is clean and comfortable and the food excellent. I would highly recommend this ranch.
Vanessa Bentley