Nine Quarter Circle Ranch
Montana


The Nine Quarter Circle Dude Ranch is set in awesome country just outside Yellowstone Park. The main lodge sits just above a number of family style cabins and is the centre of ranch activities.
Like all great Dude ranches there is something for every one here from little ones upwards. Supervised kids programmes for the smaller children give parents time to spend together.
There is riding every day and some excellent fishing right on the ranch, hiking and biking, a barn dance. Just watch the time fly by !
We have first-hand knowledge from our many ranch visits, so please contact us with any questions or for a ranch holiday to suit you.
The ranch is located in the high country of the Montana Rockies alongside a swift mountain stream called the Taylor Fork of the Gallatin River. In addition there are a great variety of other trout streams - Lightning, Buck, Wapiti, Meadow, Snow Flake, Cache, Daly, Bacon Rind, West Fork and the world famous Gallatin and Madison Rivers.
The ranch buildings are of log construction built in true Montana style. Interiors are log or knotty pine cut from local timber. The cabins are decorated with forest furniture and handmade quilts which are made at the ranch.
All cabins have private baths, most with tub and shower. Some have single bedrooms; others double and several three or four bedroom cabins to accommodate larger family groups.
Meals are served in the Dining Room and are home-cooked, family style… very informal with no dressing up for dinner expected. Several outdoor meals are scheduled each week including a late afternoon ride to dinner.
There is no mobile phone reception but the ranch does now have Internet service. Please BYOB for the evening Happy Hour. Due to the altitude, please be sure to take things carefully in your first couple of days as you may feel out of breath.
The Nine Quarter Circle is the perfect horseback riding vacation in Montana. The trail rides are into deep, timbered forests or across grassy meadows with incredible views are experiences you will long remember.
The Kelsey family, who own the ranch, breed and train their herd of 120 Appaloosa horses personally, so they know each horse's temperament and stamina in the mountains.
Western riding instruction is every Monday morning and additional assistance is available throughout the week. They offer two two-hour rides per day for all levels of riders. Aditionally they have two all-day rides during the week for the intermediate to advanced riders.
Each week, one of the all-day rides will ride in Yellowstone Park.
There are also smaller ponies for the younger guests and to round things off, they have a Gymkhana on Saturday morning so you can show off your newly acquired riding skills.
There is a weekly two day pack trip to whet your appetite for a longer trip under the stars. Due to changes in Forest Service regulations and fees, the camp out will be an extra $35 per person paid locally. The trip leaves on a Wednesday and returns Thursday afternoon.
They also offer extended pack trips in late summer to the Taylor Hilgard Wilderness Area and the National Forest surrounding the ranch. If you plan on this trip, all you will need is a sleeping bag and ground pad - the ranch supplies everything else.
There is also an additional $25 per person per day Forest Service charge and you need to be a reasonably competent rider. Minimum age is 13 if accompanied by parents.
The Saturday night square-dance in the barn "hay mow" will have you dancing and clapping along with the music. Among the weekly events at the ranch, the Gymkhana, or games on horseback, provides an opportunity for everyone to come and perfect their new riding skills.
Off the ranch are further fishing opportunities for which a licence will be required, there are self drive trips into Yellowstone Park if this is not on your itinerary the following week.
There are also a number of independents rafting operators who offer trips of the nearby Gallatin River.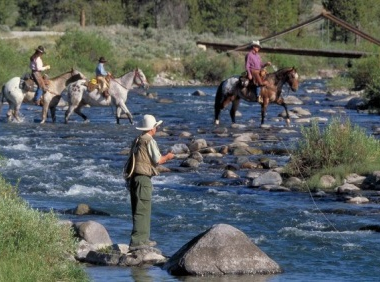 Pricing
All prices are per person unless otherwise specified. Please contact us to confirm the rates - 01798 865946.

We can tailor-make your holiday with flights, car hire, motorhome and city hotels.
The price includes full board cabin accommodation from Sunday to Sunday, all the riding and ranch activities. Sales tax and gratuities are also included. Extras to pay for are rafting trip, pack trip, mountain bikes and laundry plus your fly fishing instructor. Yellowstone Park trips are booked through a local operator.
2019 Ranch Holiday Operation dates are: 16 June to 15 September
Weekly adult double rates are between £1981 and £2290 per person
Child discounts (up to 14 yrs) are available - please ask us for details
Transfer from Bozeman or West Yellowstone $150 first person plus $25 additional person - payable locally - subject to availabilty. Transfers to ranch operate afternoons and return mornings.
Deposit - £330pp
Please let us know your preferred departure dates and number of people travelling and we will send a quotation to you.
Reviews
Tell Us What You Think
Amazing place, can't wait to go back! Didn't see a road all week. We took our family. My 15 year old daughter and I are competent 'English' riders, my husband barely rides, and my 6 year old is a beginner. We all had a great time and felt suitably challenged by the riding. The horses are good. There isn't anything very small for the little kids but my little boy was fine on 'Joseph', who is about 14.2 but just plods along behind the one in front unless requested to do otherwise. The riding is lovely, with great rides into the mountains and terrain you wont find at home. The 'Kelsey Killer' ride is on Thursday. It may or may not go to Yellowstone. We went into the wilderness behind the ranch. Strictly for the brave advanced riders, we were in the saddle for a good 8 hours and some of it was scary! This does clash with the pack trip (wed-Thur) which is a more gentle option, riding-wise. My 15 year old did this and had a great time. I'm tempted to do it next time. Bedding roles can be provided by the ranch. Accommodation and food are both great, the family and staff are welcoming. Fishing tuition/guiding is included (there is a lake to start on, then you can try the river (licence available locally), but other options for non-riders are limited to taking yourself off for a walk in the mountains or asking the ranch to organise other excursions. Childcare: there is a babysitter for under 6s, and kiddie wranglers for 6+. That said, our little boy rode with the adult beginners a couple of times and stayed with the babysitter a couple of times when he couldn't ride. The childcare means you have cover for morning and afternoon rides, also during happy hour and adult evening meal. If you want to do a day ride you need to sort cover between the family or another family. The rest of the time the kids hung around together anyway in the play park area. There are balls etc they can use as well as the play equipment (a bit old-school and no rubber matting if the kids fall off things - but its a ranch, not a uk play park). There is also a 'pool' for swimming. This is a bit slimy. The water comes from the stream and is changed weekly so its cold at the beginning of the week and warms up. Having seen frogs in it I didn't go there... For civilisation, if required, the nearest town is Big Sky, which has pharmacy, clinics and of course shops and restaurants, not that you will need to eat out. There is also a small shop on the ranch that sells beer, wine, soft drinks, ice creams, sun cream etc as well as ranch gifts.
Anita Maidment