North Fork Ranch
Colorado
A great family ranch specializing in both riding and fly-fishing but just a short distance west of Denver.
The North Fork Ranch is well known for all the major aspects of it's excellent programme, they have accommodation of great character set either side of their section of the river. As an Orvis recognised location, you can be sure the fishing is top quality.
We have first-hand knowledge from our many ranch visits, so please contact us with any questions or for a ranch holiday to suit you.
This high quality riding and fishing ranch rests quietly alongside the tranquil North Fork of the South Platte River at an elevation of 8100 feet adjoining the Pike National Forest, Lost Creek and Mount. Evans wilderness areas. It lies East to West so boasts amazing sunsets and long relaxing days of sunshine. Experienced wranglers will guide you through the mountain valleys surrounding North Fork.

The ranch takes great pride in feeding you well! Exceptional family dining with a gourmet flair is sure to satisfy every appetite. Full, hearty breakfasts, unique lunches and dinners that are anything but typical.



A fine string of horses ensures that there will be a horse suitable to your riding skills. They begin with orientation and instruction. Rides will take you into their own 520 acres and the adjoining Pike NF and wilderness areas where you will find ponderosa forests, aspen groves and beautiful mountain meadows teaming with wildflowers. Their family programme allows children aged 6 and over to join their family in a riding adventure.

You may take lunch on the trail or perhaps take a champagne brunch ride. A 4 hour ride is offered every day (except on Saturdays) as well as a guided hike. Ranch wranglers will provide instruction all week long. On Sunday evenings in the summer, entertainment is provided by a local guitar player who performs well known songs around the campfire.
Right out the back door is 1/2 mile of private river - the famous North Fork of the South Platte. This was Eisenhower's favourite river for trout fishing. A trout pond provides budding fishermen the opportunity to practice their fly fishing skills with catch and release. North Fork Ranch is proud to be Orvis endorsed and looks forward to offering you the best fly fishing experience in Colorado. On Friday afternoon there is trap shooting available.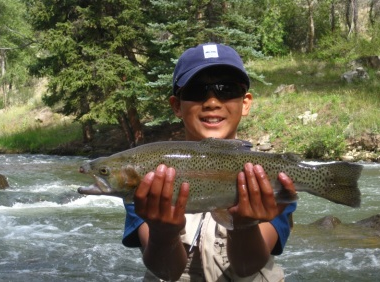 Pricing
All prices are per person unless otherwise specified. Please contact us to confirm the rates - 01798 865946.

We can tailor-make your holiday with flights, car hire, motorhome and city hotels.
2019 Ranch Holiday season is from May to September

Prices are now offered on a daily basis, our 2 person package will include a one bedroom cabin with full board, 2 rides each day. Sales tax and gratuities are also included . Ranch facilities such as a pool and internet.
A three night adult double rate is £1569.00pp
Ranch stays may begin any day for a minimum 3 nights. Additional activities such as a Zip Line or skeet shooting, guided hikes or a fishing package may be purchased at the ranch.
Check in times also flexible if you wish to arrive in the morning & take in an activity, generally rooms are ready by noon.
Child discounts for 6 to 12 years olds are available - please ask us for details
£300pp deposit.

Please let us know your preferred departure dates and number of people travelling and we will send a quotation to you.
Reviews
Tell Us What You Think
Sorry, no reviews or feedback have yet been accepted to this item.
Be the first and submit a comment now!