Paradise Guest Ranch
Wyoming

Paradise Guest Ranch has been taking in guests since the early 20th century, the offer some of the best western hospitality in a number of two, three and four bedroomed cabins. There are millions of surrounding acres to ride or hike over and they also offer some great fishing opportunities.
Like all good ranches there are three hearty meals a day offered within the spacious Dining Hall or out on the trial as part of an all day ride. The French Creek Saloon offers a wide range of domestic and imported beers, mixed drinks and fine liquors. They serve wine by the glass as well as offering a fine selection of domestic and imported wines.
Evening entertainment will be found either in in the Saloon or line dancing in the Dining Hall.
Riding, fishing, pack trips and a great Kids Programme will make your week at Paradise just fly by.
With so much space on their doorstep, the horseback riding, fly fishing and hiking opportunities are almost endless. The riding programme is second to none. They custom fit each guest with the horse that perfectly matches their riding ability. This means great flexibility and a range of rides during the week and features a number of choices.
Hook up with one of the seasoned wranglers and spend an afternoon riding through the wildflower strewn mountain meadows in the surrounding Forest.
Cabins are well-equipped and beautifully appointed with fire places, kitchenettes, washers and dryers and outdoor porches with mountain meadow views. Nestled between the cabins, the dining hall offers three hearty gourmet meals a day.
You'll love the old west French Creek Saloon which features the talent show, square dance and is the perfect place to relax and review the great day you have just had.
The main facilities at the ranch include the spacious dining room, a recreation hall and lodge. The enclosed whirlpool spa and outdoor pool are a welcome sight for guests after a full day of outdoor pursuits.
At this great ranch "FUN" is their brand and kids are a speciality. Their kid's programme offers loads of things for children to do during the day such as games, crafts, nature hikes, an overnight camp out, pony rides for your youngest and much more.
Paradise Ranch have a full riding programme for guests of six years and up. They take pride in matching each guest with the horse that perfectly matches their riding ability. Riders should be 6+ to ride out
Their programme is very flexible and features a number of choices starting with two hour rides as well as both half-day and full-day rides. Some day rides will include lunches that are packed onto mules and cooked while you are out on the trail.
Alternatively you might like to spend an afternoon in the ranch's private rodeo arena practicing some team penning where teams of three riders separate three steers from a larger group and work them around the arena and into a pen on the other end of the arena. It's a timed event and competitive and fun for everyone. Special team penning classes are available and horsemanship classes are also available.
Hiking is one of the most popular activities at Paradise, all the hikes are led by an experienced naturalist guide and make their way through the nearby Bighorn National Forest. You might like to try the sunrise hike to Fan Rock for a magnificent view of the ranch and enjoy hot coffee and muffins when you reach your destination.
The hiking highlight of the week is on Thursday afternoon with an all downhill hike offered through the Crazy Woman Canyon. On this hike history and scenery abound and you never see the same view twice.
If you are feeling a tad saddle or foot sore, the ranch has a hot tub and a massage therapist that is there on Tuesdays and Thursdays. She has her own studio at the ranch, takes appointments and will fit the massage to suit you. This is an optional extra.
There are several opportunities for fishing enthusiasts. Just outside the front door of your cabin is French Creek, teaming with cutthroat and rainbow trout, or you can take a cast into one of the nearby trout ponds. Extended fishing trips can be arranged.
You might like to consider the ranch's Pack Trip which is separate from the cabin stays or maybe combine the two. It includes a 3-day guided trip into their base camp at Frying Pan Lake. Horse, tack, sleeping bags, cots, food, and a cook are supplied.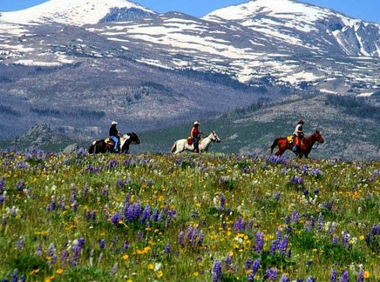 Pricing
2023 - Guide price per person including tax & gratuity (no single occupancy supplment) - from £2958pp
We tailor make all our holidays to suit you. We include the flights, hotels, ranch stay, car hire, transfer arrangements where we can and anything else you may require. Let us put your perfect ranch holiday together - give us call on 01798 865 946 or send us an email from the below link -
Reviews
Tell Us What You Think
This ranch is so aptly named! I have been to the ranch during their adults-only weeks for a few years now after visiting 15 other ranches in America, and Paradise outstrips them all. The horses are extremely well cared for and there is a horse for any and all riding capabilities. The accommodation is first class. The staff and owners go out of their way to make the stay the best they possibly can. Did I mention the food ? ...delicious and varied ! The scenery is breathtaking. I have looked at the activities for children and they seem many and varied. It seems such a cliche but Paradise is well named!
Penny Croft
My friend Ava and myself booked our first Ranch holiday through American Roundup. Paradise lives up to it's name. We had the most amazing week possible. Staff and fellow guests were wonderful and really made our week. We can't praise them enough. Food was varied and delicious. Horses were so lovely and catered for every riding ability. Our cabin had the most amazing view. Hoping to go back very soon. Penny and Ava
Penny Phillips and Ava Barrell