Located in the grasslands of the High Sonoran Desert, this historic ranch provides horse riding, guided hikes, nature walks and bird watching. Guests may also relax in the outdoor pool. The rooms are constructed of adobe walls with carved wooden decorations and furnished with Mexican antiques and vintage furniture. Free Wi-Fi is also provided.
There are a number of rooms designated as either deluxe or premium that will accommodate between one and 3 guests.
Larger groups will be offered suites or, for a party of 4, the Clayton House where there are 2 bedrooms with one double and 2 beds in the second room.
Rancho de la Osa is in a secluded and peaceful location with diverse wildlife, endless numbers of trails and breathtaking mountain views. If you're looking to relax in a peaceful oasis or embark on an adventurous vacation, you've certainly come to the right place.
The ranch has a full service Saloon for beverages that are paid for by the customers.
The ranch offers hearty southwest style cuisine. If you have any special requests, diets or allergies – let American Round Up know before you travel so we can advise the staff. Take a short walk to the Hacienda and enjoy meeting the staff for appetizers and wine tasting.
Over the years, the ranch has hosted a number of well known personalites, John Wayne was a frequent guest and had a favorite room that is still in use today. Tom Mix was an early and regular guest along with Caesar Romero, Joan Crawford, Margaret Mitchell (author of Gone With the Wind), and Zane Gray, author of many western adventures.
If you are staying for a week there is a complimentary return Tucson transfer for up to 4 guests.
Check out the Three Ranch packages with White Stallion and Tombstone Monument, there are detailed in the Tailor-Made section on the front page

At Rancho de la Osa, whether you have never been on a horse or if you are an experienced rider, the Wranglers will match you with a horse appropriate to your experience level and lead you on scenic rides through sandy washes, over rocky terrain, past incredible rock formations and across lush desert grasslands.

There is Team Penning where you learn how to work with a team of your fellow cowboys and cowgirls on horseback to move cattle in the arena. For more experienced riders, loping and trotting can be incorporated into rides where the terrain allows. Lessons are also available if required for an additional fee.
Three properties offer a combination package with White Stallion, Rancho de la Osa and Tombstone Monument, stays of 7, 10 or 14 nights - please ask for details
Guided Fat Tire Electric Bike Tours – You can ride a bike anywhere but this is one adventure you won't find anywhere except at Rancho de la Osa. Trade one saddle for another and experience the southwest on a brand new fat tire electric mountain bike. You can peddle on your own or get assistance on those tough hills from a high powered motor capable of 20 mph speeds.

Shooting - Sport Shooting and 22 Range – Fun and controlled shooting programme. Clay Pigeon Shooting – with bio-degradable targets and special 20 gague semi-automatic shotguns. 22 Range – bottles and targets to shoot at in a safe location. 3D Archery Range – Newly built archery range right on the ranch featuring 3D targets and the latest and greatest equipment.

Guided Hiking and Mountain Climbing – Walk a few yards from your room and you'll likely run across the same trails forged by legendary figures like Pancho Villa. Walk on red clay trails towards the famous Baboquivari Mountain. Tour Buenos Aires wildlife refuge and look out for giant jackrabbits, roadrunners and deer. Hike along old western ghost towns that still feature intact buildings.

Bird Watching – Rancho de la Osa borders the Buenos Aires National Wildlife Refuge and is a birdwatching paradise. The ranch and surrounding areas are home to the endangered Masked Bobwhite Quail and 300 other species including Herons, Grayhawks, Vermillion Fly Catchers, Loggerhead Shrikes and Golden Eagles,

Swimming – After a long day on the road or trails relax in the pool.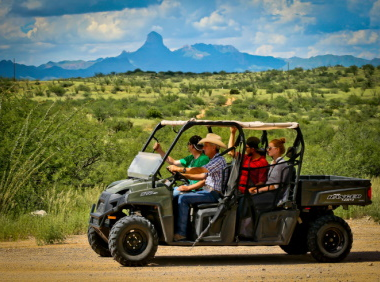 Pricing
We tailor make all our holidays to suit you. We include the flights, hotels, ranch stay, car hire, transfer arrangements where we can and anything else you may require. Let us put your perfect ranch holiday together - give us call on 01798 865 946 or send us an email from the below link -
Reviews
Tell Us What You Think
Rancho de la Osa was one of the first properties we visited during a visit to Arizona. It not only has a Mexican name but the architecture and design fits perfectly with it's location. The rooms have high ceilings to encourage circulation, the colours provide character and atmosphere. The owners have taken great care to make sure the furnishings are in keeping with the rooms. You will have seen the surrounding countryside in many great Westerns with mountains and river washes - it does rain occasionally !
NS