To book this exciting horse drive in Idaho with flights, transfers etc email or Tel : 01798 865946. Perfect for experienced riders.
Lynn, Lana & Dax Tomlinson run the horse drives at Silver Spur. They are ranchers who earn their living out of both cattle and horses.
They will take about 30 head of unbroken colts and fillies and drive them over some 60 miles of Idaho country. This teaches the stock to be driven herd animals. They are then broken in and sold on as cow ponies.
For 2021 there are 15 trips from the 17th May to the 13th September.



We have first-hand knowledge from our many ranch visits, so please contact us with any questions or for a ranch holiday to suit you.
The ranch buildings sit beside Warm Creek, just five miles from the Montana border, you are already a good distance off the tarmac.
The ranch has a number of buildings that serve as sleeping and living accommodation. It is right at the head of Warm Creek and is bordered by several thousand acres of State land and natural forests. It's a real rider's ranch.
The ranch has no mains water or electricity so all the log cabins have propane heating & battery powered lighting, hot outdoor showers and outdoor pit lavatories or "dunnies" as we might call them. There is everything else to make your stay memorable, a cook house for meals and a cozy bunk house. Monday is your arrival day and you will get acquainted with your horse and around the ranch. The drives are a 5 night stay.
On each drive, some 14 guests are accommodated at the ranch and under canvas, catering is from a modern day chuck-wagon. You cover about 20 miles a day and there is plenty to see and do along the way. Tuesday evening sees you camp near naturally heated pools so remember some swimming gear, Wednesdays are always a slow start.
You will return to the ranch by Friday for the farewell supper and continue your vacation on Saturday.
Jackson Hole is a nearby Wyoming town with many alternative hotels plus a rodeo on Wednesdays and Saturdays. Also there are excellent flight connections from a number of gateway airports such as Salt Lake City, Denver or Chicago. From here a car hire is required to drive to the ranch over the State border. We can reserve a car for you from Jackson Hole.
The ranchers prefer that you are an experienced rider so that you don't get left behind, while a knowledge of western riding is not a must, the abilty to ride fast and react quickly will help to make this a totally unforgetable trip.
Take your own riding hat if you want to wear one as the ranch don't provide these, also take layers that can be taken off as it warms up. You will be well catered for along the trail.
The horse drives are the main activity at Silver Spur, time does not allow for a great deal else. There are are 14 spaces on each departure.
For 2021 weekly rides operate between May and September excluding 14th June, 19th July and 16th August. We are already taking bookings for next year however, as mentioned, the stay will be from Monday to Saturday - 5 nights.
Please note, the 2020 rides were sold out by January. Please book well in advance to be sure of your place.
Ask us about the Delta Airlines service from Heathrow to Salt Lake City which will make accessing this part of the States much easier. Your destination airport is Idaho Falls for Silver Spur. United Airlines also offer a service via Denver.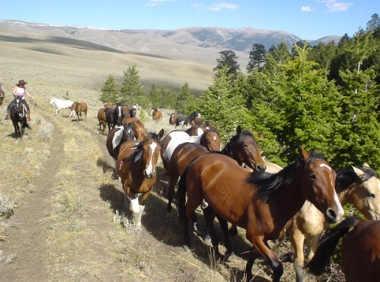 Pricing
All prices are per person unless otherwise specified. Please contact us to confirm the rates - 01798 865946.

We can tailor-make your holiday with flights, car hire, motorhome and city hotels.
The 2021 weekly rate includes a five night stay with full board ranch and camping accommodation, riding. Sales tax and gratuities are also included.
The weekly rate is £2127pp
Transfers from Idaho Falls and return for $100-$150pp paid locally. Transfers to ranch operate afternoons and return mid- mornings.
The deposit is £300 per person
Please let us know your preferred departure dates and number of people travelling and we will send a quotation to you.
Reviews
Tell Us What You Think
The best two weeks of my life and what is even better I relive them daily. The people, the horses, the riding, the views, the ambience - if only everyone in the world could have such positive experiences, there would be no more strife.
Mary Tyrrell
I have only been riding for 1 hour per week for 2 years but can honestly say we had the holiday of a lifetime. It was amazing, horses were great, food was out of this world and the Tomlinsons were fantastic. We were made to feel part of a family and their daughter, well she was nuts but great, we loved her to bits. My husband and myself were the eldest but it didn't matter, we really enjoyed the whole experience. God bless the family, they give their all for you. I can't wait to do it call again before I get too old xxx
Cheryl Neale
My granddaughter and I were there in August 2018, it was my 2nd time but was the best time ever. Horses, food, scenery amazing but the Tomlinson family were awesome. We didn't want it to end, hopefully going to go back next year. For anyone that can ride, just go and do it. Beulah and Yazmin
Beulah Thornley
June 2019. I've just returned from a horse drive at the Silver Spur Ranch. I can without doubt say I had the time of my life; the Tomlinson family and staff are some of the nicest people I have ever spent time with. The food and hospitality were second to none and were delivered in the most friendly and calm way. The horses I rode were to the highest standard, well trained and fit. The horse drive provided everything, beautiful scenery, fast and exciting, slow and peaceful yet challenging riding in places, calm and tranquil in others. At all times supported by the Tomlinson's and staff. I loved every minute.
Jeremy Harland