Stagecoach Trails Ranch
Arizona
This ranch is located some two hours south of the exciting city of Las Vegas, a great gateway with non-stop flights from London. You will need a hire car to get yourselves there but this is a great place to start a fly-drive itinerary taking in the Grand Canyon, Monument Valley and the southern Utah National Parks. An SUV is probably a good idea due to the 18 mile dirt road.
Riding is varied and your ability will decide which rides you go on. A great plus point for Stagecoach Trails are their handicapped facilities. The previous owner's daughter needed assistance so they made sure any disabled visitors could take advantage of these. This makes the ranch unique.
We have first-hand knowledge from our many ranch visits, so please contact us with any questions or for a ranch holiday to suit you.
The ranch consists of a main Frontier Lodge and Hualapai Dining Room & Kitchen with a beautiful courtyard separating the two buildings.

There are two separate guest buildings, housing 10 guest rooms in total. There are also two "Family Homes" with two bedrooms, two baths, a living room and a fireplace in each unit. These rooms can accommodate four to eight guests. In addition, there is a general store, a tack room, stables and an arena area for the horses, a basketball hoop, pool table, horseshoe pit, swimming pool and hot tub. The buildings are located so that they all have beautiful views of the Hualapai, Mohave and Buck Mountains where guests are able to enjoy spectacular sunsets nightly .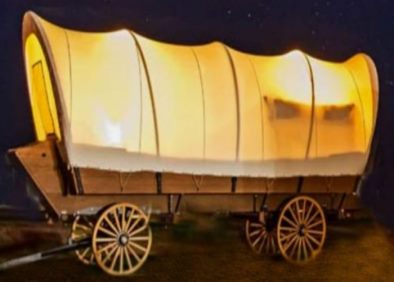 Pioneer Wagon - Great for families : based on authentic 19th-century designs our Pioneer wagon evokes Old Western ambiance that reminisce the pioneer days. Furnished with a King size bed and 3 bunk beds, this wagon can comfortably sleep 5. The prairie wagon is equipped with electricity, air conditioning and heat to provide you with comfortable overnight accommodations while still giving you the experience of sleeping under the stars. Private bathrooms and shower facilities are provided nearby or if you rent the room/wagon package you can share the bathroom facilities of the room.

The Lodge is the main focus of the ranch. With a western flare, this is where everyone gathers and are able to talk about their wonderful day, whether they went horseback riding, did some touring, sunbathed by the pool or just read a book in the courtyard. The huge fireplace is a major feature of the meeting area. There is a pool table inside as well as a separate TV room in case you need to find out what has been happening in the world since you arrived at the ranch.

A beautiful courtyard area, perfect for occasional outdoor dining and evening entertainment separates the Hualapai Dining Room from the Lodge. This is where everyone eats breakfast, lunch, and dinner together, except on days when we cook outside on the grill! Each oversized guest room is equipped with a handicapped accessible bathroom. They are able to accommodate up to 40 guests, just small enough so everyone will become good friends throughout their stay.
Alcoholic beverages are available for purchase at the Frontier Lodge Saloon and the Hualapai dining room.
There are three levels of riding, the novice rider can enjoy a slow, scenic ride twice daily for approx. 1- 1 1/2 hours. Kids of 8 and older may ride out with the string, under 8, they have to be ponied up to a Wrangler.

The intermediate riders can enjoy both slow, scenic rides as well as a walk, trot, and loping rides lasting the same time.

The experienced rider has many options available to them. Along with the rides listed above, they also offer challenging mountain rides but only during cooler winter months, for example between September & April along with fast paced loping rides.

There are also excellent facilities for disabled riders with wheelchair ramps and Wranglers to offer support either side of the horse.
Ranch guests often like to relax by the swimming pool, in the Frontier Lodge, their rooms, in the courtyard reading or just enjoying the Arizona sunshine, sunset, or stars at night! For those more active folks, why not challenge other guests, family members or staff to a game of horseshoes, mountain bikes, basketball, billiards, ping-pong, air-hockey or one of the many board games.

Another favourite activity during the warmer months is swimming just enjoying the sunshine and the beautiful mountain views. Also remember that year-round the hot-tub is open all day and after dinner.

A local cowboy singer also visits the ranch and plays for guests out in the Courtyard.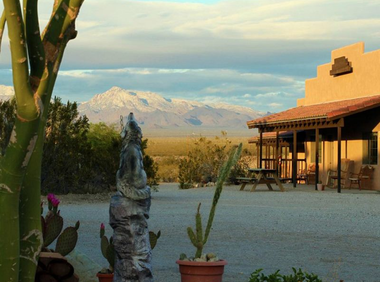 Pricing
All prices are per person unless otherwise specified. Please contact us to confirm the rates - 01798 865946.

We can tailor-make your holiday with flights, car hire, motorhome and city hotels.
Prices include a 7 night weekly stay with full board accommodation, riding and ranch activities, sales taxes and domestic staff gratuities. Please remember there is no ranch transfer. We can arrange a car rental for you.
Ranch Holidays 2019

Prices start from £1370 pp dble with 2 double beds or 1 Queen and a Futon accommodation for 2018 & also from 1st Jan 2019.
Single weekly rate 1662.00
There are 2 larger suites accommodating a minimum 4 guests at £1499pp per week
Please note the gratuities are for the catering and cleaning staff, this ranch does not include the Wranglers in these payments so, if you feel these members of staff have earned a gratuity, please pay this direct to them.

We can tailormake your holiday with or without flights car hire, motorhome, hotels for those who wish to explore the area they are visiting.
Reviews
Tell Us What You Think
Stagecoach Trails is a friendly ranch with lovely new owners who have many ideas for the future. The food is excellent and the accommodation comfortable with the public rooms being particularly nice. It is a bit isolated, so it's a good idea to take a good book or two as the rides depart early in the morning and again around 5.30pm. Some experience is required for the faster rides and for intermediate riders, a few lessons in the arena with Rose (at extra charge) are well worth while.
Anne and John Derrick