Sundance Ranch
British Columbia

Sundance Guest Ranch is located just a four hour drive east of Vancouver and is in one of the warmest, sunniest spots in Canada with sweeping, panoramic views of the wide open Thompson River Valley. .
They run a herd of over 100 well-cared-for horses and can ride over thousands of acres of spectacular and varied terrain. Their programme is as varied as you could wish for whether you're looking for relaxing, instructive or exciting riding.
At the ranch they serve delicious and varied meals that go well beyond what you might expect from a "Dude Ranch. The rooms are bright with a sunny aspect which is why all their rooms are air-conditioned with full private bathrooms.
We have first-hand knowledge from our many ranch visits, so please contact us with any questions or for a ranch holiday to suit you.
All their accommodation is air-conditioned, with full maid service and private bathrooms. The rooms are entered from a covered boardwalk and are decorated in ranch style.

Some of them open to the riding area, others to the pasturewhere the horses overnight.. All standard rooms are equipped with either one queen and one single bed or two queen beds. Additionally, there are three deluxe rooms which have a king-size bed, a bar fridge and a coffee maker.

They also have a large heated pool which is available during the summer months, BYOB adult lounge where they hold Saturday night dances, movie lounge and games room. The guests all eat togther when everyone is served a delicious three-course meal in the licensed dining room with it's sweeping view of the rolling pastures.
The Sundance is able to take riders of all abilities, they will ask you about your experience and then divide groups up into Beginner, Intermediate and Advanced rides.
Each group of riders is accompanied by an experienced wrangler, who will give you all the instruction you need to make your horseback experience as safe and fun as possible. There are two rides a day with each ride lasting 2 to 2.5 hours through some of that spectacular scenery.
Some afternoon temperatures can be pretty warm up in this high desert in which case they will ride in the early evening and then back to the ranch for a sumptuous supper.
Sundance can supply riding hats for an additional fee.
Riding is the prime reason for a visit to the Sundance, there is also a swimming pool and a games room with two Pool tables.
The ranch has an adult BYOB lounge is the centre of the property and for many years this has been the venue for some great parties. There is a huge stone fireplace and large bar, the lounge opens onto an outdoor deck where you can meet up with your fellow guests before getting ready for dinner.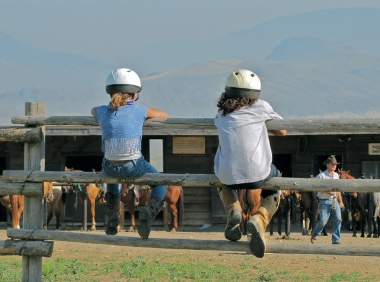 Pricing
All prices are per person unless otherwise specified. Please contact us to confirm the rates - 01798 865946.

We can tailor-make your holiday with flights, car hire, motorhome and city hotels.
2021 rates from 16 April to 17 October : Weekly Prices. Stay for 7 nights and pay for 6. Prices include full board accommodation, riding & ranch activities. Please note taxes and gratuities are paid on departure.
Double weekly rate - £1236pp plus £186 for single rooms
Child & youth rates are offered between 4 and 18 years – please ask for details.
Weekends are always popular for Vancouver guests to visit and so there may be times we are only able to offer weeknight stays.
These are generally pm Monday to am Friday - higher rates apply over the weekend.

Please Telephone 01798 865946 email us your preferred departure dates and number of people travelling and we will send a quotation to you.
Reviews
Tell Us What You Think
Sorry, no reviews or feedback have yet been accepted to this item.
Be the first and submit a comment now!