Sweet Grass Ranch
Montana
Sweet Grass Ranch lies quite a number of miles off the tarmac where it encompasses both mountain and rolling foothill country where they not only take in guests from June to September but also raise Angus cattle and horses.
Timothy grass meadows and clear, sparkling creeks enable deer, antelope, elk, bear, mountain lions, coyotes, mountain goats and an occasional wolf to call this home. They are privileged to ride across several neighbours ground as well as their own land, so there are countless miles of riding available. Guests are welcome to take an active a part as they like in all phases of ranch life from feeding pigs to moving cows and wrangling horses.
There are rooms in the lodge, but most of the accommodation is in a number of one or two bedroom cabins all with private facilities and some with fire places.
Accommodation ranges from small rustic log cabins,some with bath, to rooms in the main ranch house, to larger framed family cabins with private baths and plenty of hot water. Some cabins sit beside the Creek so you can hear the babbling water in the morning and evening, along with owls and coyotes.

There is challenging dry fly fishing in the clear, rushing waters of the Sweet Grass Ranch stream; the Brown trout love the deep, shadowed pools above and below the falls.

Mountain lakes also are good rainbow trout fishing while the stocked beaver ponds offer an easier approach closer to the ranch.

They have a three-week rotating menu so you will get a varied taste of ranch cooking, specializing in tender ranch beef, garden fresh vegetables, fresh cream and home baked breads and pastries. All three meals a day are served family style.

There's a small, coin-operated laundry, credit card guest phone in the main house, mail pickup and delivery, a ranch fax machine and a small honour-system store. If you are interested in working with horses of any age, they offer a great opportunity.

There are cattle to check, salt, doctor and move as grass and water dictate. They also have a grazing lease in the lower rolling country by Big Timber and ride there to check on cattle and fences.


Sweet Grass Ranch maintains a herd of more than 60 of their horses many of which have been bred on the ranch.
Ranch guests enjoy the freedom to roam and ride through the open countryside. With thousands of acres of their own land to ride on, incorporating national forest lands and great neighbours providing even more terrain, they offer four to five different riding choices every day.
For some guests, it's not unusual to spend eight hours in the saddle if you choose a long ride option and shorter rides are always available. They also offer dinner rides and a sunrise ride is a invigorating way to start the day.
If you are on one of their summer cattle weeks, the riding may be all day and can be challenging as a herd of cattle never seem to go exactly where you want them to.
Each week, there is an opportunity to take in a horse clinic usually consisting of a half-day instruction. Overnight horse pack trips are available upon request for an extra charge.
Cattle work around the weeks of 9, 16 and 23 June, 28 July, 4 Aug, Sep 1 and 8th. Please note these are not whole cattle working weeks, Sweet Grass offer 1 to 3 days of cattle driving during these weeks; the length of the drives and location of the cattle work will be dependent on winter weather and where the best grass is for the cows.
3-4 day pack trips camp in Yurt at the ranch, wall tent on pack trip - check for availability.
Walk through open meadows, deep into forests and head up to the high country for breath-taking views. Ranch staff are knowledgeable about the surrounding landscape and can recommend hikes based on your specifications.
There are numerous stream and ponds around the ranch, fly-fishing for rainbow and brown trout is a great passtime. Mountain lakes are also stocked and for a small rod fee, a day on the Yellowstone may be possible.
The creek has swimming holes and the perfect sections for tubing. Also, try the natural water slide in a creek called Hell-Roaring that feeds into the Sweet Grass.
End the day around a roaring campfire. The ranch does not have a "formal" separate children's program, as kids are welcome to participate in all aspects of ranch life. Equally, there is no designated age limit for kids, but for horseback riding they must be big enough to sit up, hold the reins themselves and pay attention to their horse.
Softball, field hockey, volleyball and horseshoes are available to entertain the energetic plus an on-site hot tub. Other special weeks include photography and Yoga usually in June.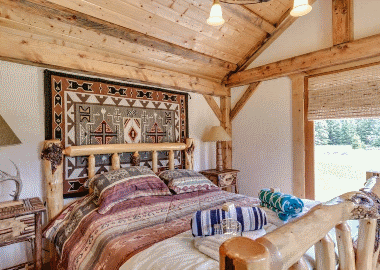 Pricing
2023 - Guide price per person including tax & gratuity - from £2399 pp
We tailor make all our holidays to suit you. We include the flights, hotels, ranch stay, car hire, transfer arrangements where we can and anything else you may require. Let us put your perfect ranch holiday together - give us call on 01798 865 946 or send us an email from the below link -
Reviews
Tell Us What You Think
The drive to this ranch is incredible as is their location and worth the trip alone. The riding is excellent again because of the location and the horses are all top quality. You may find the cabins more basic than you expected and for this reason this ranch was not my cup of tea, however I cannot fault the horses or the riding.
Sheena Thompson
I had a fantastic stay at Sweet Grass - the location of the ranch is stunning and the riding routes on offer show you some spectacular scenery. Sweet Grass is relaxed, friendly and unpretentious - the whole team was helpful, welcoming and flexible. Accommodation is simple and no frills but comfortable and food was excellent (and plentiful). The horses were great, a range of styles and temperaments, so you will be well matched. The sunrise was great too!
Kate Ambler
Great - it succeeded expectations in every way ! Great riding, lovely rooms with really nice staff and the food was delicious. Highlight was definitely the camping trip. We will definitely be back
Posy Clay