Sylvan Dale Guest Ranch
Colorado
The family and crew of Sylvan Dale Guest Ranch have been offering legendary hospitality since 1946. Sitting at one-mile-high elevation assures comfort for all families. They raise cattle, horses and provide an authentic western experience. The ranch have a 'Green' outlook on life going back to the way things used to be done by offering eco-friendly activities and meals.

The ranchers pride themselves on being excellent stewards of their land, livestock plus all the resident wildlife.
The ranch have an agreement with an online transfer service to the ranch from Denver Airport for $160 return for 2 guests.
We have first-hand knowledge from our many ranch visits, so please contact us with any questions or for a ranch holiday to suit you.
The Sylvan Dale Ranch is an authentic 3,200 acre working guest ranch located an easy hour north from Denver which shares the same altitude of 5,280 feet. Outdoor adventures include cattle drives, overnight pack trips, western riding instruction, scenic trail rides, fishing, hay rides, western cookouts, evening entertainment, a supervised youth programme. Other possibilities are rafting or trapshooting & more. They are just 33 minutes from Estes National Park.
There are numerous comfortable cabins with daily housekeeping services. All have private baths, air conditioning, carpeting, a small refrigerator, coffee maker and a porch. Beds are queen-sized, supplemented with single beds in some rooms.
Hearty ranch-style meals using locally grown fruit and vegetables to accompany the ranch's home grown and grass fed cattle. They have a heated swimming pool and many ball games to join in, you will have your own horse during your stay.
Sylvan Dale Guest Ranch offers horseback rides through gentle rolling hill terrain to extended climbing rides with ridge-top views. You can ride over 3,200 acres offering huge panoramic views. This is a real riding experience for all ages and abilities, you may head up Sulzer Gulch shaded by cottonwood trees; explore the old wagon trails on Alexander Mountain; climb the rocky slopes of Eagle Ridge; ride across the meadows on Green Ridge or catch the breathtaking views from the Rim Ride.

Rides are guided by a qualified wrangler and geared to the least experienced rider.
Throughout the summer months there are cattle drive weeks when they offer either a day drive or an overnight drive.

No experience is required but these cattle activities are limited to youngsters aged 13 and up only. The day drive goes out on a Wednesday with a packed lunch, taking the herd from the main ranch to Wager's Weadow, a total of 6 hours in the saddle. The overnight drive goes out on a Thursday. After lunch guests pick up the herd from Wager's and driving them up into the back country before heading over to Cow Camp, used by early settlers. Guests arrive after a 5 or 6 hour drive to a steak dinner, followed by campfire entertainmant.

They provide foam pads and sleeping bags for your night out under the stars. There are buildings that can be slept in should the need arise. The following morning, after breakfast, guests head back down to the main ranch arriving an hour or so before lunch.
This property is not just a summer Dude Ranch, it is also an historic working cattle ranch in the foothills of the Rocky Mountains.

On offer are cattle drives, overnight pack trips, western riding instruction, scenic trail rides, fishing, hay rides, western cookouts, evening entertainment, a supervised youth programme, terrific home baking and legendary hospitality which encouages guests to return year after year.
Many of these activities are included in the weekly charge but there are others offered such as White Water Rafting which costs approx $85pp, a guided Fly Fishing Excursion $135-$175 for a half day, private riding instruction – $47 per class. And for those feeling the effects of all the riding and running around there is a massage at $55 for 30 minutes or $90 an hour.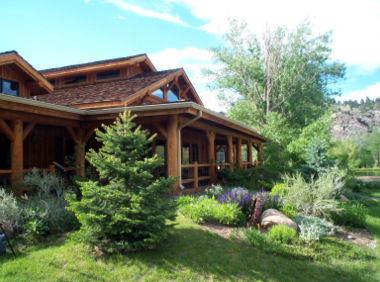 Pricing
All prices are per person unless otherwise specified. Please contact us to confirm the rates - 01798 865946.
We can tailor-make your holiday with flights, car hire, motorhome and city hotels. You are then financially protected through ATOL
2021 rates include full board & ranch activities. Add Tax & gratuities at 13.7%
Spring and Autumn seasons, 5 night stays from Sundays. Adult rate £1299pp
6 night stays from 20 June to 15 August, the adult rate £1840pp.
Native American Week - 18-24 July. Adult rate £1967pp
Discounts for children aged 3 to 12 - please ask for details. There is an online transfer service with Goome Transportation Shuttle from Denver Airport for about $160 return for 2 guests. 30% ranch deposit.
Please let us know your preferred departure dates and number of people travelling and we will send a quotation to you or Tel : 01798 865946
Reviews
Tell Us What You Think
Sorry, no reviews or feedback have yet been accepted to this item.
Be the first and submit a comment now!