Tanque Verde Ranch
Arizona
The Tanque Verde is open year round and hosts visitors from around the World. With many oversized rooms, they can offer larger family groups adjacent suites. Singles and doubles are made just as welcome. Arizona is well known for it's warm summer temperatures so while costs are temptingly low, the riding is in the early morning and the evening. This is a great location for a winter getaway with fine dining and friendly ranch staff.
The owners of Tanque Verde Ranch like to think they have something for everyone. The 74 authentically decorated adobe style rooms and suites are fully air conditioned and offer beautiful desert and mountain views. There are several room types to choose from and these are allocated by the reservations office.
Around the original ranch building you will find 2 swimming pools and a whirlpool, a number of tennis courts, a local wildlife centre, a conference and meeting centre and now a new bar for you to socialize in during the evening called The Dog House Saloon. The Spa treatments are second to none.
Riding is offered every day of the week, both walking rides for beginners and loping rides for more experienced riders. The ranch is famous for its delicious and abundant food. Weekly evening outdoor barbecues with live Western entertainment and breakfast rides up to the Old Homestead. Dinners in the main dining room are specially prepared by an award winning Chef, featuring gourmet cuisine!
The fully supervised children's programme operates year round and provides a fantastic ranch experience for kids aged 4 through 11. It is divided into two age groups, the 4-6 year olds (Buckaroos) and the 7-11 year olds (Wrangler Kids). The youngsters are cared for by trained councillors and do most of their riding in the arena. The older kids will have a far more active programme geared around their needs. Kids may ride with their parents if they wish.
Being located fairly close to the city of Tucson, there are a number of recommended attractions such as the Old Tucson Studios, the Desert Museum, The Pima Air Museum, the Kartchner Caverns, Tombstone and Bisbee make a great day out. Transfers from Tucson Airport or airport area hotels are available for guests staying four or more nights. You may start your stay any day of the week.
Tanque Verde Ranch has the largest stable of riding horses in Arizona and they can certainly match your riding ability to the right mount. Every day of the year, a full-time Wrangling Staff is ready to treat you to the best in Western riding. During summer months, rides are likely to be at the cooler ends of the day. Rides start with an orientation session in the corral and then, once everyone is ready, you will travel at a leisurely pace through the Saguaro Cacti.
If you would like to move up a gear, please speak to the Wranglers, you will need to show you are able to control your mount and if so, you will be able to join the faster moving rides in the dry washes that criss-cross the ranch.
The Guided hiking programme offers miles of breathtakingly beautiful trails. Hikes range in level of difficulty to allow everyone to participate! Hiking options include level desert hikes as well as excursions into the Coronado Mountains with elevation gains of up to several thousand feet.
Pack your hiking boots to experience the beauty of the lush Sonoran desert on foot! See the unique cacti such as the giant saguaro, the rugged canyons and mountains of the Rincon and Catalina ranges, also the desert wildlife and hidden waterfalls up close. Tanque Verde Ranch offers world class guided hiking right from their doorstep into the adjacent Saguaro National Park and the Coronado National Forest..
For those who enjoy travel on two wheels, come and explore the Southwest's ambiance on a full suspension mountain bike. The Ranch offers over 600 acres of Sonoran desert riddled with single-tracks. Rides vary from beginners trail riding to advanced technical riding. Weekly off-site rides offer unique experiences with a variety of elevation and landscapes. You will be accompanied by an experienced guide who will fit you to a finely tuned bicycle. Helmets and gloves are also provided.
The ranch has 5 tennis courts, including three artificial turf courts, one of which is lighted for night play. A staff tennis pro (October thru April) is there to help you with your game! Group lessons in the morning provide a foundation for the afternoon mixers.
The facilities include both indoor and outdoor heated pools and whirlpools, a separate children's wading pool, an exercise room, and men's and ladies' saunas. Any of these provide the perfect way to relax after a long day in the saddle!
The Nature center, open most days, allows you the close up view of some of the less approachable desert fauna such as spiders, snakes, and a rather large, ghoulish looking beetle. The Sonoran desert is one of the world's most vibrant deserts. Because of the severity of climate, hot in the summer/cold in the winter, drought ridden much of the year, both plant and animal life have evolved unique survival adaptations that are fascinating to study and appreciate.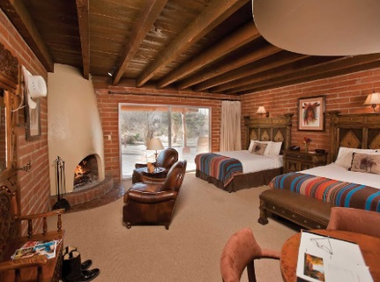 Pricing
We tailor make all our holidays to suit you. We include the flights, hotels, ranch stay, car hire, transfer arrangements where we can and anything else you may require. Let us put your perfect ranch holiday together - give us call on 01798 865 946 or send us an email from the below link -
Reviews
Tell Us What You Think
I spent a week at Tanque Verde in November 2014. The ranch is set in wonderful surroundings. Staff were welcoming and friendly, as were the other guests, most of whom were there with their families to spend Thanksgiving. The accommodation was comfortable, the food was top quality, and there was horse riding at all levels, with wonderful trail rides in the adjacent national park. There were alternative activities if you did not want to ride or off road cycling, nature trails, fishing, swimming pool, tennis courts, sauna etc. one is spoilt for choice. The outdoor breakfast and dinner cookouts were great, riding up to a breakfast of American blueberry pancakes made to order and topped with maple syrup is hard to beat. I would definitely go again, and bring family and friends with me.
Liz Brenke
Just got back from a week at the Tanque Verde Ranch (4th to 11th Sept. 2018) and feel I must tell about this jewel in the Sonoran desert. Outstanding surroundings for all the horse riding trails, wonderful nature walks and nature talks tennis, fishing, cycling, swimming, sauna, two nights per week dining down at the Cottonwood Grove with live Country and western music, wonderful food through breakfast lunch and dinner. Evenings can be spent in the Doghouse Saloon, however not too late as that busy life doing all the activities on offer makes one ready for bed every night after the wonderful days in the fresh air.
David Rushton