Bitterroot Ranch offers a number of excellent activities. Riding is the primary reason for visiting and the better the rider, the more you will enjoy your stay. The location is in a remote valley bordering the Shoshone National Forest; 50 miles of unspoiled, mountainous wilderness that separates the ranch from Yellowstone Park.
Authentic Western style log cabins provide your accommodation, these have been modernized over the years; all cabins have electric heat, some have wood burning stoves, all have showers or bathtubs.
Gourmet meals await you with much of the produce grown on the ranch, animal and vegetable.
We have first-hand knowledge from our many ranch visits, so please contact us with any questions or for a ranch holiday to suit you. We have visited Bitterroot Ranch.

This is a well established ranch located in an area of true rugged beauty. As mentioned, riding is top of the list of things to do here but your stay will be in comfortable self contained cabins, high quality meals are served in the lodge.
From early June there are a number of popular Horse Clinics at the ranch
Come the end of September, the cattle herd that the ranch also run has to be collected up and brought off the mountains for the winter.
During August, you could also participate in their Washakie Wilderness pack Trip, a 7 night trip starting in Jackson or Riverton and finishing back at the ranch. A slower affair with all your kit on horseback.. There are four yoga sessions each week.
Some of the best riding in the Western States is to be found at this property. The ranch breed many of their own stock and you will find both Western and English riding styles here.

The Ranch offer a broad range of riding activities which includes riding lessons with certified instructors for those of an intermediate level, a cross country jumping course for experienced riders, team sorting, herding cows on the grazing allotment in the national forest, cattle drives, round-ups and pack trips.

Trail rides include cantering on open plains, winding through pine and aspen forests, clambering up rocky gorges and crossing the rushing streams that pour out of the mountains.

The main cattle round-up week is from 24 Sept to 1 Oct. Price : £2332pp double
Throughout the summer, there may be the opportunity to ride on the herd, check they are in good condition or move them to new grazing.
Please note hard hats are compulsory at this ranch when riding and the maximum weight is 200 lbs or 14.2 stones.
Fly fishing is a great alternative activity when you are not riding, there is much less pressure on the streams around the ranch than at Jackson Hole or almost anywhere in Montana, Colorado and Idaho. The East Fork of the Wind River runs through the Bitterroot Ranch for over a mile and holds many cutthroat trout between 8 and 14 inches although they have been caught up to 20.
Hiking is sometime the reason why non-riders come to Bitterroot, there are a number of superb trails leading away from the ranch or within a few miles drive that will offer a whole days walking in the surrounding hills.
There are three Horse and Riding Clincs during the 2020 season, these are :
Sue Falkner-March - Centered Riding Clinic: 6th to 13th September
Anna Twinney - Reach Out to Horses Clinic: 7th to 14th June
Heidi Potter - Centered Riding Clinic - 19th to 26th July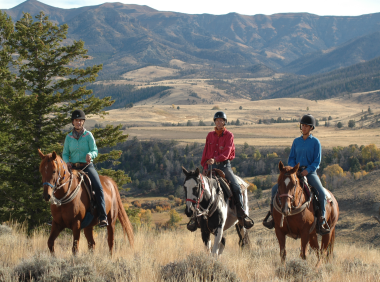 Pricing
All prices are per person unless otherwise specified. Please contact us to confirm the rates - 01798 865946.
We can tailor-make your holiday with flights, car hire, motorhome and city hotels.

Prices are for a seven night stay from Sunday to Sunday and include full board accommodation, all the riding and assorted on ranch activities. Gratuities are an additional 10%. American Round-Up can also arrange your flights, generally to Jackson Hole.
2021 Ranch Holidays : The main season runs from 30 May to 26 September
Weekly rates from £2200pp based on double occupancy. £240 single supplement.
Children aged 4-15 years receive a 25% discount
Please note the ranch no longer offers a transfer from Jackson Hole. They advise you to either take a taxi or, if possible, hire a car and drive to the ranch which is a great journey of about 2 hours. After your stay, Yellowstone Park is a short drive to the South Entrance.
Please let us know your preferred departure dates and number of people travelling and we will send a quotation to you.
Reviews
Tell Us What You Think
Many thanks for a wonderful week. I had underestimated how the difference in style between western and English would affect me physically, however the team at Bitteroot were very supportive. Be prepared for 6 hours of riding daily and the toll that that might take. The food was superb and the accommodation clean, warm and comfortable. The hosts are warm and approachable and rightly make their own judgement of your riding ability which will categorise the type of riding done. The scenery is breathtaking with some quite vertiginous ascents and descents! The lessons provided are part of the trip and I would recommend them - particularly if, like me, you are unfamiliar with western riding. We saw a moose, plenty of red tailed hawks, deer and a coyote! I can recommend a stay here but my view would be that if you are not a confident or seasoned rider you are better to go for a less demanding ranch; however if you ride daily or have your own horse - go for it!
Alison Whelan