The Hideout Lodge & Guest Ranch
Wyoming
The Hideout Ranch is an all inclusive up-market property for couples, singles or familes. Guests will find the atmosphere of the property makes your stay both easy going and welcoming. Because of its small size, friendly and accommodating staff, you will feel very much part of the family from the moment you arrive.
This is an exceptionally popular ranch, due to it's size, summer space is rapidly filled, please be sure to make your booking as early as you are able to avoid disapointment.

To book The Hideout Lodge & Guest Ranch, please call: American Round-Up 01798 865946 or email.
We have first-hand knowledge from our many ranch visits, so please contact us with any questions or for a ranch holiday to suit you.
The Hideout Guest Lodge is nestled at the foot of the Big Horn Mountains in Shell, east of Cody. Most guests fly here on Delta or United, some will fly to Billings, MT and drive to the ranch via Yellowstone Park. This is a land of huge views and finely coloured rocks.

Here, the owners and their staff endeavour to offer the highest standards in hospitality, lodging and culinary pampering. Riding, fishing and cattle work come close behind.

As a rule, the various log cabins and casitas will generally provide for up to 25 guests per week, this allows the staff to keep it personal and authentic. The accommodation is always clean and well decorated. Around the ranch buildings the landscape is watered and well-tended.

The kitchen is more about quality and serving healthy food than quantity. They are able to cater to most diets within reason. Their talented Chef is able to accommodate the most common dietary restrictions such as vegetarian, gluten-free, allergies, severe dislikes, etc.
The ranch has many Wranglers who stay year-round, they know the stock and the countryside. There is a sizeable string of horses consisting of Quarter Horses with quality bloodlines, well-bred Paint Horses and they are adding more and more well-trained Mustangs to the herd. Every level of rider can participate in cattle work at The Hideout.

There are five duplex cabins, which are connected to the main lodge The Casitas are one and two bed-bedroom cabins. They are located in a two-story, four-unit log building. The luxurious Hideout Home features two master suites with oversized bathrooms, walk-in showers, private decks and fully-equipped designer kitchen with granite counter tops and hardwood floors.
The Hideout is primarily a riding destination, you will find your stay is all about horses, riding and horsemanship.
They have access to approximately 650,000 varied acres and altitudes ranging from 4,200ft to well above 11,000ft, this makes the riding an exceptional and physically demanding experience. To make this special, they have 130 horses for the 25 weekly riders.
Guests are offered a variety of riding options each day. These will be between 2 and a half hours up to and over 8 hours per day in the saddle. The Hideout is an ideal guest ranch for riders from novices up to professional horsemen and women.
It is best to be in good physical shape relative to your age. Riders also need to understand that some rides may be too challenging and trust the Wranglers professionalism experience to make that decision.
Older riders will need to consider that although they were great riders or equestrians at young age, age takes its toll and you need to limit the hours spent on horseback
Experienced riders who are looking for a faster level of horses and more challenging riding, then this type of riding will be available for cattle work and trail riding. Guests will be asked to perform what ranches refer to as a Lope Test to show they are able to ride at a faster pace.
Please remember, 90% of the time they will drive out with their diesel trucks and trailers so that you can access most of the terrain without having to ride all the way out from the barn.
From May through October there is a full-time fly-fishing professional on staff. The Hideout's professional guide can teach you how to tie a fly and the techniques of fly-fishing. There are Brown, Rainbow, Cutthroat and Brook Trout in the local waters, and a catch and release policy operates. You will need to buy is a daily fishing license.
Clay shooting and archery are popular alternatives. They use 20 and 12 bore Beretta shotguns.
In the nearby Big Horn Mountains there a numerous opportunities for hiking and mountain biking, for those looking to cover more ground, 4 x 4 or Suburban tours. This is an area that its famous for dinosaur digs, it is where these creatures were prolific in numbers millions of years ago.
The ranch now has a new relaxing pool located to allow views of Shell Canyon and the mountains
Away from the ranch in the nearby town of Cody there is the wonderful Center of the West Museum inspires by Bill Cody.
Summertime brings the Nite Rodeo to town – 90 shows during the summer season. In the town you will also find numerous Western wear outlets.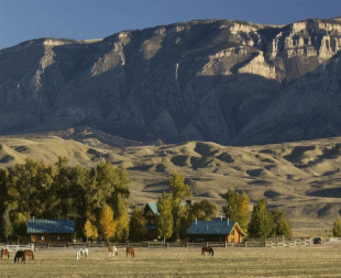 Pricing
All prices are per person unless otherwise specified. Please contact us to confirm the rates - 01798 865946.
We can tailor-make your holiday with flights, car hire, motorhome and first night hotels or after the ranch.
2021 Ranch Holidays Season runs 28th March - 31st October

Stays begin on Sundays for 4 or 6 nights. Prices include full board accommodation, all riding and included ranch activities. Tax and gratuities are an additional 20%
30th May to 12th September 2021
Adult double weekly - £2680pp
Single supplement - £380
Discounted rates are available in spring and autumn.
Due to Covid restrictions, car hire is required as the ranch are not offering transport for 2021

Please let us know your preferred departure dates and number of people travelling and we will send a quotation to you.
Reviews
Tell Us What You Think
Sorry, no reviews or feedback have yet been accepted to this item.
Be the first and submit a comment now!