Three Bars Guest Ranch
British Columbia
This is exactly what a Dude ranch should be, it has comfortable accommodation in a number of cabins and duplexes, a large centrally located Lodge in which the three meals a day are served up and entertainment provided.
Riding is the primary activity offered to all comers but if your preference lies elsewhere, there is a wonderful indoor heated pool and hot tub, tennis courts, hiking, biking & trap shooting. The ranch is lucky to be located near one of BCs many trout rivers, licences can be purchased at the ranch. Rafting may also be available depending on the season.
Being a very family orientated ranch, there is a comprehensive Kids Programme that will amuse younger visitors most of the day and a way into the evening too.

Three Bars Ranch is located just south of Banff National Park in the Canadian Rocky Mountains of British Columbia. This special part of the world offers an abundance of nature, clean fast moving water, green fields and breathtaking mountain vistas.
The Ranch offers 6 night all-inclusive ranch packages. Weeks include unlimited horseback riding, upscale log cabin accommodations, meals, & all ranch activities.
Every cabin has hand built log furniture, spa linens, fully renovated bathrooms, seating area, TV with satellite, fridge, free WiFi and, of course, a front porch to relax on with a Sundowner.
The Lodge is a spectacular log building that houses the dining room, saloon and recreation lounge. In the Lodge you'll find a pool table, Foosball table, ping pong table, board games and cards. But mostly, guests come into the lodge to relax before dinner, share a drink, and chat about their day
The Saloon features locally brewed ales along with some old time favourites. There is also a comprehensive wine list to choose from.
The ranch store has a number of articles for sale such as boots, shirts and hats.
There are two new styles of cabin, one is a 2 berth with private bedroom, sitting area with kitchen, bathroom, private deck with hot tub and mountain views.
Also a family unit on 2 levels, the upper floor has a private bedroom, sitting area with kitchen, modern bathroom, private deck with hot tub. The lower level has large bedrooms with 3 twin beds & bathroom.
With 35,000 acres to roam over, there is literally no end to the possibilities for you to explore. The ranch is home to over 110 head of horses and the ranchers oversee the riding programme.
Rides are organized by the head wrangler at the meal before. Ride options include family rides, adult rides, kid's rides, walking rides and fast rides. The first rides leave the corral right after breakfast and return to the ranch for lunch and the same programme in the afternoon, back in time for supper. The fast rides are available to experienced riders after one full day of riding.
Whether you have never ridden before or are an experienced rider, the owners are sure they have a horse and a programme that will suit your requirements.
Children must be at least 6 years old to ride at the ranch. Parents must bring their own helmets and check your riding insurance, boots may be rented if you do not have your own.
There are a variety of activities to do while you are at this beautiful ranch, this list may not cover everything but it gives a good idea :
Marked hiking trails, 2 outdoor riding arenas and an indoor riding arena too. Free wireless internet for all buildings. Indoor heated pool, outdoor hot tub – Jacuzzi, high end mountain bikes, fully equipped fitness facility, a ranch Store, Kids Petting zoo, a campfire pit, horseshoe pit, tennis court, volleyball court, Satellite TV with DVD and VCR in main lodge.
For those who cannot relax, there is a business centre with Wi-Fi . Pay phone, Kids fort, trap shooting range, fly fishing equipment and a laundry facility.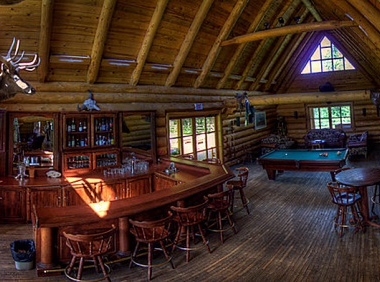 Pricing
We tailor make all our holidays to suit you. We include the flights, hotels, ranch stay, car hire, transfer arrangements where we can and anything else you may require. Let us put your perfect ranch holiday together - give us call on 01798 865 946 or send us an email from the below link -
Reviews
Tell Us What You Think
We had a fantastic time at the ranch. Jenna and Tyler and the staff were fantastic hosts and the way they had everything planned was amazing. The Ranch and surrounding country side was superb, it by far exceeding our expectations. We would have no hesitation in going again, and would recommend it as a fantastic break.
Malcolm, Rosie and Sarita
We had the most amazing stay which was certainly, in the words of the children, "better than Disney". Your family are excellent hosts and your biggest asset are your staff. All your Wranglers do an amazing job, whether on horseback, guiding us through activities, or entertaining and socializing with the guests We enjoyed being part of the banter. Our only regret is that we wish we'd stayed longer.
The Hancock Family