Tombstone Monument Ranch
Arizona
The ranch is some 3 miles outside the famous Western Town of Tombstone located in the heart of Cochise County in southern Arizona.
Here you can step back in time to the era of the cowboy in their individually designed rooms, each with a unique historical Western theme.
You will experience the adventure of the historic Wild West with spectacular sunsets, sweeping views of sun-drenched terrain, dry creek beds, panoramic scenery and wildlife.
We have first-hand knowledge from our many ranch visits, so please contact us with any questions or for a ranch holiday to suit you.
Tombstone Monument Ranch has all the comforts and conveniences of the modern world with 18 unique rooms, each with a Western theme and decorated in turn-of-the-century style. Rooms have King or Queen-size beds, modern bathrooms and popular amenities included.
Additionally, you will find air conditioning, free WiFi, Satellite TV, tea and coffee makers, hair dryers and toiletries.
At the ranch's restaurant, guests are offered a wide selection of traditional Western cuisine such as a mouth-watering steak and a bottle of wine for dinner.

Instead of à la carte dining, the ranch know you will enjoy the Chef's choice for that particular evening. This allows you to enjoy your evening without any interruptions as the Chef and his excellent Staff prepare and serve the best and freshest food that is currently in season.

The ranch is also able to offer alternative dishes to those with dietry needs. There is a Saloon on site where you will meet other guest and wash away the day's dust with a cool beer.
The ranch also has a swimming pool on site.
Check out the Three Ranch packages with White Stallion and Rancho de la Osa, there are detailed in the Tailor-Made section on the front page
Tombstone Monument staff invite you to experience life at the town's only Guest Ranch. From here you will be able to explore miles of open country on horseback. heir healthy, well-mannered horses are like family, they will be pleased to choose your "partner" for these riding adventures.
You are invited to join in the fun with the Wranglers on unforgettable rides to landmark destinations and ghost towns while enjoying the magnificent country.
Check-in is normally at 2pm and they always offer a 3pm ride so you are welcome to get started right off, time permitting.

Depending on your level of experience, the ranch offers a tailor-made programme consisting of lessons in the arena, ground work, horse communication, natural horsemanship and, of course, trail riding.

Riding lessons can be requested for an additional charge.

Please note the minimum age requirement for slow rides is 5 years old and 8 years for fast rides.
The ranch horses can only carry guests up to a weight of 230 lbs or 16.4 stone and there is no riding on Sundays

There are a network of dry creek beds and trails that will take you through Ranch property and far beyond. They have trails for all riding levels, from advanced riders to beginners.

The owners of the ranch understand that guests come from all around the world to experience western riding. Whether you are an advanced rider or a beginner, the trails that are offered are suitable for all riding levels with a wide variety of terrain, petroglyphs and historic sites to visit.
There is also a ranch combination package with White Stallion, Rancho de la Osa and Tombstone Monument, stays of 7, 10 or 14 nights - please ask for details
If you are looking for some alternative activities to the riding, it must be said there are a great deal on offer in Cochise County. The ranch have put together a variety of educational trips and adventures but these are an additional cost. All are subject to a minimum of 3 people.
Dragoon Mountain tour or Chiricahua National Monument tour with a guide.
A trip to the town of Bisbee, an historic Copper Mining Town full of fascinating shops and restaurants.
San Pedro River Walking tour along the San Pedro River.
Kartchner Caverns State Park. This is a facinating guided educational tours of the Kartchner Caverns caves. It may not be suitable for young children due to the underground heat. Closed from June – September

Quad / ATV Tour - a 3 hour guided tours on ATVs to explore the local wilderness.
Sonoita Wine Tasting - Wine tasting at the vineyards in nearby Sonoita.
OK Corral Gunfight - a re-enactment of the most famous gunfight in Tombstone.
Cowboy Action Shooting exhibition at the Tombstone Livery Stable.
Downtown Tombstone Historical Tour. This is a colourful and educational tour through Old Tombstone.
For 2021 the ranch will be offering cattle round ups as they have purchased the neighbouring ranch. Details have yet to be finalised.
A complimentary Tucson Airport shuttle is available to ranch guests. It is offered when a minimum of two persons stay a minimum of seven nights. If you are staying for a shorter time there is a charge of $175 per trip for up to four persons.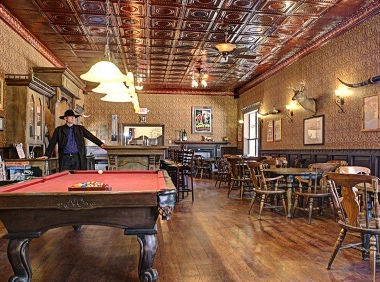 Pricing
All prices are per person unless otherwise specified. Please contact us to confirm the rates - 01798 865946.

We can tailor-make your holiday with flights, car hire, motorhome and city hotels.
Rates include full board, riding, activities & Tucson transfer for weekly double stays. Jan - Dec 2021
Weekly standard double rates are priced between £999pp in summer & £1485 for major holidays. Rates plus 22.015% Tax & Tips
Deluxe double rooms and Junior suites may be requested at a dearer rate and take a maximum 4 persons
Extra guests over 4 rates are £726pp per week plus Tax & Tips
2021 Early Booking Special : For bookings made by 28th February, we offer you 7 nights for the price of 6 at Tomsstone Monument.
2021 Cattle round up and drives on a neighbouring ranch - details and dates to be advised.
Please let us know your preferred departure dates and number of people travelling and we will send a quotation to you.

Reviews
Tell Us What You Think
Thank you to Nigel for sorting my wonderful holiday to Tombstone Monument Ranch. He booked my flights and got a great deal for the ranch. I won't hesitate to use him next time. Thank you again.
W.Blackburn