The Vee Bar Guest Ranch is a great stopping place for those on their way to Yellowstone. Just a couple of hours north of Denver in southern Wyoming.
This is a Guest Ranch with comfortable cabins and lodge rooms, riding to suit all levels with loping rides for those that wish. Fishing, hiking and a Kids Programme will keep everyone happy during their stay.
Their menu of home-cooked food is part of a great stay at the ranch. Dining is buffet style in the informal western tradition. Guests enjoy a varied menu of meats, fresh fruits and vegetables, homemade breads and desserts. Barbeques are a popular weekly alternative.

The John Wayne Saloon will help you slake your thirst after an all day ride on a hot summers afternoon.

We have first-hand knowledge from our many ranch visits, so please contact us with any questions or for a ranch holiday to suit you.
With careful restoration and creative decor, the Vee Bar's western heritage has been preserved. The cabins and lodge offer antique furnishings. Their cozy, comfortable cabins have decks and chairs just right for relaxing with a good book. The rustic exterior and interior of the Riverside Suites match the rustic look of the historic lodge.
On offer are 6 riverside suite cabins, all duplex units with a shared front porch, plus 2 bedrooms and a bathroom with a washer/dryer. There are also 3 larger free-standing cabins with 2-3 sleeping areas
Buffet meals are served three times a day at 8 am, noon and 6pm, after cocktails at 5pm in the John Wayne Saloon which features a variety of sodas, wines, liqueurs and other alcoholic beverages.

Meals are mainly served in the historic main lodge dining room or picnic style out on the lawn. BBQs are a regular occurence during the week.

The ranch sits on the banks of the Little Laramie River, great for fishing and tubing.
Activities centre around western horseback riding and the Vee Bar claims one of the best riding programmes to be found at any guest ranch. Your experience will range from riding in the meadows to riding across the top of Sheep Mountain in the Medicine Bow National Forest.

Loping rides are offered for those who are interested and the terrain varies greatly! Rides leave the main barn and go through the lush meadows in the river bottom, or up onto high plateaus overlooking the valley.

Later in the week, a few rides start on a neighbouring ranch and traverse through more mountainous country. Cattle work is a highlight each week when guests help the wranglers move cattle from one pasture to another.
The minimum age to ride is 6, there is a 18 stone / 260 pounds weight limit.
One mile of the Little Laramie River flows through the ranch and fishing on thieir private property is saved exclusively for ranch guests. The river is swarming with Brown and Rainbow Trout. A fishing licence is required for anyone over 14 and may be purchased locally.

The surrounding hills make for some great scenic hiking which is just minutes away with several well marked trail systems in the nearby Snowy Range mountains.

Also included are hayrides, hiking, trap shooting, camping out, herding cattle, gymkhana participation, and river tubing. The ranch is a great vacation place for kids. The terrain is gentle and safe with plenty of room to run and play.

For children under six, child-care providers will be available with notice. Children six and older are eligible for horseback riding activities with parents or other children. All children can work on their horsemanship skills by competing in the gymkhana or moving cattle while receiving pointers and coaching from their kid-friendly wranglers.
Trap shooting is available to guests over 12 years old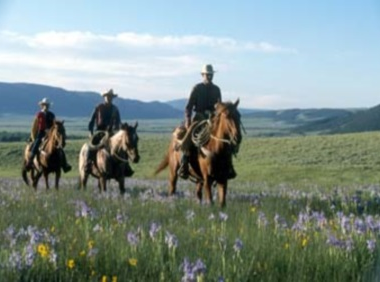 Pricing
All prices are per person unless otherwise specified. Please contact us to confirm the rates - 01798 865946.

We can tailor-make your holiday with flights, car hire, motorhome and city hotels. There are 3 and 6 nights stays available, these may start on Sunday or a Wednesday. Each include full board accommodation with riding and ranch activities. Sales tax and gratuities add 16%
6 June - 4 Sept 2021 - weekly 1st two adults - £2240pp
Based on double occupancy' additional adults sharing - £2080pp
Youngsters 2-18 & non-rider discounts are also available, please ask us for details.
The ranch deposit is 30%
Please let us know your preferred departure dates and number of people travelling and we will send a quotation


Reviews
Tell Us What You Think
Sorry, no reviews or feedback have yet been accepted to this item.
Be the first and submit a comment now!