Vista Verde Ranch
Colorado

Vista Verde is situated on over 500 acres surrounded by the Routt National Forest and Zirkel Wilderness, a western vacation escape in the Rocky Mountain high country.
With a string of over 90 horses, they match each guest's personality with the perfect horse to get you off on the right foot. Riding in the Rocky Mountains is great for adults, teens and kids alike and everyone should go away having learned a little bit more about western riding.
The cabins include one, two or three bedrooms, a living room, bathrooms and snack bar. The spacious lodge rooms offer comfort and convenience with a sitting area, snack bar and balcony
We have first-hand knowledge from our many ranch visits, so please contact us with any questions or for a ranch holiday to suit you.
Vista Verde Ranch is a secluded and sophisticated luxury guest ranch covering hundreds of acres of forest, meadow and pasture. They have a varied and flexible programme for Children's & Teenagers. Deluxe western style mountain log cabins some with hot tubs with 1,2 or 3 bedrooms. Additional rooms rooms are to be found in the Lodge. Singles, couples, groups and families all welcome.
The sheer number of staff is unmatched at many of the finest resorts. At their busiest times, they have a 1:1 staff to guest ratio and this makes all the difference in their being able to offer one of the finest ranching holiday experiences .
The ranch say the cost is all inclusive - and so it is. Along with the deluxe accommodations, daily riding and gourmet meals there are also unique activities like rock climbing and rafting, photography workshops, cooking classes included. So is beer and wine.
Need a ride from the airport to the ranch or a shopping expedition to Steamboat Springs, well it's all included. You can also have extra riding or lessons at no extra cost.
The swimming pool gives you a place to take a break from all the activities and relax or cool down after a long day on the trail.
The ranch own all 90 or more of the horses they use and have a number of brood mares to produce replacement stock. The week begins with the Wranglers matching you up with the correct mount and making sure everyone is comfortable.

Riding at Vista Verde is their primary activity and most days there are rides going out in the morning and afternoon. Additionally they also offer an early morning breakfast ride and an evening dinner ride once a week.

For those who demonstrate good control, they can move out on the trails when the terrain is appropriate and there are plenty of opportunities for more advanced and faster riding.

The ranch offers a number of different and interesting clinics or horseback experiences that can be great learning curve for novices and more experienced riders alike.

Come the end of August, they head out onto over 16,000 acres of forested land to find and round up the herd of cattle that the ranch also run. This is a testing time with long hours in the saddle and would probably be for more advanced riders.

At the ranch there are both an indoor and oudoor arena if you are looking for more close at hand instruction.


Please remember, almost all alternative activities are included in the weekly rate and these are :

Hiking: The choices range from mild walks to all-day challenging adventures above the timberline. The guides will tailor the experience to your wishes.

Mountain Biking: As you are in the Rocky Mountain, there are some awesome biking trails and the trips are lead by some energetic guides, again they arrange the trip to suit your ability.

Fishing: There are a number of trout stream on and off the property and , once again guides are here to share their passion for angling and knowledge of the local waters with you on a trip that is customized to meet your idea of a perfect day of fishing. Their services and all the equipment is included in your stay.

Rock climbing: This is a weekly trip! Following a short hike up the climbing rock, you spend a few hours learning the basics of climbing and rappelling and guides will challenge the experienced climber and assist those who have not done this before.

White Water Rafting: Transportation is provided to one of two rivers used, depending on the season. The rivers are both about a two-hour drive from the ranch and guides will take you through the rapids on either the Eagle or the Colorado River..

Wild Yoga, cooking classes and wine tasting. Nightly entertainment comes in the form of a Barn Dance or local guitarists will visit the ranch.

Optional extras are golf and ballooning trip or massages which can be organized by the ranch and transport will be provided.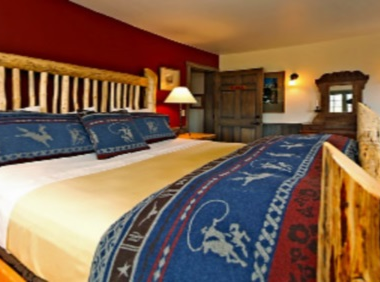 Pricing
All prices are per person unless otherwise specified. Please contact us to confirm the rates - 01798 865946.

We can tailor-make your holiday with flights, car hire, motorhome and city hotels.
A ranch stay is for seven nights from Sunday to Sunday and includes full board, lodge or cabin accommodation, riding and all included activities and gratuities. This is an exceptionally popular ranch which requires booking as early as possible.

2021 Ranch Holidays

Season - 6th June to 3rd October - 7 night stays

Weekly prices between £3436pp & £4156pp based on double occupancy in a Lodge room.
3.9% sales tax is paid on departure from the ranch.

22nd Aug onwards are Adult Only stays -£3596pp. Shorter stays can be arranged in early October.
Booking deposit is 50% Check in 4pm Check out 9.30 am

Please let us know your preferred departure dates and number of people travelling and we will send a quotation.
Reviews
Tell Us What You Think
Sorry, no reviews or feedback have yet been accepted to this item.
Be the first and submit a comment now!