White Stallion Ranch
Arizona
You can enjoy winter sunshine here October through to April when the climate is better for riding, and for those who enjoy warmer temperatures it is also open throughout the summer May- September.
The ranch is easily accesible being located just 26 miles from Tucson airport. It is suitable for singles, couples & families as well as less experienced riders. They offer four rides a day (two slow and two fast) - except on Sundays.
This ranch is highly recommended and we have many repeat customers returning year after year.
Cactus Cowgirl weeks : Click here for full details
White Stallion Ranch is charmingly informal which gives you a feeling of the Old West. Only here can you find 3,000 acres of wide open land at the foot of the ruggedly beautiful Tucson Mountains bordering the Saguaro National Park. Ranch informality is blended perfectly with the comforts of a top resort. Located to the north-west of Tucson, you will find yourself in close proximity to a number of local attractions such as Old Tucson Studios or the Desert Museum.

You will enjoy the western horse back riding on their fine horses, with slow and fast rides on the scores of scenic trails. This is a working cattle ranch and it's great fun to watch the cowboys work the cattle and to see the Longhorn cattle come in to water. Other facilities to enjoy on the ranch are the sparkling heated pool, indoor hot tub, tennis courts, shuffle board, horseshoes, bar billiards, a sophisticated exercise room, sauna, petting zoo and much more.

There is a range of accommodation available which varies from Standard rooms and goes through to Deluxe Suites which sleep larger families and may be inter-connecting. The smaller rooms have been renovated and will take a maximum of three people. All rooms have heating and air-conditioning.
Relax on the patios or in the large comfortable living room or in the Happy Hour saloon. Beers & wines etc. are not included in our package.

The ranch is noted for delicious meals, cookouts, steak barbecues, Indian oven dinners, hayrides plus breakfast rides and rodeos. Also available are moonlight bonfires with a cowboy singer, a guided hiking programme, volleyball, basketball and an astronomy programme with large telescopes. This is one of Arizona's most popular ranches and you should try and book well in advance as they do tend to become full particularly over Thanksgiving, Christmas, New Year and Easter. Please note that they are open year round and rides will be early morning or late afternoon to avoid the hot sun.

Although the ranch offer an any day start, Sundays are a non riding day and so many people will try to start and finish their week on a Sunday.
White Stallion Ranch has one of the largest selection of horses in Arizona and are bound to have the right one for you. They can accommodate the experienced horse-owner to the first time rider and everyone in between. Their greatest reward is seeing guests and horses working well together. Children 8 and older may qualify for their fast rides, mountain rides and all day rides. Those 5 years and older will enjoy the slow rides.
Mountain Rides - Exciting and beautiful, the steep, rocky, mountain trails take you to the top of their surrounding mountains where the views are fantastic.
Slow Rides - Slow and easy on the back of a horse, its the perfect way to see the desert and enjoy the incredible scenery.
Fast Rides - Loping/cantering through the desert is always fun and exciting. Experienced riders love these rides and the ranch prides itself on helping beginners gain the skills needed to participate as well.
All Day Rides - This could be the best ride of your life! For guests who are comfortable on the fast ride, you'll spend almost 8 hours in the saddle and cover 20 - 25 miles. Lunch is served on the trail. Highlights of this ride include travelling through Saguaro National Park, Box Canyon and seeing Native American petroglyphs.

Lessons - Highly popular and instructive, lessons are geared to the groups level. Private lessons are also available. All riding activities are included in our rate except lessons which do have an extra charge.
There is also a ranch combination package with White Stallion, Rancho de la Osa and Tombstone Monument Ranch, stays of 7, 10 or 14 nights - please ask for details. This ranch does not offer riding on Sundays.
Sports - Tennis or volleyball, basketball, badminton, paddle tennis all on a versatile sports court. All courts are lit and available in the evenings.
Hiking - Several different guided hikes are offered each week from easy to informative, nature walk to a more challenging climb to the top of Panther Peak in the Sagauro National Park, or take a hike to visit ancient petroglyphs.
Evening entertainment - after dinner enjoy a moonlit bonfire with a cowboy singer, astronomy show with large telescopes, line dancing lessons, nature and animal programs, a cowboy poet and many other fun and educational programmes.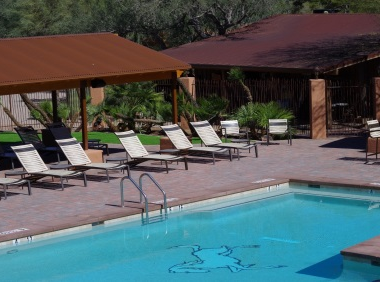 Pricing
We tailor make all our holidays to suit you. We include the flights, hotels, ranch stay, car hire, transfer arrangements where we can and anything else you may require. Let us put your perfect ranch holiday together - give us call on 01798 865 946 or send us an email from the below link -
Reviews
Tell Us What You Think
We had a fantastic week at White Stallion which was organised effortlessly by Nigel at American Round Up. The horses, the activities, the food and the whole set-up were amazing and we cannot wait to go back soon!
Anthony & Tracey O'Connor
White Stallion Ranch provides an outstanding holiday experience! Everything from the rides through the accommodation, food and attention to detail is outstanding! The True family ensure that you are perfectly matched to your horse and if there is anything that isn't 100% right, it is immediately fixed, including changing horses. The rides are fantastic with spellbinding views and countryside evocative of another era. There are trails and speeds to suite all abilities and great care is taken by the wranglers to ensure everyone has a good ride. The accommodation is characterful, comfortable and clean and the meals are well prepared, tasty and filling. There is time in the evenings to socialise and we met many wonderful people who we hope to see again. Our best recommendation is that as soon as we returned home, we booked again for next year!
Val and Tim Scarlett
It's was the holiday dreams are made of. We enjoyed every second of our stay. The True Family, Wranglers & all the staff could not have been kinder or more helpful. The ranch is, in our book 5 star, all the way. We felt we were in a western movie for the week. If you love western movies this is the ranch for you. We will return as soon as we can. I think we left part of our hearts at The White Stallion Ranch. Yeeha.!!!.
Joan Kelly
I have been to White Stallion three times now, and introduced two friends, and this year my 6 year old niece, to the ranch. Every holiday has been fantastic from start to finish. Transfers on-time, accommodation clean and comfortable, staff friendly, communal facilities excellent. The wranglers are so knowledgeable, friendly, and patient. Nothing is too much trouble and the horses are extremely well cared for. We love the fast mountain rides, but really all of them are fantastic. The new activities (shooting, climbing, archery) are taking shape, and whilst we tend to stick to riding, other guests were certainly booking them up quickly. This year there was also Yoga before breakfast, which I loved. The food is home cooked and tasty, and the bar in the evening is always full of friendly guests and good conversation. We are booking again for next year and have joined the many repeat guests who return year after year.
Elizabeth Shaw
The views were MAGICAL like everything there ... the room was clean and well laid out and the food was perfect. The week that I stayed was so enjoyable and entertaining. I was well looked after by the Wranglers and I was matched to the right horse. Just one more word to say - FANTASTIC !
Peter Bevins