To book Zapata Ranch in Colorado Tel : 01798 865946 or email.
The Zapata Ranch is unique in that they run cattle, horses and bison. The property is a 103,000-acre Working Guest ranch located on the eastern side of the San Luis Valley of Central Southern Colorado where it borders the Great Sand Dunes National Park.
Much of the ranch activity is what we would term Organic and Sustainable to ensure the land is cared for and the cattle and Bison live as natural a life as possible.
Small numbers of guests may visit year round to take part in the seasonal operations. The Zapata Ranch guest season runs from March through October. For corporate and group retreats, the ranch offers year round access to its educational centre and lodge facilities. See special weeks of Branding, Women's Week with literature, Overnight pack trip and Yoga Retreat : dates listed under Ranch Activities - various prices

We have first-hand knowledge from our many ranch visits, so please contact us with any questions or for a ranch holiday to suit you.
The lodge is located within a beautiful stand of cottonwoods and the surrounding buildings are part of an original homestead built in the late 1800's which have since been renovated. Each room features it's own private bathroom and some have a private outside entrance.
A working ranch with two separate herds, the operations will be seasonal for cattle and bison. The cattle herd consists of yearlings and mother cows that graze on native rangeland.
Cows begin calving in early April and usually finish by the end of May. Branding takes place in May and June. In the autumn, cattle are brought into the ranch's corrals and checked for pregnancy and the calves are weaned. The cattle are used as a tool in the ranch's conservation efforts by implementing prescriptive grazing, so moving cattle happens all the time.
The Bison herd numbers some 2000 head and they are left to live their lives in a natural state. Their pasture measures some 50,000 acres. They are gathered up in November, tagged and innoculated, some are sold for meat or on to other herds.
Bison were once hunted almost to extinction but thanks to the efforts of numerouns concerned citizens, the bison were protected on private and federal lands. Several small herds formed the genetic basis for the Bison that exist and are thriving today. As a result of these efforts and careful management, Bison numbers have rebounded in recent times and nearly 500,000 are in existence today.
Horseback activities can include working and moving cattle, exploring the surrounding San Luis Valley, venturing into the adjacent Great Sand Dunes National Parkor participating in one of their specially organized overnight pack trips into the Sangre de Cristo Mountains. There are also Horsemanship weeks and weeks in the Spring for calving and branding.

The horse herd, averaging around 60 head, meet all abilities ranging from experienced to beginner riders. They work closely with each horse to train them for working livestock and eventually use the majority of the herd in their autumn bison gather. Please remember, guests are also invited to ride through their herd of 2,000 wild bison.
As a genuine Working Ranch, the Zapata will not have all the activities that a Dude ranch has on offer. Activities include interpretive nature hikes, fly-fishing in local streams, bird watching, wildlife watching, geology tours and more. Or for those seeking maximum relaxation, massages and yoga sessions are available throughout the week but these are an additional cost.
Extra charges : Photography Tours $150 pp; White water rafting $60 pp half day $80 full day; Rock Climbing $30 pp 1/2 day $45 full day ; Paddle boarding $30 pp 1/2 day $45 for full day; Massage and Wellness Service $85 pp hour.
Special weeks listed below - prices vary please call us with our preferred dates and we will send you a quotation.
Branding Experiences May 14-21 2017 ; This is a branding experience that you won't soon forget! Enjoy day rides through wild bison herd as well as the Great Sand Dunes National Park. Ride out early in the morning to gather cattle and prepare for branding day at the end of the week. Branding day is a serious event that is essential to the welfare of our livestock. Participants are actively involved and will have jobs assigned to them that are integral to the process.

Women, Horses, and the West June 11-18 2017 ; Dr. Bonney MacDonald will lead a special women's retreat focusing on literature, horsemanship and the land You will also have opportunities to explore the land and further your horsemanship skills with rides through our 2,000 head wild bison herd and the Great Sand Dunes National Park.

Overnight Pack Trip July 23-30 2017 : Spend the first night in our lodge and enjoy a ranch-made dinner and breakfast, and head out on the pack trip the following morning. You will spend 3 nights and 4 days in the mountains riding and exploration old mining towns and secluded wilderness. Your final night will be spent back at the lodge. This is one of the most beautiful trips available in North America where abundant wildlife, alpine lakes and timberline vistas will always be at hand. Space is limited to 5.
Painting Workshop 3-8 September 2017 or Photography Workshop 1-8 October 2017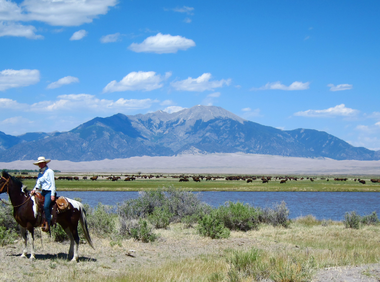 Pricing
All prices are per person unless otherwise specified. Please contact us to confirm the rates - 01798 865946.

We can tailor-make your holiday with flights, car hire, motorhome and city hotels.
The ranch is open year round, the main guest season runs from March to October and check ins are on Sundays and Thursdays only. There is a 3 night minimum stay and rates will include full board, riding and ranch activities, taxes and gratuities.
2018 Ranch Holidays Season - March to October.

3 nights are £1275pp rising to 6 nights for £2224pp based on adult double accommodation.
Child discounts if aged 7-11 - please ask for details

Airport transfer from Alamosa US100 per person return paid locally
Please let us know your preferred departure dates and number of people travelling and we will send a quotation to you.
Reviews
Tell Us What You Think
Thank you for recommending Zapata. It was a superb experience. The riding was exciting and varied, the crew couldn't have been more obliging, nothing seemed too much trouble. Accommodation was very good, the food was exceptional!!! I will certainly be back at Zapata next year.
Penny Croft