Geronimo Trail Guest Ranch
New Mexico


Geronimo Trail is a small ranch with a relaxed and personal atmosphere. Situated just west of the Continental Divide, the ranch is located in a truly unspoiled setting, secluded and serene.
Horseback riding here takes you through open meadows, tall ponderosa forests, up on high hills where the views go on forever across the 3.3 million acre National Forest, and down into deep canyons with sheer cliffs and crystal clear streams.
They can only accommodate a limited number of guests which allows for a personalized experience. Guests are encouraged to take this opportunity to slow down from the fast pace of modern life and to share in the experience in one of the last remaining strongholds of western heritage.


We have first-hand knowledge from our many ranch visits, so please contact us with any questions or for a ranch holiday to suit you.
Few of the ranches we offer are in such a remote location, over 70 miles from the nearest Interstate. This is part of the charm of Geronimo Trail however, the drive is almost all on tarmac.
Once you arrive, you will find they are off the power grid; electricity comes from solar arrays supplemented by generators as necessary. Cell phone coverage ceased miles back up the road so your stay will be undisturbed.
Their water comes from stream fed wells and the taste is spectacular. The cabins are set among the pine trees, accommodation is made up of four separate units in two cabins. You will find Native decoration and design in both the cabins.
Each cabin has a sitting area, a full private bath, covered porch and is heated with a propane fireplace. There is a coffee maker, complimentary water bottles and fresh baked cookies.
The ranch has millions of vastly varied acres to ride over, the terrain is spectacularly different.
They have a wonderful group of well-trained, responsive horses good for any riding ability.
For your comfort, you will be paired with the same horse during your entire stay unless you request a different one. If one of their wranglers feels you would be better suited to another mount, they will arrange this for you.

The horses are very responsive and are well accustomed to covering these vastly different terrains at this ranch.
While occasionally necessary, they make every effort to avoid 'nose to tail' trail riding.
The riding weight limit is 17 stone.
The location, the riding and full board accommodation are the main ingedients of a stay at Geronimo Trail. There is so much land to ride over, they refer to it as "unlimited riding".
Other activities that ranch guests enjoy are: big campfires at night with s' mores and fantastic stargazing, western entertainment, music and dancing in the Rec Hall, sing-a-longs, indoor and outdoor games, fishing, photography, horseback riding lessons or just reading a good book on one of many bench swings.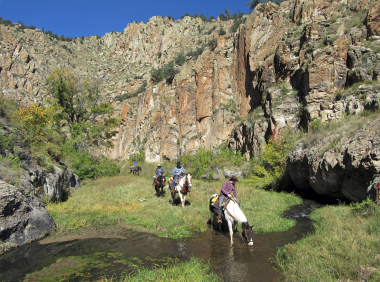 Pricing
All prices are per person unless otherwise specified. Please contact us to confirm the rates - 01798 865946.
Price includes a stay of between 3 and 7 nights
We can tailor-make your holiday with flights, car hire, motorhome and city hotels.
Price includes a stay of between 3 and 7 night starting any day with full board cabin accommodation, all the riding and ranch activities, sales taxes & gratuities at 15%. (3 night minimum stay)
2020 Ranch Holiday Season - Open March to mid November.
Rates are based on double occupancy. Single add 25%
5 night stay - £1912pp
6 night stay - £2295pp
7 night stay - £2675pp.

Children 6 to 11 less 20% discount
50% deposit required.
No transfers are offered by this ranch. We can arrange a car hire for you if required.
Please let us know your preferred departure dates and number of people travelling and we will send a quotation to you.
Reviews
Tell Us What You Think
Sorry, no reviews or feedback have yet been accepted to this item.
Be the first and submit a comment now!